Malappuram district in Kerala is one of the best known places in the state. It is also a major tourist destination with many historical symbols, forests, beaches, temples, mosques and so on. It is also an educational hub of the state and the place is also rapidly developing. It is also renowned for the ayurvedic centres in Kottaykkal. It also has many plantations including that of coconut, cashew nut, paddy, pepper, banana, rubber, tapioca and more. All these make Malappuram one of the best tourist destinations of Kerala. Thought there are many places worth visiting, there are 5 best destinations that you should not miss, as given below:
1. Padinharekara Beach
A vast beach, Padinharekara beach offers a mesmerising view of two rivers joining the Arabian Sea. The sight of the river Triurpuzha and Bharatapuzha coming in full force to join with the sea is a sight that you will never forget. It is also one of the most beautiful beaches of Kerala, with many palm trees lining the shore that lends a special beauty to the beach.
The soft, shining white sand offers you a memorable walk. It feels as if the nature has laid down a white carpet for you to enjoy and value the magnificence of nature. You can indulge in various activities at the beach and even get Ayurvedic massages which are available at the beach.
2. Kadampuzha Bhagavathy Temple
Kadampuzha Bhagavathy temple is one of the major pilgrimage centres of Kerala and holds a unique distinction. There is no idol in the temple, perhaps one of the few such temples in India or the world. A legend goes that Adi Shankaracharya, the revered Hindu philosopher and teacher happened to pass around Kadampuzha which was a vast grassland then. As he walked along, he came across an invisible wall which he realised were Lord Shiva and Goddess Parvati met, while the Lord was in the 'Kirata' form. It is believed that after Shankaracharya prayed to the Goddess, she appeared before him but disappeared into a small hole. He performed pooja there and later on the temple came to be built at the same place.
Even today, there is a hole which is believed to be the same spot where the Goddess disappeared and it is worshipped and hence no idol. Though the temple can be visited all around the year, it is during November-December that the temple festival is held. It is also one of the ecology promoting temples as plastic items are not allowed inside.
3. Kadalundi Bird Sanctuary
It is one of the major attractions of Malappuram and houses more than 100 species of birds, making it a haven for nature lovers. Around 60 varieties of migratory birds come to the sanctuary every year. If you visit the sanctuary between October and March, you can spot many types of migratory birds such as sand pipers, green shanks, terns, sea gulls and more.
In fact, bird watchers from around the world visit the sanctuary for this unique sight. There are also other aquatic animals here such as different varieties of fish, crabs and more. There are also many clustered islands here, with the Kadalundi river flowing through the area.  The sanctuary is located at a height of 200 m above sea level and offers great views of the river and the Arabian sea.
Well-connected by road, the Kadalundi Bird Sanctuary is easy to reach.
4. Kottaykkal Arya Vaidya Shala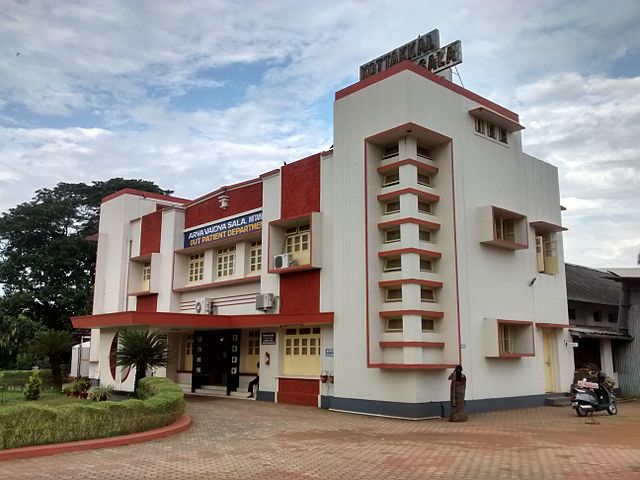 If you visit Malappuram, you should pay a visit to the renowned Kottaykkal Arya Vaidya Shala, a sprawling institution dedicated to Ayurveda. In fact, it is a pioneer Ayurvedic organization in India. It is also a hospital and a research centre which is visited by people from all over the world, seeking cure to many ailments. You also get the authentic Ayurvedic massages and other treatments here.  It was founded by the renowned Ayurvedic doctor and scholar, P. S. Warrier, in the year 1902 and even today, the centre stands as a reputed institution for Ayurveda. Today, you can find branches of Kottaykkal Arya Vaidya Shala all around the world.
Medicines made at the centre are available through many of the outlets in many parts of the globe. A visit to the centre means you are not just visiting one of the oldest Ayurvedic institutions of the world, you are also passing by a place that has cured many, rich and poor, common and famous. While you are at the place, do get a refreshing massage as it is only here that you can experience the authentic Ayurveda massage and it will benefit you for a long time.
5. Nedumkayam
If you are at Malappuram, a visit to the Nedumkayam rainforest is a must. It is not just a dense forest housing a variety of flora and fauna, it is also one of those amazing spots where you can experience nature in its resplendent glory. That is why; trekkers find it an ideal place for an amazing trekking experience.  There is also an elephant training centre within the forest which is a great place to visit. Though the forest is open to visitors, prior permission from forest authorities has to be taken.
Some More Tourist Places In Kerala: