"Unique terrain, Interesting Fauna, Scenic Flora, Mind-Blowing Eravikulum!"
Eravikulum National Park is yet another national park that lies in conjugation with the Western Ghats. Eravikulum falls under the state of Kerala and is said to lie amongst the "Himalayan" ranges of the south making a trip to this place an altogether unique experience! There are many more interesting features that will dazzle you. For instance, the park is home to a huge population of the endangered Nilgiri Tahr, the rare floral species of Neelakurinji that are said to bloom once in 12 years, a unique newfound species of Frog and the highest peak in Peninsular India- the Anamudi peak! Above all, the scenic beauty of this place is a treat for the eyes!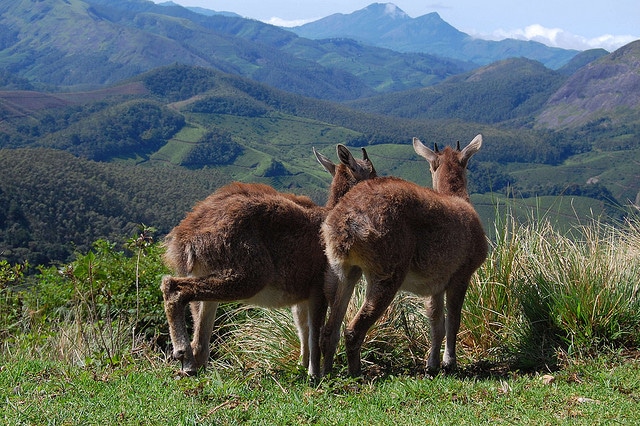 There is much more to explore at Eravikulum from guided trek tours, to one day tours covering the whole of Munnar. All of this combining to create the perfect vacation that you have been waiting for.
Climatic Conditions
The Eravikulum National Park experiences extremes of all seasons with rainy season being the most difficult. This place is known as one of the wettest areas in the world, receiving rainfall during both the southwest as well as retreating monsoon throughout the months of June to July and then again from October to November. April and May are the hottest months. Winter lasts from December to February.
Best Time to Visit
The best times to visit Eravikulum are from April to June or September to November. The park remains closed for visitors during the months of February to March.
Wildlife & Vegetation
Reportedly, a total of 85 species of butterflies, 133 species of birds including the migratory birds, 21 species of mammals, 22 species of amphibians and 13 species of reptiles are found to co-exist here.
1. Animals
The Park is home to a rare and endangered species of mountain goat known as the Nilgiri Tahr. Other animals found here include bonnet macaque, Nilgiri langur, sloth bear, tiger, leopard, Indian wild dog, barking deer, gaur, Indian elephant, wild boar, dusky striped squirrel etc. One of the largest moths known as the Atlas moth is also found here. A new species of frog has been recently discovered in this area.
2. Birds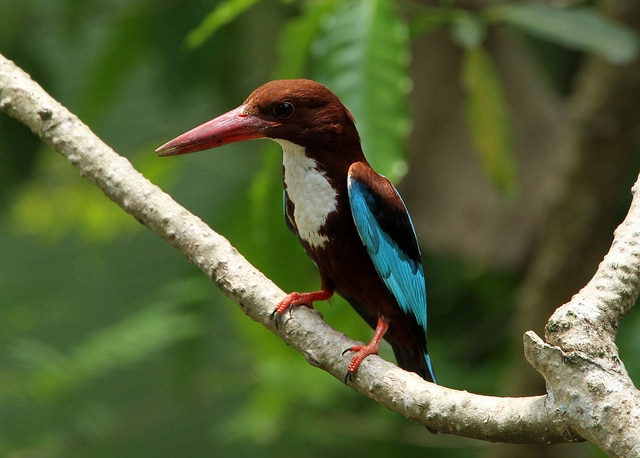 Eravikulum provides habitat to a number of endemic and migratory birds including Small Yellow Naped Woodpecker, Painted Bush Quail, Small Green Barbet, White Breasted Kingfisher, Alpine Swift, Grass Owl and many more others. For those of you out on a birding tour, watch out for these and other rare varieties!
3. Reptiles
A diverse range of reptilian species including mainly the Lizards and Snakes seem to slither across the land of Eravikulum! Some of these include Common Gecko, Anamalai Spiny Lizard, Pit Viper etc.
4. Vegetation
Eravikulum is covered mainly in three kinds of plant communities: Grasslands (occupying the higher terrains), Shrub Lands (occupying the cliff bases and rocky areas) and Shola Forests (covering the rest). Main forest types include Temperate, Evergreen and Tropical Moist Deciduous. Such heterogeneity supports the rich biodiversity of flora as well as fauna.
Distance from Nearby and Major Cities
The Park is well connected to Kochi, Coimbatore and Munnar in Kerala. Distance from these and other major cities is as follows:
• Munnar: 7.2 km
• Kochi: 137 km
• Coimbatore: 148 km
• Bangalore: 469 km
• Chennai: 594 km
• Hyderabad: 1034 km
• Mumbai: 1460 km
• Delhi: 2600 km
How to Reach
• By Air: Nearest airports include Kochi (148 km) and Coimbatore (175 km). Munnar is well connected to these towns by roadways.
• By Rail: Nearest Railway station include Alwaye (120 km) and Coimbatore (160 km)
• By Road: Two motorable roads pass through the park: One via southern extremity towards Rajmala tea estate and the other via Muthuvakudy towards another tea estate owned by KDHP Co. Rest travel is on foot.
Local Attractions
Local attractions include the picturesque town of Munnar, tea museum, Lakkom, Chinnar Wildlife Sanctuary all of which can be covered in a one day tour-Explore Wild Munnar.
Accommodation
To experience to the true bliss of natural environment, surrounded by greenery and close to the waterfall, you can make reservations at Lokkom Log House.
Other Useful Information
• Entry time: 8 am to 4.30 pm
• Entry fee: Rs. 90 (for Indians), Rs. 65 (for children)
Rs. 370 for foreign nationals
• Reservation fee: Rs. 50 at Information centre, Munnar
• The park remains closed from Feb to March.
• Useful Contacts
• Forest Information Centre
Wildlife Warden's Office, Munnar PO, Idukki Dist.
Kerala, India.
PIN:685 612
Tel: 91-4865-231587
Mob. 91 8301024187, 91 8547603199
E-mail: enpmunnar@gmail.com
The Wildlife Warden
Munnar PO, Idukki Dist.
Kerala, India.
PIN:685 612
Tel: 91-4865-231587