Visitor Information
Popular For: Pilgrims, Photographers and Cultural experience seekers
Entry Fee: No entry fee
Visiting Time: 4:30 am – 11:30 am and 4 pm – 9:00 pm daily.
Visit Duration: 1 hr
Paramekkavu Bhagavathy Temple, a renowned temple of Thrissur, Kerala is dedicated to Goddess Bhagavathy. It is one of the few temples of Kerala where Goddess Durga is worshipped in this form. Situated on round east road in Thrissur, it is a foremost site of the popular Thrissur Pooram festival. This pious and sacred place is a pilgrimage for people all over India specially Hindus and they throng the place in large numbers. Legend has it that a Nair family head was an ardent follower of Goddess Bhagavathy and he visited the temple everyday but due to his oldage he decided to discontinue. On his last visit the goddess seemed to have imbibed in his umbrella, knowing this the temple was built on the premises where the man rested on his way. With regard to folktales and mythological stories it bears resemblance to the Jaganath temple of Puri. Here too the goddess visits his husband in the nearby Shiva temple and a huge procession takes place at that time. This is the Thrissur pooram festival. Thus, it is an interesting avenue for cultural experience seekers. Apart from pilgrims and cultural experience seekers, photographers too have a gala time here. The architecture of the temple and local street photography of people and their habits draws them here.
Traveller Tips
Make sure you maintain the decorum of the place. You are visiting a sacred place and hence don't indulge in frivolous activities.
Adhere to the timings. Temples in the southern India are generally active in the morning and the evening. Make sure to visit at that time.
A large crowd gathers there in time of festivals. So be careful.
Don't carry food packets and electronic gadgets inside the temple.
Accommodations are available for pilgrims here.
The temple trust takes online puja booking. Make sure you have opted for this one.
Things to Do
Explore the beauty of the place and relish the sculptures and architecture.
Take a look at the temple animals, from elephants to peacocks.
Offer a pooja service at the temple.
Look out for cultural activities and experiences. Visit their website and plan accordingly or take a cue from the locals.
Experience the exuberant Thrissur Pooram festival. Take a look at the local crowd and their ways of celebrations. This is an ideal venture for cultural experience seekers and photographers.
While you are here don't forget to listen to the temple orchestra, panchavadyam as they call it. It is a tradition of Kerala temples. The Paramekkavu orchaestra is called "Palachottil Melom".
Availability of Guides
Similar to other temples, this too is devoid of any guides. It is one of those places where you explore without any hindrance and seek the cultural and spiritual experience at your disposal. The temple complex isn't that much large and hence can be explored on your own. Mostly it is restricted to offerings to the deity and for festival gatherings.
Best Time to Visit
Thrissur being one of the primary attractions of Kerala draws a considerable crowd throughout the year. The peak season for tourist activities is in November- January and March-May. It is during this time that people visit Thrissur in large numbers. However, if you are prioritising in visiting this temple, then opt for the time of Thrissur Pooram festival. Although there are many festivals throughout the year, this is a speciality of this temple. Hence, the ideal to visit here is in April and May when the festival is in full swing.
How to Reach
It is situated at a distance of mere 2 km from the Thrissur railway station. Buses, cars and autorickshaws connect the city with one of its most visited temple. Cochin Airport lies at a distance of 50 kms from Thrissur. It is a few hours ride from there. The Ernakulam Junction Railway Station lies at a distance of 68kms from Thrissur. One can avail this option as well.
Interesting Facts and Trivia about Paramekkavu Bagavathi Temple
One of the oldest temple of Kerala. It is estimated to be more than 1000 years old.
It is the one of the largest bhagavathy temple of Kerala.
A centre for the famous Thrissur Pooram festival.
The actual deity was damaged and now wooden deity with 8 arms adorn the temple.
A vibrant colourful procession of people and animals from 15 different temples occurs here. The process starts here and ends at the Vadakkunathan temple.
This temple competes with Thiruvambady temple in times of Thrissur Pooram.
The temple trust runs a KG school near the temple. Another one for other disciples is found at a distance. The school is named Paramekkavu Vidya Mandir.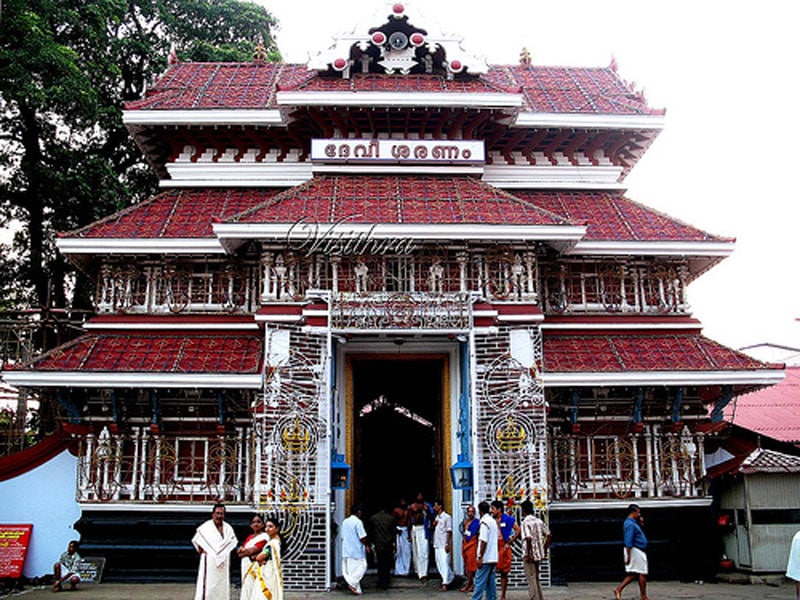 Nearby Attractions
A series of temples are located in Thrissur. Hence there is much scope for sightseeing. The Vaddakunathan temple is one such temple lying within 2kms of Paramekkavu temple
Thiruvambady temple is another temple of prominence in the region.
Dolours Basilica and Guruvayoor are other pilgrim options that lie in the vicinity.
Thiruvambadi Sri Krishna Temple lie nearby.
Peechi Dam and Athirapally waterfalls are other destinations in Thrissur.
The Archaeological Museum lies within 3kms of the temple
Nearby Restaurants
Hotel Bharat at Chembottil road and Boscos Cook Door Restaurant at St. Thomas College Road are the nearest eateries from the temple. They lie within 500 metre of the temple.
Indian Coffee House, Pathans and the Ming Palace Chinese Restaurant are other good alternatives that lie in the vicinity.
Teamo Club, Banerji Memorial Club, Akshaya Palace and Hotel Elite International are other options.
So, Thrissur with its heritage, culture and exotic experience is a sought-after place in southern India, especially in Kerala. The Paramekkavu temple is one of its jewels. An unravelling story of this old Indian city. Make sure to include it in your itinerary.