Visitor Information
Popular For: Nature Lovers, Bird Watchers, Picnickers, Adventure Enthusiasts and Photographers
Entry Fee: Entry Pass from the Kerala Forest and Wildlife Department
Visiting Time: Day time (8am -6pm)
Visit Duration: Not Applicable
Athirapally Waterfalls, one of the most visited waterfalls of southern India especially Kerala is a magnificent. It is the seat of extreme scenic beauty and tranquillity set in the lap of nature. The place lies at a distance of 32 kms from Chalakuddy, a relatively lesser known town in the outskirts of Thrissur. A many layered waterfalls hidden amidst the illustrious green forests of the Western Ghats. The place instantly reminds of the jungles depicted in films such as the Jungle Book and George of the Jungle. Apart from the exotic plants and trees which makes up the natural beauty of the place, it has an extensive diversity of birds. Different indigenous and migratory birds call it there home. Of them the Hornbill deserves special mention. Hence, this place seems to be an ideal ground for nature lovers, bird watchers and photographers. This is one of the most accessible waterfalls of India and is often used as a picnic spot by picnickers. The pleasant atmosphere, the natural scenic beauty and the wildlife makes it an adorable attraction for tourists. Its bustling waters and gushing streams are ideal for nothing and swimming in nature's cradle. The availability of adventure sports like trekking and river- rafting makes it a good option for adventure seekers. Thus, making it an attractive spot for all kinds of people.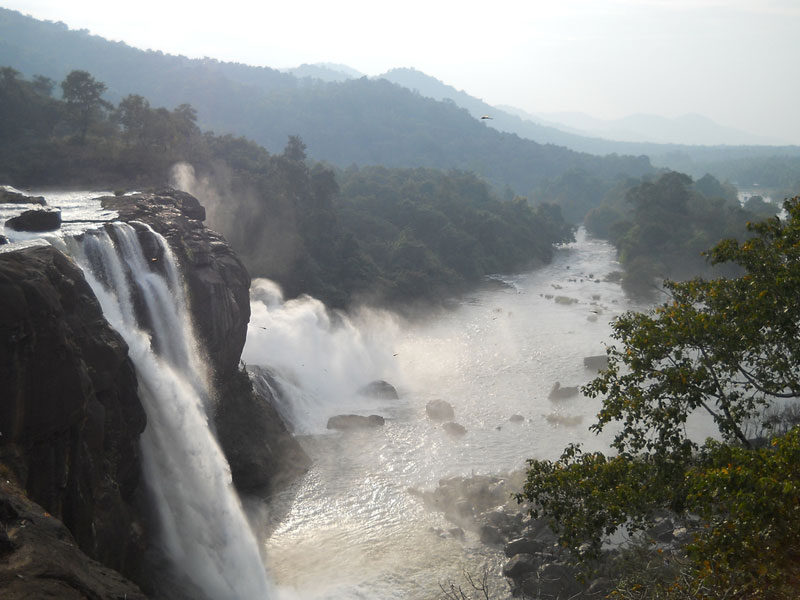 Traveller Tips
The waterfalls is at a distance of 15 minutes of walk from the entrance. Hence, it requires quite a fair amount of walking on an irregular forest terrain. So wear comfortable clothes and shoes.
In order to enjoy the waterfall to the fullest plan with enough time in hand. It will require a considerable time. Hence, keep half a day allotted for this.
Remember that you are travelling inside a forest region. So please don't litter the place with plastics.
Be safe with burnable Equipments like matchsticks and cigarettes. Don't leave them here and there leading to a prospect of a fire.
Food and water supplies aren't available here. So, keep in mind to carry such necessary items.
Things to Do
Explore the area by trekking or river-rafting.
Enjoy the sound of the bustling waters hitting those rock bottoms. Hear the call of nature and relish it.
Relish the grand show of light and shadow – of sunrays peeping behind the leaves and falling into the glistening water.
Go for fun relaxing picnic time with your friends and family.
Swim in the gushing streams and sing mowgli and baloo from the jungle book.
Go on bird watching spree and capture those enigmatic creatures through your camera.
Visit the amusement parks lying nearby.
Enjoy the beauty of the Sholayar hills and trek down from the waterfalls to its bottom.
Availability of Guides
This is a place of scenic beauty. A place where you surrender to nature and let her overpower. Hence it is best explored on our own. Guides remain unnecessary for such places. Thus, guides aren't available here.
Best Time to Visit
The waterfalls unleashes it spell when it is bustling with waters. Thus it is best suited for a monsoon visit when the forest is green and the water flows with full force. The dry months of April-May- June aren't that fulfilling. The ideal comes in July and august but the heavy rain may often be hazardous for swim and other activities. So, it's better to visit the post monsoon season that is in September-October.
How to Reach
The waterfalls resides at a distance of 59kms from Thrissur and 70 kms from Cochin. The nearest railway station is Chalakuddy. Thrissur and Ernakulum railway station lies at a distance of 55km and 70 km respectively. Cochin airport at 55km is the nearest airports. Regular buses and hired cars or taxis ply from Thrissur, Chalakuddy and Cochin.
Interesting Facts and Trivia
The waterfall is 80feet high.
Its gushing streams leads to the formation of the Chalakudy river.
It is a reservoir of exotic fresh water fishes. More than 85 species of fishes are found here.
It harbours a rich Malabar wildlife comprising of animals like sambar, lion-tailed macaque, leopard, bison, elephants etc.
The only region of Western Ghats were different endangered species of Hornbill are seen.
Mani Ratnam's Ravaan was shot here. Aishwarya bathing in the waterfalls scene was shot here.
Former union environment minister and congress leader Jairam Ramesh has called this enchanting waterfall hidden in this diverse rain forest, a "Silent Valley"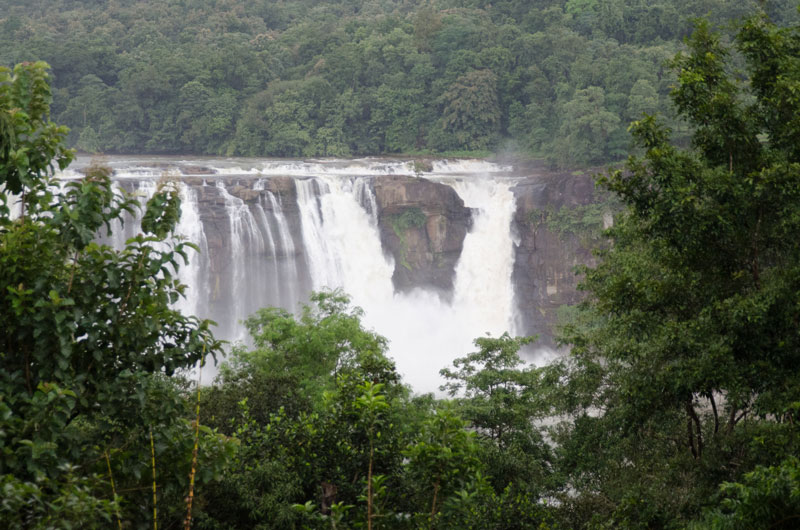 Nearby Attractions
A string of waterfalls, dam and sanctuary lies in the vicinity. This includes the Sholayar dam, Vazhachal falls, Charpa falls, Kundoormad Waterfalls, Malayattur Wildlife Sanctuary etc.
Chalakudy river and Thumbormuzhi dam and garden are interesting tourist destinations.
Paniely Poru and Abhayaranyam Zoo lies within 12 km of Athirapally.
Peringalkuthu Dam and Kodanand Elephant Training Centre are other formidable destination lying within 10 km radius.
Nearby Restaurants
DJ bakery located on Malayattor road about 14km from Athirapally is the nearest eatery.
Noorjehans Hot Pans and Swadh Multi-cuisine family restaurant lies about 46kms from this place. Both of these places are near Thrissur.
Rose Bowl and The Midnight Cruise in South Chalakudy are good options lying in the vicinity.
Bethania Garden Restaurant at Thumbormuzhi and Water Gate at Athirapally offers an excellent alternative.
Thus, a little way of this quaint temple town Thrissur, lies a tropical paradise waiting to unfold its mystery. Athirapally with its quintessential natural beauty and vibrant wildlife is here to enthral you. So, don't miss it and include it in your itinerary.