Visitor Information
Famous for: Religious institution, architecture, photography, monument, scenery, Bell Tower
Entrance Fee: No entrance fees.
Visiting Time: 10 AM to 5 PM (Subject to change depending on rituals)
Visit Duration: 2 to 3 hours.
Set amidst the backdrop of plush dales and swish green valleys, the Our Lady of Dolours Basilica is adorned with heavy myths and legends of faith, tolerance and love. It should be with great honour and respect that one should visit this shrine set in the heart of Trissur district in Kerala.
Traveller Tips
Make sure you have handy medicines with you. Better be safe than sorry.
You simply cannot forget your camera, because you definitely need to capture the images of the tallest church tower in Asia.
Pack accordingly to the season and make sure you have packed loads of comfortable clothes, ideal for exploration.
You must never at any cost, litter the place. Remember, it is your responsibility to turn each place into a plastic-free zone.
Things to Do
The art gallery and museum in the Church is definitely the first of its kind, a rarity among the churches in Kerala.
You can plan a picnic for your dear ones in the lovely lawns of the Church, with prior permission. But, make sure you don't leave behind any litter.
You can go for a walk in the nearby Snehatheeram Beach and enjoy some fun in the deep blue waves.
Availability of Guides
You really don't need a guide to find your way in the Basilica. But, an expert guide can tell you stories pertaining to the Church during its different phases of construction. Now, that can be an interesting turn. You can easily avail guides from the official tourism department at Thrissur or book with a tour agency prior to your visit.
Best Time to Visit
Kerala harbours lovely weather throughout the year. Even the monsoons in Kerala are wonderful and exquisite; each drop of rain unique in its beauty. But the monsoons reduce your scope for exploration. Come, summer and the weather turns bright and sunny with that extra tinge of summer glow. The winters are yet another promising time, when the climate is fairly pleasant. So, now you know the best time to visit the region. Just avoid the monsoons in Kerala if your purpose of visit is exploration.
How to Reach
The Basilica is well accessible by road and railways as it is situated in the heart of Thrissur city. You can get down at Trissur Railway Station which is only a few kilometres away from the Basilica. The nearest airport to the Basilica is in Cochin which is hardly 60 kms away from the airport. The road from the railway station to the Basilica is frequented by local transportation facilities, so accessibility does not pose as a problem.
Interesting Facts and Trivia About Our Lady of Dolours Basillica
Our Lady of Dolours Basilica is a denomination of the Catholic Church as Syro-Malabar.
The Church is the third tallest church in whole Asia.
The Church is a unique blend of Dutch, Portuguese, French and Kerala model of architecture.
The Bible Tower of Our Lady of Dolours Basilica is the tallest church tower not only in India but also in Asia.
In 1929, with the blessing of Mar Francis Vazhapilly, Our Lady of Dolours Basilica saw light of day.
The construction of the Tower was undertaken in 2002, and was named as 'Bible Tower' by Cardinal Daud Moosa.
The original Parish and church structure was established as early as 1814.
There are two bell towers apart from the Bible Tower, which measures at 140 feet.
If you reach the place on a Monday, then you can't visit the Bible Tower, because it remains closed for maintenance purpose.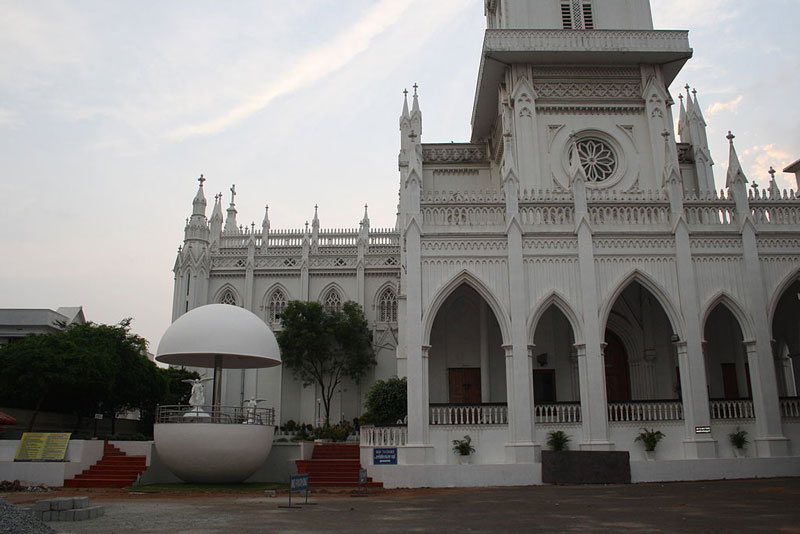 Nearby Attractions
Selex Mall
Sree Guruvayurappan Temple
Thevally Palace
Nearby Restaurants
Indian Coffee House
Essen Restaurant
Arunima Restaurant
Aryaas Hotel
Ming Palace Restaurant
Syamantak Restaurant
Mabrook Multicuisine Restaurant
Hao Ming Restaurant
Abhi's Fast Food
Barbeque Restaurant
Ali Baba and 41 Dishes
A unique blend of ethnic varieties of architectural elegance, combined with the architectural wonders of Dutch, Portuguese and France, the shrine is definitely one of a kind. Lady of Dolours Basillica is indeed a pleasure to see the elegant sanctuary has still retained its majestic ambivalence in spite of the hard test of time.