Visitor Information
Famous For: Nature Lovers
Entrance Fee: No entry fee required
Visiting Time: Both day and evening times are favorable; 6 am -6.30 pm
Visit Duration: 2-3 Hours
Chavakkad Beach is a picturesque sea side location of Thrissur and is a wonderful destination for picnics, honeymoons and beach parties. The thrilling fact about this place is that it is the living amalgamation of a river and sea coming together quaintly which is also locally known as Azhimukam. Also, Ramachapadam is situated nearby to the beach where the famous herb of Ramacham is sited.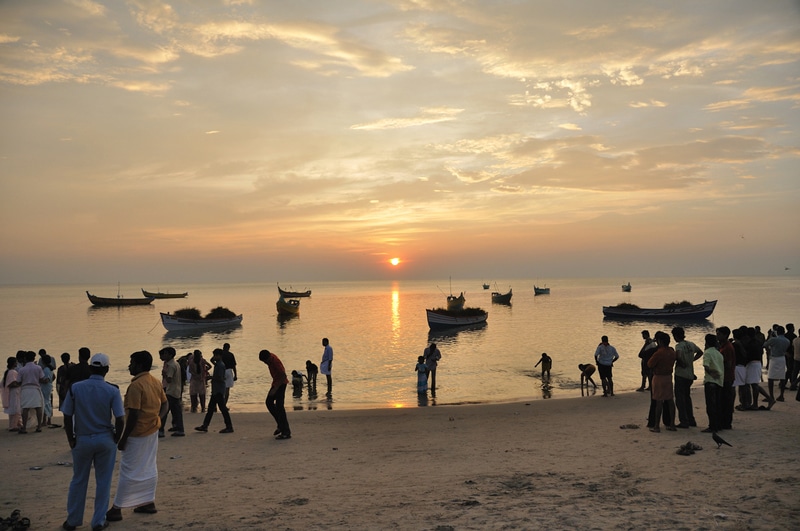 Traveler Tips
You are not required to carry any snacks as there are numerous restaurants all around to savor the tidbits of Kerala.
Keep your sunscreens and other essential to protect yourself from the harmful rays of the sun.
Things to Do
There are tons of things to endeavor here like you can try fishing with the assistance of local fishermen, or you can play volleyball.
Visit the nearby situated Ramachapadam which is eminent for its essential herb Ramacha.
Try the various snacks and cuisine of Kerala which is just lip-smacking.
Bird Watching is also a fun activity to try as many migratory bird species come here which makes the beach just spectacular for travelers.
This beach is also a hub for shopaholics as the closely situated Flea market is a wonderful bazaar to get souvenirs, and other things at cheap prices.
Availability of Guides
Guides are not required as such at Chavvakad Beach but in case you need any help you can always ask the locals that are quite warm and amiable.
Best Time to Visit
The months of March to September are idyllic to explore Chavakkad Beach as the both summer, spring and monsoon times are just spellbinding and refreshing. Also, you can see the beach by early morning or during dusk as the beach is the most charming and alluring at these times.
How to Reach
It is merely 5 km from the famous Guruvayoor Temple and the connectivity is also quite favorable if you are visiting it by road. The nearby stations are that of Thrissur at a distance of 24 km and Guruvayoor which is 5 km away. Moreover, for reaching at by airport, Cochin International Airport is the nearest one, i.e. 79 km from the beach.
Interesting Facts and Trivia about Chavakkad Beach
Chavakkad Beach is on the sea shoreline of stunning Arabian Sea and is engulfed in tall coconut trees and an allure that will surely blow your mind.
The beach is not a tranquil but is not much crowded either as there will be local fishermen, and some of the travelers exploring the beach.
Another significant and interesting fact about Chavakkad Beach is that it is still a pristine and immaculate one which is often ignored by those travelling in Kerala, so you can soak in the immaculateness and flawlessness of this beach that will certainly unwind you giving a much-needed break that we all look for in our lives!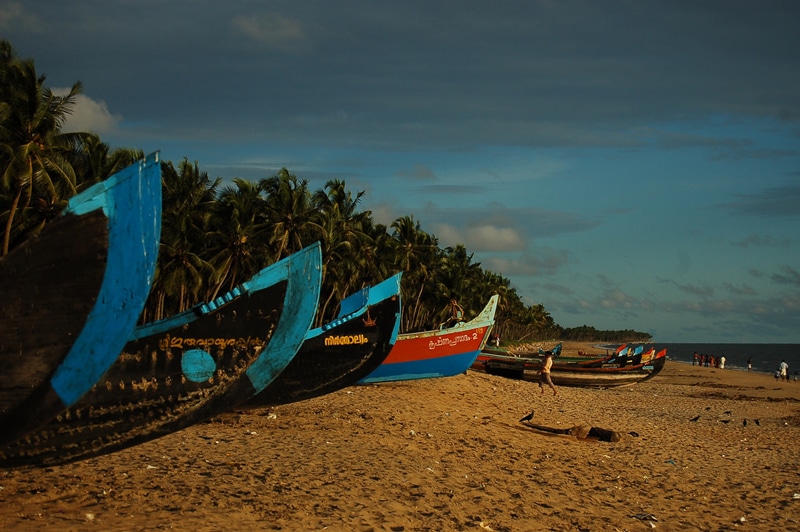 Nearby Attractions
Naagayakshi Temple
Thoomban Bhadrakali Temple
Kozhikulangara Temple
Church Thomas Temple
Nearby Restaurants
National Paradise
Theertham
Saravann Bhavan
Thulasi Krishna Inn
Ganapathy Bhavan
Indian Coffee House
Bean Mug
Konrak Hotel
Hence, Chavakkad Beach is not more than a fantasy for those who love beaches and the sun-kissed ambience of seashores to relax in. The sunny sands, cool breezes, hustle bustle of fishermen and nearby markets, savory snacks and the charm of this beach, all this will blend together to cater you with an amazing vacation to relax in the beauty of Kerala. The special thing about the beach is the amalgamation of a river and sea which is not an often-seen thing in Kerala, so whenever you are in Thrissur and your mind is craving for a beach picnic, you can always come here, soak in the beauty and spectacular views of this place and satisfy your inner foodie and shopaholics by visiting the nearby restaurants and markets, happy journey!!