Visitor Information
Famous For: Nature Lovers, Adventurers
Entrance Fee: Entry is Free
Visiting Time: Both Daytime and Evening time is favorable
Visit Duration: 2-3 hours
Lighthouse Beach is the largest one among the three spellbinding beaches found at Kovalam Beach and is also an amazing blend of charm, allure and adventure. There are numerous water sports and activities availed here and you can also try swimming amidst the stunning white sands and pearl blue waters, both ways Lighthouse Beach is an incredible endeavor to soak oneself in!
Traveler Tips
You can keep your swimming costumes and lotions while coming here as the water is refreshing to try swimming.
Food is easily accessible, so there is no need to bring snacks.
Keep your phones and cameras charged to take as many photographs as you can in order to enliven the memories forever.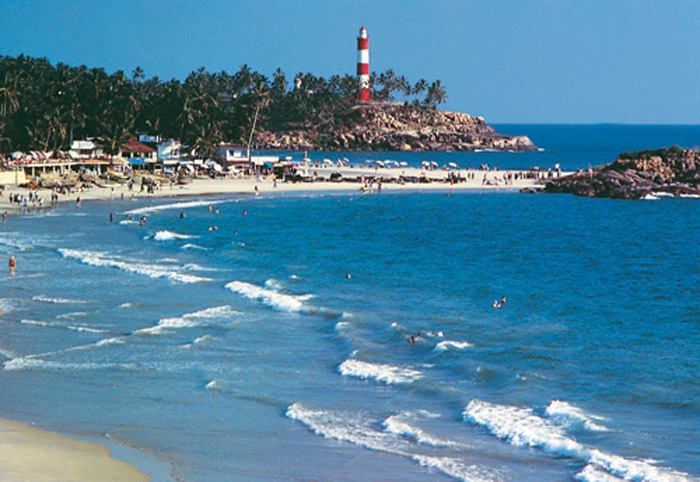 Things to Do
Sit by the coming waves and if you are in mood to witness the city from the top, then visit the lighthouse, climb up and be enthralled.
Seize the enigmatic early sunrise and evening sunset when the beach is at its best charisma.
The water sports organized here are also a great endeavor to opt for.
Massages provided at many Ayurvedic centers are also rated as soothing and you can attempt one to rejuvenate amidst the coral beauty.
Availability of Guides
Guides are not required as you see the beach around by yourself but for water sports, a trainer to guide you is a must.
October to February is the ideal time to explore lighthouse beach as the winter breezes and coming spring both come under the moderate period of this month.
How to Reach
This beach is near to Trivandrum from where you can take a bus or a car ride to here. Also, Thiruvananthapuram Central which is 11 km from the beach is the closest railway station and Trivandrum International Airport which is 10 km away from here is the most nearby airport.
Interesting Facts and Trivia
The lighthouse at this beach is almost of 30 m height and is the raison d'être why the beach is recognized as Lighthouse Beach. This lighthouse is sited at the southern side and is on a mantle. You will also find an observation pedestal on this lighthouse from where you can take a look at Poovar at one side and the renowned Beemapalli mosque from the other direction. The staircase to reach this platform is 142 steps which you have to climb to come at the top.
There are lush palm plantations and trees and the waves bouncing from the Arabian Sea is an amazing site to behold. The water activities and adventures available here include surfing, paragliding and parasailing and the temperature of the sea waters is also moderate to take a deep-sea dive and refresh oneself.
Not only the adventure lovers and picnickers, this beach is also a hotspot for honeymooners who enjoy water adventures or just be in the ecstasy witnessing the sheer beauty of this beach.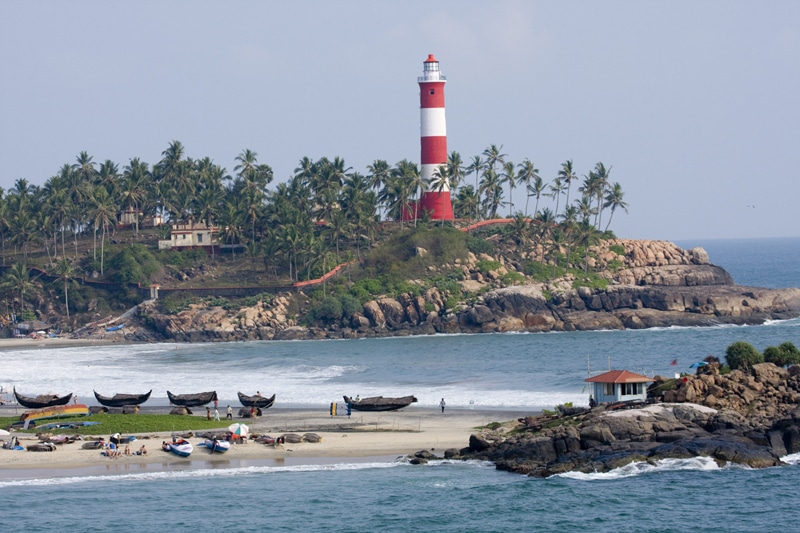 Nearby Attractions
Kovalam Beach
Hawa Beach
Samudra Beach
Vellayani Lake
Nearby Restaurants
Crab Club
Fusion
Varsha Restaurant
Sagara
Crow's Nest Café
Kingfisher
Lonely Planet
Sea Rock Restaurant
A Beach Café
Malabar Restaurant
Thus, Lighthouse Beach assures you of an amazing adventure and joy-filled time here and if you fall in love with its allure and charm, take as many as photographs to keep the memories of this exquisite beach in a cherishing way with yourself. Moreover, spare the time to travel around the other two beaches at Kovalam beach that are also breathtaking and splendid to discover. So, amidst the white sparkling sands, rushing waves, sea breezes, and a beautiful sunny day, Lighthouse Beach is nothing more than a heaven for those who love beaches and want to spend as much as time amidst the coral heavens, hence the next time you are travelling to Kovalam, spare some time for Lighthouse Beach and witness the quintessential charisma of this beach!