Visitors Information
Famous for: History Buffs, Nature Lovers
Entrance Fee: Free for everyone
Visiting Time: Army Museum Timings – 10am to 2pm & 3pm to 5pm; Monday Closed
Visit Duration: 1-2 hours
Annandale is a serene location of Shimla replete with mesmerizing vistas, a sporty golf club, an Indian Army Museum, a Cactus museum and a tranquil aura to spellbind you with. It has been a playground for British in pre-independence times and is a central destination to travel around in Shimla. The playground is in a shape of a big, huge circle and organizes parades, army activities, sports and festivals like Dushhera. It has been a known attraction for cricket and polo lovers and has been tempting tourists from all around the world to explore it and, the surroundings too, are sure to make you go wow over them!
Traveler Tips
A café is built within Annandale so you don't have to worry about food!
Wear your sport shoes and the playground is also a safe place to take part in cricket, polo and golf here.
Things to Do
The Army Museum is a must to sightsee as you will find the historical ammunitions of Indian Army and many other interesting facts in your tour here.
Take yourself out amidst the gardens quaintly maintained by the Army officers and the place is to overwhelming to be in!
Keep your tiffins packed in bags as monkeys are all around so caution is strictly needed.
Hike towards the highest peak at Annandale as you can take a look at Shimla from this beautiful point.
Availability of Guides
Guides are actually not needed as the museum is an informative site and the playground too is a relaxing one to just enjoy by oneself.
Best Time to Visit
Shimla has a quaint weather in any month but avoid your visit during monsoons as you will not be able to soak yourself in the lovely atmosphere and environment of Annandale. So, winters and summers are an idyllic time to explore this attraction.
How to Reach
It is situated just 5 km from the Ridge and is also close to 2 km from Shimla Railway Station. Hence, you can either walk to the place or hire an auto or cab there.
Interesting Facts and Trivia
Sited at the altitude of 6227ft above the sea level, Annandale is one of those attractions where you can look down at the city of Shimla from Annandale's highest peak that is filled with snow-clad mountains and breathtaking vistas.
There is trail of trees amidst Annandale from deodar trees to oak trees, you will find this lush greenery quite calming to the senses as this place is rich in its flora and fauna which is taken care by the Indian Army tastefully.
It is located densely in the suburban hamlet of Kaithu, Shimla West. It is a flat playground and was christened by Captain Charles Pret Kennedy, who was one of the initial visitors of this site.
It has been a significant hotspot for Anglo-Indian sport games and the area is also utilized as heliport of Shimla.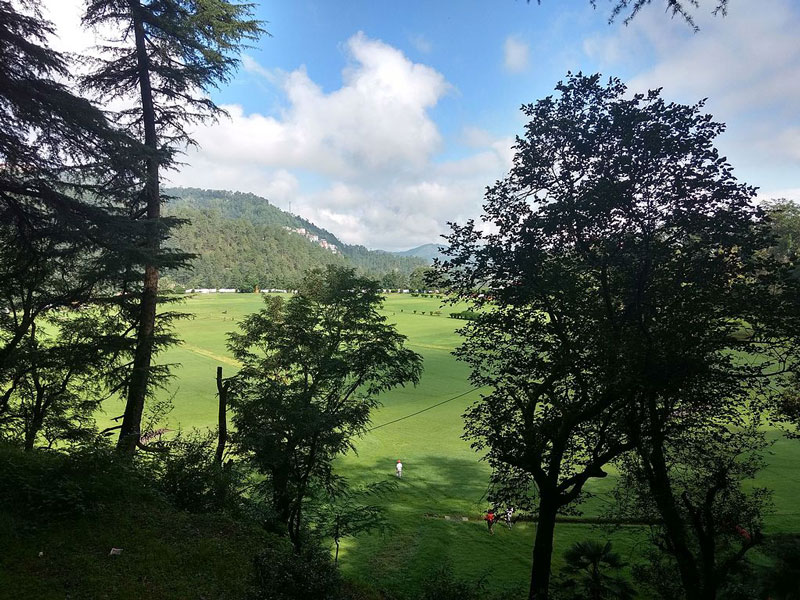 Nearby Attractions
Ram Temple
Marks Church
Kali Bari Temple
Toy Train Ride
Nearby Restaurants
Kwality Restaurant
Mirch Masala
Restaurant Baithak
Baljees Restaurant
Mehak Restaurant
Mezbaan
Tara Bhojanalay
Annandale is definitely an endearing place to be in as the sporty atmosphere and the discipline carried out by Army officers here will completely leave you in awe. Either drive up to here or take a walk and this nature's charming attraction will beautifully take your heart away with its allure. Being a key tourist place in Shimla, Annandale has an adventurous yet soothing appeal to it as here you can come for picnics or weekend getaways and it will sweetly turn into your vacation as a memorable one! Happy Journey!