Named after the erstwhile British Governor-General of India, Lord Dalhousie, the hill station is located in the Indian state of Himachal Pradesh. Dalhousie is situated in the foothills of the Dhauladhar Mountains and facing the Pir Panjal range of the Western Himalayas at an elevation of 1,970 meters above sea level. The region first came under the rule of the Sikh leaders of Punjab but after the Second Anglo-Sikh was came under the authority of the British East India Company in 1849. The town was soon developed as a summer retreat for the British Officials and was named Dalhousie.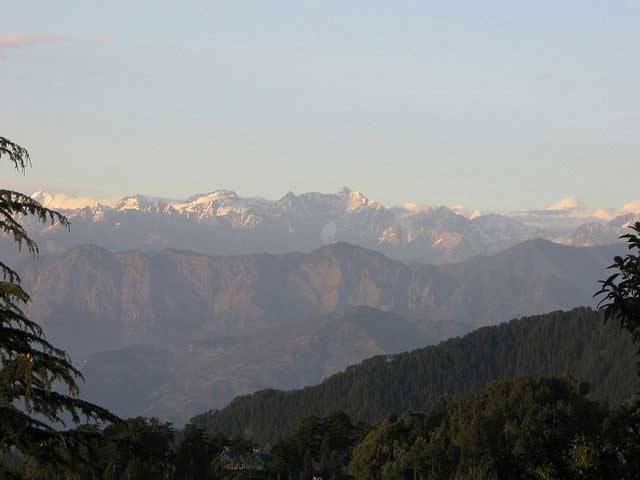 Today Dalhousie remains a largely unspoilt hill station with its remarkable surroundings and views of the Himalayas. It is a quiet hill town with little or no nightlife and is best suited for tourists who seek to the serene atmosphere and honeymooning couples. The town comprises mainly of colonial style buildings and bungalows with narrow avenues which are mostly covered in fog and surrounded by fir and pine trees. Dalhousie also acts as a gateway to an equally enchanting hill town of Chamba.
Climatic Conditions
Located in the Himalayan foothills, the climate in Dalhousie stays pleasant and welcoming throughout the year. The summer months between March and June see the mildest climates with temperature rarely going above 30 degrees Celsius. The monsoon months between July and September see plenty of rainfall and picturesque sceneries. The winters in Dalhousie are cold and temperatures can fall below freezing point and give the opportunity of various winter sports like skiing, snowboarding etc.
Best Time to Visit
Dalhousie is frequented by tourists all year round due to is pleasant climate that provides a refuge from the burning plains in Northern India. The best time to visit Dalhousie is from March till June and from October till December when most of the cultural festivals are held and the climate is the most enticing.
Attractions/Things to Do
With plenty of picturesque sights and breath taking locations, Dalhousie remains a haven for people looking for a quaint and remote place to relax their senses and enjoy the cool weather during the summers. As the town was developed by the British, Dalhousie houses several colonial style bungalows, narrow walkways and surroundings that resemble the highlands of Scotland.
Dainkund Peak, Khajjiar, Village Lohali, Bakrota hills, Tibetan Market, St. Andrews Church, Panchpula and Kalatop etc. are few of the several tourist places in the hill town of Dalhousie.
How to Reach
Dalhousie is well connected to most towns and villages in Himachal Pradesh via roads and railways. It takes a 12 hour bus ride from Delhi to reach Dalhousie. It is always better to reach Pathankot via train and take a bus to Dalhousie which takes around 2-3 hours. The roads are generally well maintained and provide a hassle free travel experience. The nearest domestic airports are located in Shimla, Jammu and Chandigarh which are connected with all the major airports in India. Delhi is the nearest international airport.
Distance from Major Cities
1. Chamba to Dalhousie – 55 Kilometers
2. Pathankot to Dalhousie – 89 Kilometers
3. Jammu to Dalhousie – 193 Kilometers
4. Shimla to Dalhousie – 339 Kilometers
5. Chandigarh to Dalhousie – 324 Kilometers
6. Dehradun to Dalhousie – 474 Kilometers
7. Delhi to Dalhousie – 572 Kilometers
8. Jaipur to Dalhousie – 784 Kilometers
9. Lucknow to Dalhousie – 1,000 Kilometers
10. Ahmedabad to Dalhousie – 1,449 Kilometers
11. Kolkata to Dalhousie – 2,0205 Kilometers
12. Mumbai to Dalhousie – 1,921 Kilometers
13. Hyderabad to Dalhousie – 2,096 Kilometers
14. Bangalore to Dalhousie – 2,685 Kilometers
15. Chennai to Dalhousie – 2,724 Kilometers
Accessibility and Accommodation
Being a popular tourist spot, Dalhousie is fully loaded with all types of visitor accommodation facilities. Hotels, Inns, tourist huts and houses are all available for booking and rent to the tourists fitting all sorts of budget. Getting around Dalhousie is the main attractions as it is usually done on carriages and horses or by foot. The roads inside the town are narrow and steep and unfit to support larger cars like SUVs and Sedan.