Manikaran is a small town located in the Parvati valley, in Kullu District of Himachal Pradesh. It lies on the banks of River Parvati. This town is situated at a height of 1760 m above the sea level. It is regarded as the pilgrim centre for both Hindus and Sikhs. Hindus believe that Manu had created the first form of human life, right here in Manikaran after the legendary floods, therefore, it is a very sacred place for them. The Sikhs have a very famous gurudwara here which was visited by their first Guru. Manikaran attracts a large number of tourists not only because of its reputation as a holy land, but also because of its scenic beauty as well as its famous hot springs. Listed below are some of the places you might want to see if you ever visit Manikaran.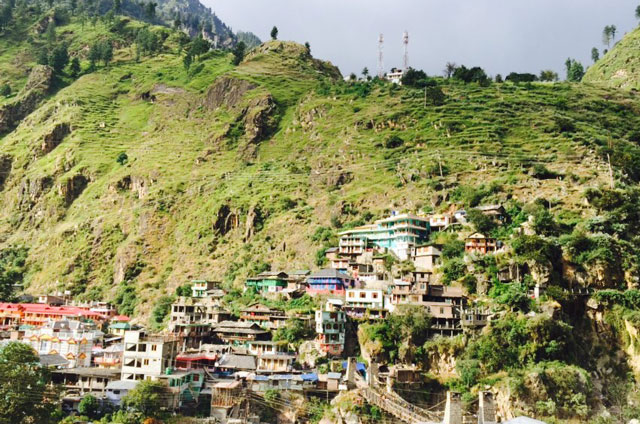 1. Hot Springs
Manikaran is famous for its hot springs. People from all around the world come to take a dip in these waters as it is believed that this water has the power to heal diseases as well as cure muscle pain. The water coming from this spring is so hot that one can even cook rice here. The food cooked at the gurudwara is kept in pots and immersed in these holy waters. These springs have two legends surrounding them.
According to the Hindu mythology, Lord Shiva and Goddess Parvati were strolling in this area. By mistake, Goddess Parvati dropped a precious stone and it was now nowhere to be found. After a while, Lord Shiva got very angry and opened his third eye and started dancing in regression (tandava) to destroy everything. Sheshnag (God of snakes) tried to cool him down and hissed out a hot spring causing the stones to come up to the surface. On the other hand, the Sikhs believe that their 1st Guru – Guru Nanak Devji had visited this area and he was looking for some fire source to cook food for the poor and needy. But when he could not find any such sources, he prayed to God and that's when this spring was converted to a hot spring.
People believe that they achieve salvation after taking a bath in these springs or drinking its water. Studies have shown that this water contains radioactive elements as well as natural uranium. It is however, advised that one should not take a bath here for more than 10 minutes because of the high sulphur content of this water.
2. Sri Guru Nanak Devji Gurudwara
This Gurudwara holds a special place in the Sikh religion. It has been stated by Giani Gian Sikh in 'Twelfth Guru Khalsa'. There is an interesting story related to this Gurudwara.
It is believed that the 1st Guru of the Sikhs, i.e. Guru Nanak Dev ji had came to visit Manikaran to look after the people living here. He had come along with his disciple Bhai Mardana. The disciple was told to go and collect pulses and flour to make food (langar) for the people. When he returned with the required things, he was requested to remove a stone from where Guru Nanak was sitting and to his surprise a hot spring emerged from there. Bhai Mardana was then told to tie the pulses and flour in some cloth and throw the bundle in the spring. After a while, cooked food was taken out of the spring.
Sri Guru Nanak Devji Gurudwara still feeds everyone for free and they keep their cooked food in pots that are immersed in this spring. This Gurudwara also offers free accommodation to the people who come here looking for shelter.
3. Lord Shiva Temple
This temple dedicated to Lord Shiva is again, a great tourist attraction. People from all over India and beyond come to visit it. Manikaran is said to be a place where Lord Shiva, along with his wife, Goddess Parvati had stayed for 1100 years. This temple is of great importance in the Hindu mythology. Sadly, the temple got a little damaged and tilted during the earthquake of 1905. It is also believed that the Kullu valley 'Devtas' (Gods) visit this temple from time to time.
4. Parvati River and Harinder Mountains
Manikaran is situated on the right bank of River Parvati. The river flows through the town, adding to its picturesque beauty. People can sit by the river and relax. Manikaran is also encircled by the Harinder Mountain Range in the North. These are snowcapped mountains that make Manikaran look even more attractive. The town's view from above these foothills is breathtaking. People looking for relaxation should definitely go to see these two attractions of the town.
5. Lord Ramchandra Temple
Lord Ramchandra temple was built by Raja Jagat Singh in 17th century. It is another important pilgrim place for Hindus. The legend has it that Lord Rama had Himself brought this temple to Manikaran from Ayodhya. This temple is famous for its royal idols of Ram and his beautiful devoted wife – Goddess Sita.
If you are into mythology and legends, Manikaran is the perfect holiday destination for you. Every place here has an interesting story behind it. There are legends hidden everywhere. The best time to visit this legendary place is during the summers when the average temperature is 10 degrees C. April, May and June are the three ideal months to visit Manikaran. Winters here are pretty harsh and one might not be able to enjoy the place to its fullest. Kulant Pith is another interesting spot to visit in Manikaran. Manikaran also has a number of local markets that one should visit in order to see the local and traditional items.
More Himachal Pradesh Attractions: