In 1974, the Pong Dam was erected on the Beas River, upstream of the district of Talwara in the state of Himachal Pradesh. The Dam was constructed to serve the purpose of generating hydroelectricity and land irrigation. The raised water level thus invariably created an artificial lake which was coined the name Maharana Pratap Sagar after the great ruler of Mewar.
The specialty of this lake is that it is a sanctuary for birds of numerous species including Barheaded Geese and Red-necked Grebe. In this effect, the entire reservoir was decreed as a Wildlife Sanctuary by the Himachal Pradesh government in the year 1986. Besides providing a home to many birds, Pong Dam also serves as a tourist attraction and a centre for water-sports. Many activities such as kayaking and water skiing are carried out commercially for tourists and water-sports enthusiasts here. The entire lake stretches out to a surface area of 240 square kilometers and a depth of 321 feet during flood season.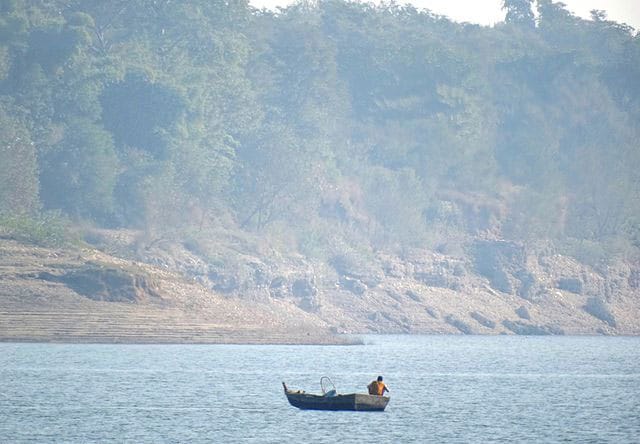 Climatic Conditions
The weather at Pong dam is tropical, with temperatures reaching up to 45 Degree Centigrade in the summers. In monsoons, heavy rainfall elevates the water level, increasing the surface area of the lake. The average rainfall measured annually aggregates to around 1207 mm. Each monsoon season lasts between the months of July and September. Winters are mildly cold and temperatures go down till about 6 to 5 degrees on coldest days, making it difficult to get into the water for tourists.
Best Time to Visit
The Sanctuary is ideally visited during the winter months of November to March when the migratory bird population is at a maximum. It is estimated that over 1, 00,000 water birds migrate to the lake during the winter each year and keep growing in number with each passing year. However, in the summers, tourism is at its peak with water sports and National competitions being organized on a yearly basis.
Wildlife at Pong Dam Bird Sanctuary
There are various varieties of migratory birds that make the reserve their home during the winters and summer months. Besides these birds, there are several other species of mammals and reptiles that thrive in the rich ecosystem of the lake and its surrounding areas. Some of the species of animals in the region are listed below.
Mammals
Leopard, nilgai, sambhar deer, barking deer, goral, wild boar, monkeys, langoors, clawless otter, mongoose.
Reptiles
Monitor lizard and snakes like Cobras, Pythons and Krait .
Birds
Barheaded geese, Anser indicus, northern lapwing, ruddy shelduck, northern pintail, common teal, spot-billed duck, Eurasian coot, red-necked grebe, black-headed gulls, plovers, black stork, terns, water-fowl and egrets amongst others.
Distance from Nearby and Major Cities
Dharamshala – 78 km
Amritsar – 172 km
Karnal – 358 km
Delhi – 490 km
Mumbai – 1857 km
Bangalore – 2610 km
Kolkata – 1942 km
Dehradun – 393 km
Chandigarh – 246 km
Nearest Airports
The nearest airport to Pong Dam is in Gaggal, which is around 40 kilometers from the location. Other nearby airports includes Pathankot, Jammu and Chandigarh. Chandigarh airport is a good two hundred kilometers from the location but is the most well connected in therms of number of flights per day.
Nearest Railway Station
The best way to get to the sanctuary by train is till the Pathankot station which is at a nearer distance to Pong Dam.
Road Accessibility
There are a number of tourist busses and state road corporation busses that are scheduled for Pong dam every day. These buses come from various cities including Delhi, Dharamshala, Jammu and Chandigarh throughout the year.
Accommodation Facilities
There are rest houses located at the lake site officiated by the department of tourism. Besides these places, Dharamshala and Nagrota Surian have several hotels and restrooms available for lodging all year long.