Kalpa is a small town situated in the Sutlej Valley, located on the banks of the Sutlej river. It lies in the Kinnaur District which is in Himachal Pradesh. This town is famous for its apple orchards. It is also known for its historical temples and monasteries. People here mainly follow a blend of Hinduism and Buddhism and therefore there are temples dedicated to Gods of both religions. To add to all of the above, Kalpa has a beautiful charm to it. The Kinnaur – Kailash ranges can be seen across the Sutlej River. The Shivlinga (the form of Lord Shiva that is worshipped) situated in the Kailash ranges is also visible from Kalpa. It is amazing to see how the linga changes color during the day. This village has become popular in the recent years. Now, accommodation in Kalpa is not a problem at all. From guest houses to resorts, everything is available in all kinds of price ranges. The view from everywhere is beautiful and the food provided is pretty good. If you are visiting Kalpa, you might not want to miss out the places listed below.
1. Kothi
An ancient village situated 3 kms away from Reckong Peo; Kothi is the perfect place for people who love to appreciate the old art and architecture. This village is famous for its temple which is located at such a perfect spot with the beautiful backdrop of the majestic Kailash Mountains. The local people there are devotees of Goddess Chanadika Devi and therefore this temple is dedicated to her. A golden image of this powerful Goddess can be seen in the inner chambers of the temple. Apart from the temple, the village has a great appeal for the nature-lovers with fruit trees all around.
2. Kinnaur Kailash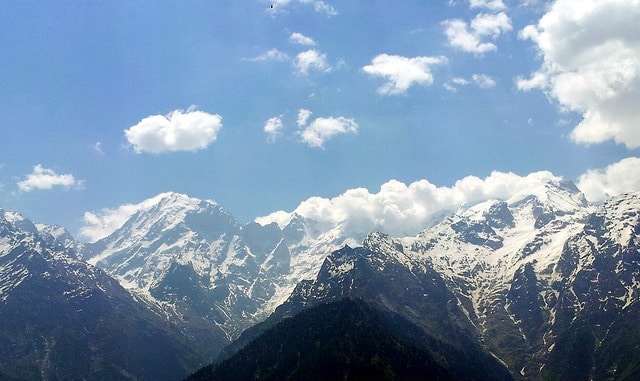 Also known as the Kinner Kailash, Kinnaur Kailash is a 6500 m high mountain. It is called as the land of myths and fantasies. The lush greenery, beautiful orchards and vineyards, the high snow clad mountain peaks and the overall view – they all make this place a heaven on earth. One simply would not want to leave this breath taking beautiful place. The places here have myths and legends attached to them and there are various options for trekking and other kinds of adventure. It also has a sacred importance to it. Both Buddhist and Hindus wish to visit this peak at least once in their life.
3. Suicide Point
This point is located at a 10 minutes' walk from the village of Kalpa. To reach there, you would have to walk through the orchards of luscious red apples and it is definitely a sight you do not want to miss. The main spot is very dangerous. The place has vertical slopes and dangerous trenches.
4. Batseri
Located on the left bank of the Bapsa River, this village can only be visited on foot. There are two temples in this village. One is dedicated to Lord Buddha while the other is a temple of Lord Badri Narayan. Batseri is quite popular for the handicrafts sold here. From handmade shawls to caps, you get everything of good quality. Pine nuts and pinus gerardiana (chilguza) are grown a lot in this region. You must definitely buy these.
5. Sapni Fort
Sapni fort is another outstanding example of the architecture of the people of those times. Sapni fort is located near the Sapni village and has two buildings that are joined together. These buildings were built by King Padam Singh who ruled over Rampur. The main tower has seven stories and the fifth story is a temple dedicated to Goddess Kali. Outstanding carvings on wood can be seen here. The window frames and the doors are decorated with impressive wood work. If architecture interests you, this fort is a must-visit place.
The winters in Kalpa are extremely cold and harsh. It is recommended that you visit this town between the months of March and September, when the temperatures are mild. Woolens still need to be carried. Kalpa is a beautiful place with many magical locations that would capture your heart. You would have a great time here.
Some More Tourist Destinations Of Himachal Pradesh: