Amidst the mighty Himalayan ranges, away from the crowd and hustle bustle of famous destinations lies a quiet little village called Barog. It falls under the Solan district of Himachal Pradesh a bit off track from the Kalka-Shimla Railway track. This village is named after an engineer called Barog who was to construct a tunnel alongside the railway track. But due to some miscalculations, certain things went wrong with the construction. Humiliated and disgraced, the engineer committed suicide. It was the construction of this railway track that led to the establishment of the village nearby. The tunnel is known to be one of the straightest tunnels in the world. Barog is now emerging as a popular tourist destination due its picturesque setting among the beautiful snow capped peaks. So if you're heading there, check out the top 5 places to visit in Barog:
1. Dolanji Bon Monastery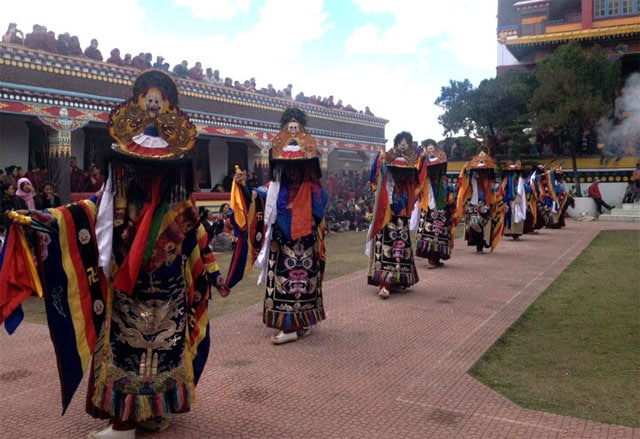 Built in 1969 by Abbot Lungtog Tenpai Nyima, the Dolanji Bon Monastery is an attractive tourist destination. The place seems to radiate peace all around. It is run by the Yungdrrung Bon Monastic Center and lies 5 km away from Barog. This place is a worth a visit in this little town.
2. Choor Chandni Peak
At a height of 3650 m above sea level stands the famous Choor Chandni Peak also known as the Choordhar Mountains. The peak is so named because it is said that on a moonlit night, it appears as if silver bangles are passing down the slope. It is popular among tourists as a trekking destination. For adventure lovers and nature enthusiasts, this is a perfect destination to set out on a trek or explore the beautiful pine forests nearby. This is also an ideal destination for photographers to take some breathtaking shots of snow capped mountains and verdant valleys all around.
3. Barog Camping Grounds
Barog Camping Grounds is a perfect destination to explore if you're with friends. It is the only registered camping site in Barog. You can enjoy the mesmerising view of Choor Chandni Peak as well as the Solan Valley. In the lap of nature you can have the blissful experience of camping. Activities such as bonfire and nature treks are available here. The camps are fully equipped with basic amenities such as electricity, telephone and bathroom.
4. Suketi Fossil Park
Lying on the banks of Markanda River, Suketi Fossil Park is known to be the first park built at the exact same place where actual fossils were found. It is located at distance of 21 km from Nahan. The park is situated on the Siwalik ranges and has soft sandstone and clay rocks. It is famous for some mind blowing life – size models of pre – historic animals and skeletons whose fossils were found here. These models are made of fibreglass. The fossils are believed to dating back to 8.5 million years and the park showcases some brilliant models of the animals that existed around this time. You can expect to find the models of a hippopotamus with six incisors, Sabre toothed tiger, giant land tortoise, extinct grand elephant etc.
5. Graveyard Of Barog
The tragic story of the engineer behind the miscalculated tunnel ends here at the Graveyard of Barog. A beautiful well maintained garden has been built around the grave for tourists to pay their tribute.
While Barog is still emerging as a popular tourist destination in Himachal Pradesh, these are some places you can check out in this little village. This is an ideal destination to get away from the daily routine and loud city life, to explore nature and more importantly to rejuvenate oneself. You can also visit the nearby places such as Simla, Nahan, Kasauli, Jatoli, Rajgarh and Solan.
Some More Tourist Destinations Of Himachal Pradesh: