Located at the north west of the state of Himachal Pradesh, Palampur is called the tea capital of Northern India. As it is located at an altitude of 1,200 m above sea level, it makes it a good place for trekking. It is also popular for the adventure sports offered here. This hill station has innumerable tea gardens and paddy fields. Apart from the scenic beauty one would appreciate the architecture of the temples situated in Palampur. Dhauladhar range and the slopes of the Kangra valley are said to be two places with breath taking scenes of nature. Some of the must visit places of Palampur are given below.
1. Bajinath Temple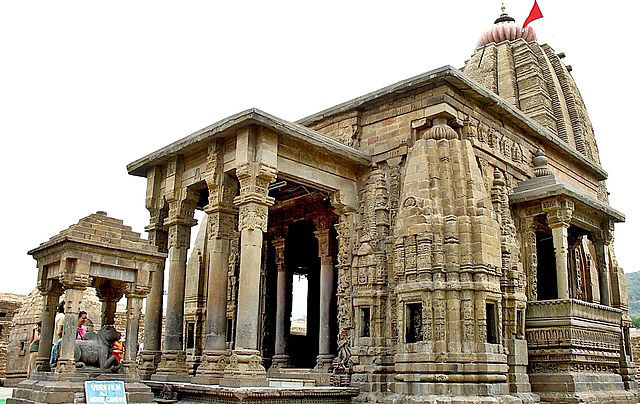 This temple was built by two native merchants Ahuka and Manyuka in the year 1204 AD. It lies 16 kms away from Palampur. Bajinath Temple is dedicated to Lord Shiva. It is regarded as a very sacred shrine in the entire state of Himachal Pradesh. The lingam (the Shrine of Shiva) is said to be one of the 12 Jyotirlings of India. The architecture of this temple seems to have taken inspiration from Orrisa's traditional style and therefore, has the overall look of the "Nagara" style. The water flowing through this temple is believed to have medicinal value and is known for curing many diseases. Thousands of people visit this temple every year in hope of getting their diseases cured. Shivratri is celebrated with great pomp and show here and it attracts many pilgrims during this time. Bajinath temple is one of India's rich heritages; security here is pretty tight to make sure that the devotees do not face any problems.
2. Tea Gardens
As Palampur is said to be the tea capital of Northern India, tea gardens are a major attraction here. You would see these gardens all around you as you go for a drive in this hill station. The lush of greenery and the subtle smell of tea are just what are needed to have a refreshing day. Tea production is done on such a large scale that these tea plantations have found a place in the international maps as well. Regions around Palampur also produce tea in large quantities. Darbari, Bageshwari, Bahar and Malhar are some of the brand names of the tea produced in Palampur. If you notice, you will see that all these names are kept after ragas of Indian classical music.
3. Chamunda Devi Temple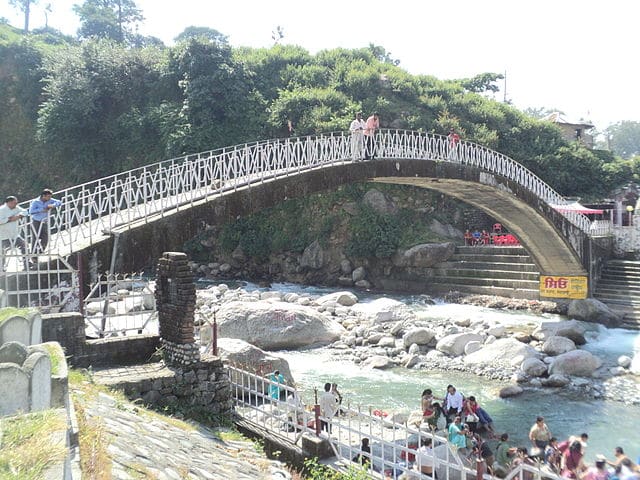 This temple is said to be one of the 51 Shakti Peethas (the places where the parts of Goddess Sati had fallen are known as Shakti Peethas). It is located at a distance of 10 km from Palampur and is regarded as a very important religious center. The main shrines are those of Goddess Durga and Goddess Chamunda. It is a peaceful place where one can go and meditate with no disturbances. It is believed that this temple was built more than 700 years ago. A kund (pond) placed in the premises of Chamunda Devi Temple is said to have sacred water. Numerous paintings of different Gods and Goddesses are seen on the walls of the temple. This temple also features an ayurvedic dispensary and a library. The setting of the temple is beautiful in its own way; surrounded with mountains, rivers and forests.
4. Saurabh Van Vihar
Named after a brave army officer, Captain Saurabh Kalia, Saurabh Van Vihar is a beautiful garden. This garden is managed by the Himachal Pradesh Forest Department. Over 151 species of herbs can be found in these gardens. It covers an area of 35 acres. Picnic sheds, Children's Park, Water streams, Health trails, and Open Air Theatre, Bamboosetum and Tiger Hill Bridge help cover the large area the garden stretches across.
5. Nevgal Khad
Nevgal Khad is located at a distance of just 2 km from the main town. It is a popular attraction of Palampur, popularly known as "Bundla Chasm". It is a perfect picnic spot with a 300 m wide stream flowing in the region. This spot offers a nice view of the snow-capped Dhauladhar ranges. The surrounding stream becomes serene during the monsoons.
The mild climate of Palampur makes it a suitable holiday destination throughout the year. This place can be reached via flights, rails as well road. It is a place one must visit at least once in a lifetime.
Some More Tourist Destinations In Himachal Pradesh: