Visitor Information
Famous For: Tourism, Religious purpose.
Entrance Fee: There is no entry fee as such. People can stand in the queue for normal darshan. However, for special darshan one needs to get a ticket of 50 INR.
Visiting Time: It is open on all days, being a worship site, and its timings are 6:00a.m. to 8:30 p.m
Visit Duration: Approximately 1 hour is required to complete visiting this place. However, being a spot for devotees, you never know the queue maybe longer. So, it's better to keep some time in storage.
This is one of the most important Lord Murugan Temple, situated atop a small hillock in Coimbatore beholds a peaceful atmosphere. It has been attracting many tourists since quite many years. It is an obvious fact because it has a thrilling view of the Coimbatore city from the shrine and then an apt place for a beautiful sunrise view.
Traveller Tips
Try to visit during the early hours to avoid long queue and better darshan.
Although there is the free darshan facility, try to go for the paid one, it would save your time as well as it lets you reach closer to the deity.
Since the main shrine is above the hillock, it's better to go up by paying a toll, with your own vehicle itself. You can take a bus even, which is in the frequency of 1 bus per 15 minutes. However, if anyone of you are enthusiastic about climbing 700 steps you are invited to avoid these options.
Things to Do
The murugar temple and the snake siddha temple which is little lower to the main temple can be explored.
Best Time to Visit
This place could be a good tourist spot all around the year but I presume you would prefer to avoid the summer heat so taking up the spot during the months of November to March would be a wise decision. Other than that, you might include the dates of Thaipusam festival celebrated during the months of Janurary or February.
How to Reach
The nearest airport to the Marudamalai temple is the cochin international airport, which is at a distance of about 138 kilometers. It would take about 2.5 hours to reach Coimbatore by cab. If someone wants to travel by train then, Coimbatore Junction station would be 13 kilometers from the temple. The local buses would take the tourists up to the main shrine or you might take your own private vehicle up there with a certain amount paid.
Interesting Facts and Trivia about Marudhamalai Temple
The hillock where this temple is built upon is a granite hill and is a storage of rich ayurvedic herbs.
It portrays the Dravidian architecture.
It is said that Sri Pambatti siddhar attained 'Ashtamasiddhi' or the eight supernatural powers after performing penance for a very long time in a cave on Marudamalai.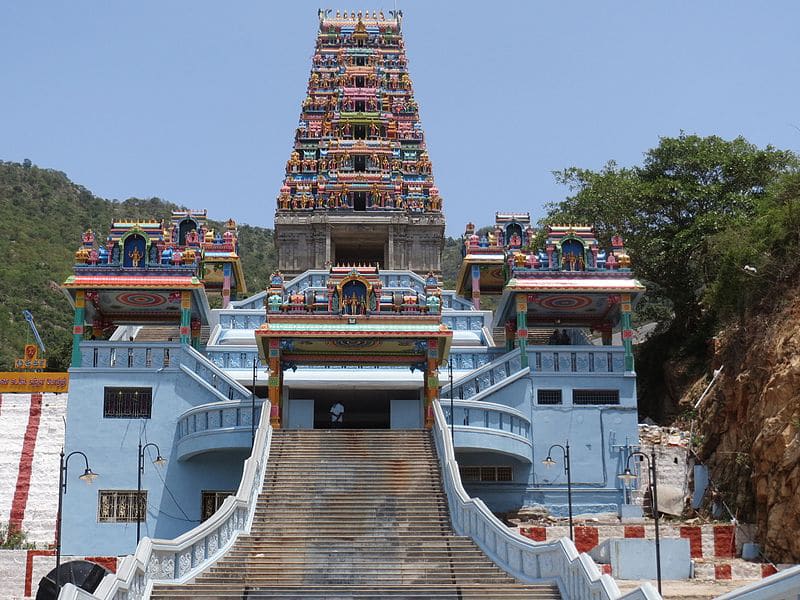 Nearby Attractions
Velingiri hill temple
St Anthony church
Bhuvaneswari amman kovil temple
Shri Krishna Temple
Ayyappan temple
Nearby Restaurants
Sri Anandhaas
Nammalvar organic restaurant
Richies dine
Parampariyam Unavagam
Hotel Arusuvai
Kowloon
Coimbatore has a lot of tourist place including pilgrimage, camping or other social places. However, this being one important site in South India should not be missed. If not for anything then do imagine of the lovely view from that place and be sure to tick it off your travel list as soon as possible.