Visitor Information
Famous For: Admiration of Nature, Photography, Seeking experience
Entrance Fee: No entry fee
Visit Duration: 1-2 hours
Vasuki Tal, is nothing less than paradise on Earth. The shimmering water trickles through your senses and creates an aura of peace and serenity, a feeling that is enhanced by the heart and sky piercing mountains surrounding this lake. The charm of the place cannot be described in mere words, it has to be experienced to be truly felt. The crystal-clear water reflects the purity of one's existence, as well as the mountains that surround and the rocks that embrace the lake's surface. The lake is also adorned by a lovely collection of Himalayan flowers surrounding its length and breadth with their fragrance, vibrancy and pleasure. The best part of this lake is that it offers a haven for nature lovers and a chance to achieve an adrenaline high for the adventure lovers. The Vasuki Tal Trek is one of the most brilliant treks in India, that gives you chance to both test your endurance and also witness the divinity of the Himalayas.
Traveler Tips
If you are planning on undertaking the challenging trek, be sure to be physically and mentally fit prior to commencing it.
Carry a first aid kit with you at all times.
Carry high energy snacks with you to keep your stamina high.
Be sure to trek with a group of people, no less than six individuals.
People with a medical condition such as breathing difficulties or high blood pressure should avoid undertaking this adventurous trek.
Things to Do
Embrace your love for photography and capture some stunning shots of this place.
Embark on the most daring, yet breathtaking trek of your life at Vasuki Tal Trek.
Best Time to Visit
To best enjoy the scenic beauty of this lake, as well as the accompanying trekking experience it has to offer, the best months to visit would be either the summer months or the spring time from September to October. During the rainy season, the roads get slippery and it is perilous to trek or even drive up to high altitudes. Keeping the safety and comfort of the travelers in mind, winter months are also not an advisable time to travel here due to the heavy snowfall and extreme temperature conditions.
How to Reach
Perched at an elevated altitude, the Vasuki Tal can be reached once when has touched Gaurikund. Gaurikund can be easily accessed by railways or flight. The nearest railway station is at Rishikesh, from where Gaurikund can be reached by bus or taxi. The nearest airport is Dehradun, from where one's destination can be reached via road through public and private transport. Gaurikund is also very well connected to other cities of Uttrakhand by road.
Interesting Facts and Trivia About Vasuki Tal
The lake is said to be the bathing site of Lord Vishnu in mythological teachings.
The lake is located at an elevation of almost 4,000ft.
The lake water is so clear that one can see the rocks at the surface perfectly.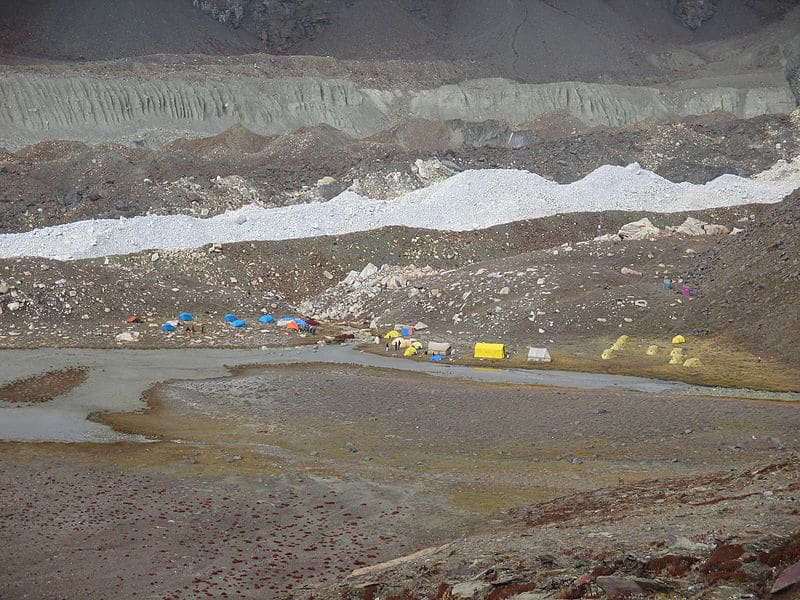 Nearby Attractions
Gauri Kund
Guptakashi
Kedarnath Temple
Kalpeshwar Temple
Nearby Restaurants
Magpie Restaurant
Mayadeep Restaurant
Snow View Restaurant
Chauhan Guest House
Hariyali Restaurant
Saket Restaurant
Vasuki Tal is a one of a kind naturalistic treat that cannot be replaced or compensated. It offers a truly surreal experience to its visitors, which is recommended for all those who yearn for a connection with nature, and also with themselves. The glittering water, radiating under the summer sun, or decorated with the Himalayan flowers of the spring bring relentless joy to its visitors. Be sure to experience the refreshing Vasuki Tal trek if you desire adventure and thrill in your life.