Visitor Information
Famous For: Nature Lovers, Photography buffs
Entrance Fee: Free Entry
Visiting Time: Day and Evening times are favorable; Entry allowed on all days
Visit Duration: 1-2 hours
An astounding landmark of the city, Kodaikanal Lake is a splendid gateway to relax and unwind amidst the lush vistas that will wither all your stresses and exhaustion away. It is a star-shaped lake and is created artificially but the beauty and allure still is verdant to make you go wow over the landscape here and what's more enchanting is that it has been an idyllic location for copious Bollywood movies adding more exquisiteness to them through the enthralling scenery of Kodaikanal.
Traveler Tips
There are many shops and food stalls around so you don't have to bring food along as you binge upon the street delicacies.
Things to Do
Boating is catered here and luxury boats also provided.
Flower shows are the best thing about Kodai Lake when you are taken within the lake, you can ponder upon gorgeous flowers of the lake and the feeling is just out of the world! They are chiefly organized in summers along with an interesting beauty pageant show.
Fishing is the next option to try at the lake.
For those who love swimming, it is only permitted to the Kodaikanal Boat Club but provisional membership is also catered for tourists here so you can inquire the same at the club.
For kids, horse riding and cycling are the perfect endeavors to go for!
There are many souvenir stalls are situated nearby to take back momentos.
Availability of Guides
Guides are not needed as the lake as information authorities all around and you can ask them about anything regarding this place.
Best Time to Visit
Summer is an awesome time to be here especially during April to June when you can soak in the soothing breezes and try different water activities.
How to Reach
Kodai Road Railway Station which is at 90 km distance and Palana Railway Station at 64 km distance are the closest ones to reach through rail. For travelling by air Madurai and Coimbatore Airport are the nearest at the distance 121km and 135 km respectively.
Interesting Facts and Trivia
Palani Hills sited by the north-western side augment the aura of the Kodai Lake and it was actually built by the earlier collector of Madurai, Sir Vere Henry Levinge in 1863. The source of this lake's water is through the water rushing down from Palani Hills and this flow creates an alluring waterfall referred to as Silver Cascade and is a must nature hotspot to sightsee.
The fauna of the lake water is just amazing and quaint and there are copious kinds of Macophytes that can be spotted. Moreover, aquatic inselcts like Danio aequipinnatus, Rasbora daniconius and Gambusia affinis and fishes along with common carp and rainbow trout are also the ones to look for in Kodai Lake.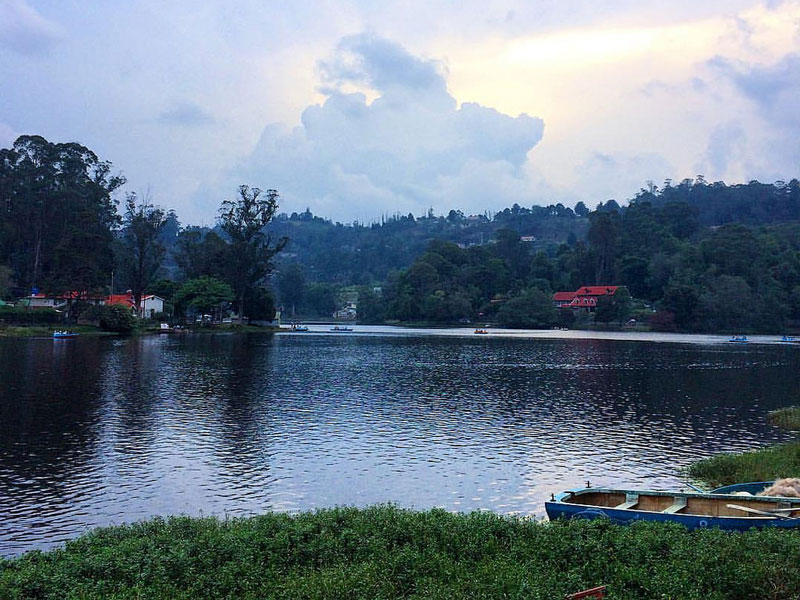 Nearby Attractions
Berijam Lake
Coaker's Lake
Kodaikanal Solar Observatory
Bryant Caves
Chettiar Falls
Kumbakarrai Falls
Silver Cascade Falls
Bear Shola Falls
Nearby Restaurants
Cloud street
Muncheez
NilasTreats
Ten Degrees
Papa John's India
Café Cariappa
Tava
Royal Tibet
Abys Café
Hence, Kodai Lake is a perfect treat to indulge your weekend here and you can choose the luxury resorts situated nearby to make the most out of your trip here. There are several things which are a must to do including boating, fishing, swimming and horse riding which will keep you busy and if you get to spare some time you can just sit by this amazing man-made lake and unwind your daily stresses. It works incredibly for those who adore nature and the more you appreciate this place the more tempted you will to be here! So, next time you are touring Kodaikanal, take a day off, come here and endeavor at various water activities and feel the soothing vibes of this lake!