Visitor Information
Famous for: Sightseeing, historical heritage, religious importance.
Entrance Fees: None
Visiting Time: 10:00 AM to 5:00 PM
Duration of Visit: 1 to 2 hours.
The famous Achalgarh Fort is located in the sole hill station of Rajasthan i.e. Mount Abu. The ancient fort is notably many centuries old and is renowned for many attractions. It is situated 11 kilometres to the north of Mount Abu and is well connected by roadways. It houses many historical relics and age old temples of great religious importance. Some of the notable attractions which demand a must visit are Achaleshwar Mahadev temple, Shivalinga, brass Nandi, Jain Temples and many more. The Achaleshwar Mahadev temple is presumed to be built around 9th century AD and the Jain temples around 15th century AD.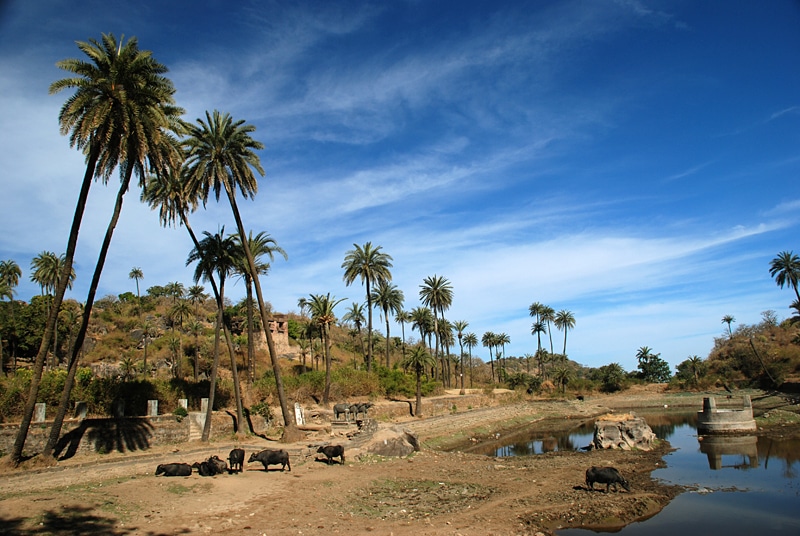 Traveller Tips
Still photography is not allowed inside the temples, especially the Jain Temples. However, you can capture snapshots of the Achalgarh Fort and also the breath-taking view of Mount Abu and Aravalli Ranges from the top of the fort.
You need to put on some comfortable footwear as you will need to do some walking. You also need to trek to visit some of the other temples of the area.
To save yourself from the scorching heat, always carry a umbrella and it is advisable to wear shades.
Always keep a water bottle with you in case of dehydration.
Things to do
Visit the Achaleshwar Mahadev Temple as it is one of the main attractions to visit in Rajasthan.
Pay homage to the famous Brass Nandi which is reportedly made of five metals and whose weight is estimated to be around 5 tonnes.
Inside the fort there are 500-year-old Jain Temples which are known for their elegant sculptures and rhinestone art.
A 15-minute trek to the top of Achalgarh will get you to a Goddess Kali Temple.
You can also visit the Mandakini Lake wch is right behind the Achaleshwar Mahadev temple.
Availability of Guides
We are sorry to inform you that guides are not available in the vicinity of Achalgarh. We would suggest you to buy a travel book or utilize web services for more information and historical knowledge.
Best time to visit
Mount Abu is the sole hill station of the state of Rajasthan. So even in the peak summer season you can visit the place. The average temperature of the place hardly exceeds 32 degree Celsius and maximum temperature is always under 36 degree Celsius. Due to its geographical condition, Mount Abu witnesses' rainfall during the monsoon season and so it is advisable to avoid the place at that time of the year.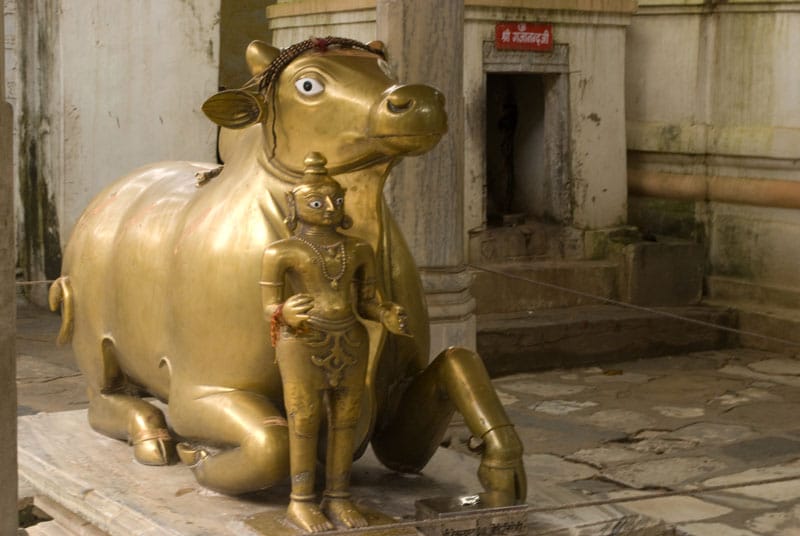 How to reach
The Achalgarh Fort is about 7 kilometres from the Main Bus Stand of Mt. Abu. If you want to avail the railway services, then the nearest station is at Abu Road which is situated at the base of Mt. Abu and is 37 km away. If you want to reach Mt. Abu via flight or would like to choose air travel, then the nearest Airport is 184 kilometres away in Udaipur. Other modes of transport such as private taxis and private bus services are also available.
Interesting Facts
The Achalgarh Fort was built around 9th century AD by Paramara Dynasty.
Maharaja Kumbah of Sisodia Rajput clan who was the ruler of Mewar, reconstructed and renovated the fort in 1452.
Two beautiful crystal idols of Shri Bhairav Nath and Maa Durga are also present inside the fort.
It is believed that Achalgarh sits on the toe of Lord Shiva.
Nearby Attractions
Mandakini Lake
Jain Temples
Goddess Kali Temple
Brass Nandi
Dilwara Jain Temple
Nearby Restaurants
Falcon Restaurant
Café Shikibo
Mayur Restaurant
Shree Nageshwar
Shree Gangotri
King's Food
Arbuda
Naru's Pavbhaji
Punjabi Tadka
Swagat Cakes & Restaurant
Mulberry Tree
All in all, Achalgarh is a must visit place with your friends and family. Whether it be the magnificent yet ruined fort of Achalgarh or the religious sanctuary of Achaleshwar Mahadev temple, Achalgarh demands a must visit. Get to know the historical and religious heritage of Mewar and old central India. Trek to the top of the fort to catch some splendid views of Mount Abu and make a place for them in your heart for forever.