Visitor Information
Famous For: History, ancient architecture, local heritage, Seeking Experience, serene location and blissful peace.
Entrance Fee: The entry fee for Indians is 10 rupees and people from other countries need to pay rupees 15. The charges for carrying a camera is rupees 50 and for a camcorder is rupees 100.
Visiting Time: One can visit this haveli from 6 in the morning till 5 in the evening.
Visit Duration: 1-2 hours
Salim Singh ki Haveli is one of the most well-known places in Jaisalmer and has been on the top of lists for being an amazing destination. This haveli is an architectural wonder and happens to have around 35 balconies. The haveli is structured in resemblance to the posture of a dancing peacock. The haveli is a landmark is the city of Jaisalmer and is a prime destination for every tourist. This 300-year-old piece of architecture is a piece of shear elegance and when built was way ahead of its times. These architectural feet are also known as the jahazmahal and even the rulers envied the shine of royal news that this haveli glittered all over the city. The marvellous blue cupola roof that this haveli had is just another reminder of how blissful this haveli was. But other than the elegance this haveli will also portray the shrewdness of Salim Shah. This place carries a lot of history and therefore is one place for History lovers to visit.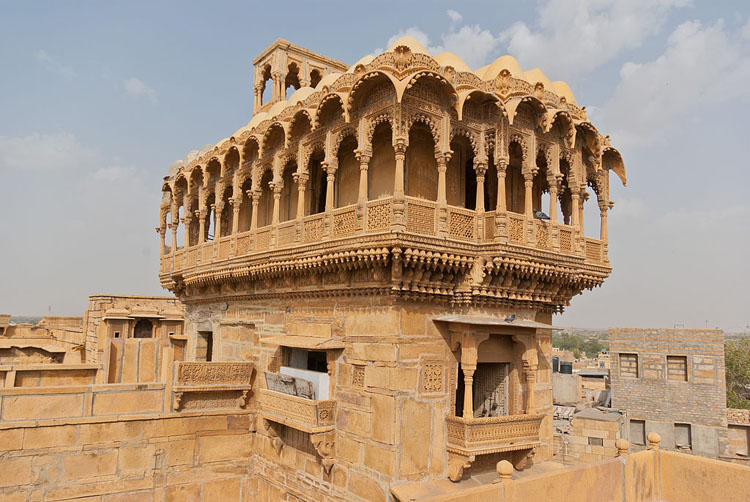 Traveller Tips
Avoid visiting the place during sunny days.
Rajasthan is usually hot so make sure you carry a bottle of water along.
Stay aware of the paths as many sections in the haveli are restricted for public so finding oneself in such places can be dangerous.
Keep yourself away from dark places as there are a lot of bats here that tend to find shelter in dark corners of the haveli.
Stay aware of false sellers that sell mass produced artefacts as actual ones.
Things to Do
Check out the structure of the dancing peacock from all sides.
Check out the blue cupola roof top that makes this haveli even more elegant.
See the amazing craftsmanship that is visible is every direction of this amazing structure.
The chiseled glass window screen that has been decorated with minute detailing is one treat your eyes shouldn't be deprived of. So, make sure you see it.
Ask your guide for all the places where Salim Singh hidded his secrets.
Availability of Guides
Guides are readily available here and are more than willing to tell you all the secrets that this place has enclosed within its boundaries. Make sure you choose the perfectly trained guide to make you experience the best one.
Best Time to Visit
Since Rajasthan is a hot state and Jaisalmer is almost desert the best time to visit this place would be between the months of October and March when the sun is not so harsh and the weather take away the bliss that this place has to offer.
How to Reach
Reaching the haveli is convenient. One can find rickshaws as well as auto rickshaws that will take them to this place. One can also book a cab of one pleases.
Interesting Facts and Trivia About Salim Shah Ki Haveli
The haveli is structured distinctly looking like the posture of a dancing parrot.
The haveli was believed to initially have 7 stories but upper two tiers were demolished on the orders of the ruler.
This haveli is one of the most famous and most visited haveli in Rajasthan.
This haveli is flushed with corridors and rooms which shows that Salim Singh wanted more than one exit points in case of trouble.
The haveli is a mark of luxury and its architecture is believed to be much ahead of its times.
The haveli is filled with mind blowing stone carvings that show the wonders of art during the time.
This haveli was built when Salim Singh acted as the prime minister of the king and he was murdered because of his shrewdness.
The king was also jealous of this beautiful structure.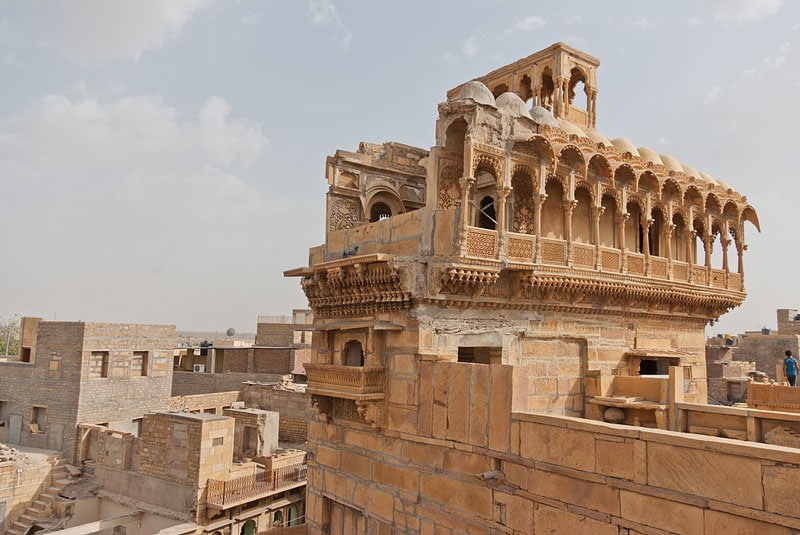 Nearby Attractions
Tilon ki Pol
The Vishnu Temple
Nearby Restaurants
1st gate home fusion
Mystic Jaisalmer
Hotel Hayyat, Jaisalmer
Kuku coffee shop
Golden roof
The trio
Salim Shah ki Haveli is a place that everyone will find interesting and should definitely visit. This place is not just all about history and culture but how the fate of this city was made. This haveli is one place that will make you feel this place is a great destination to be with your close ones. Memories made here will never be forgotten and will be cherished forever. Make sure to visit this awesome haveli during your trip to Jaisalmer, Rajasthan.