Visitors Information
Famous for: History, boat rides, Seeking Experience, serene location and blissful peace.
Entrance Fee: The entry is free but the boat rides are chargeable at Rupees 10, Rupees 50 and rupees 100 for a row boat, a paddle boat and a shikara respectively. The boats rides are for half an hour.
Visiting Time: One can visit the lake at any time during the day but the boats are available from 8 in the morning till 8 at night.
Visit Duration:1-2 hours
Gadisar Lake has been a landmark in the beautiful city of Jaisalmer. This lake has carried on the culture and heritage of this land in Rajasthan and is one of the most valuable assets that this city possesses. This lake was artificially built by the first Maharaja of this city –  Raja Rawal Jaisal as a water conservation reservoir that would help the major water problems that his people were facing. This lake is so important to this city that surrounding the lake are many temples shrines and Ghats. One can see the beautiful and magnificent Jaisalmer Fort from this serene location. The lake is a wonderful place to come for a quiet and serene break from the daily hustle that one faces. During the winters this lake also sees some beautiful migratory birds as the Bharatpur bird sanctuary is close to it. This therefore is a great location for any bird watcher. This lake has an essence of Jaisalmer within it and missing this spot will not do justice to this beautiful city in Rajasthan.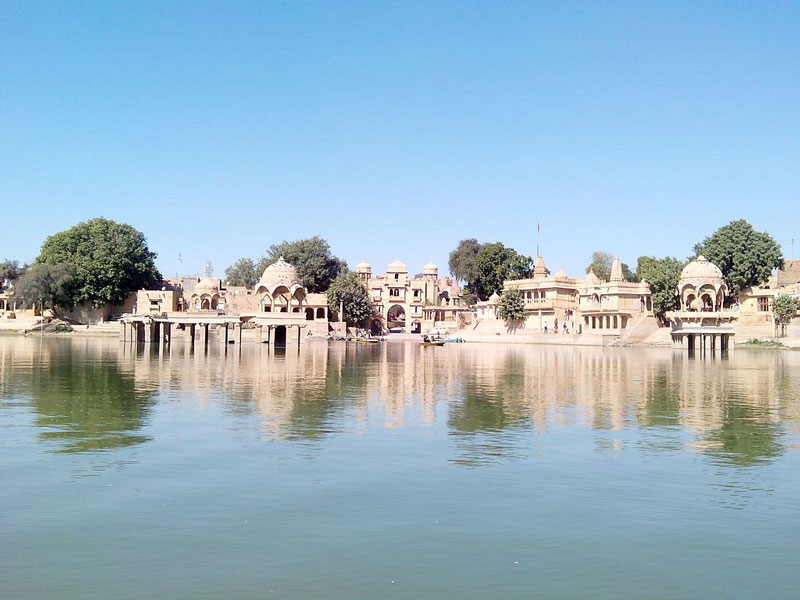 Traveller Tips
Avoid visiting the place during sunny days.
This place has very limited parking so avoid going during rush hours or visit this place via public transport.
Come here with ample time as due to the limited number of boats the queue can be pretty long.
Make sure to walk around to lake to get amazing views from all sides.
The boat rides are immensely calming and soothing, make sure you have you turn.
Grab a pair of binoculars and a SLR with wide angle lens to capture some mind-blowing views of the place.
Things to Do
Take a boat ride and experience the serenity of having a lake in a desert.
Take a walk around the lake to see the whole picture and appreciate the place even more
Make sure to visit the famous Jaisalmer Fort that is near the lake.
Availability of Guides
Guides aren't available here but if you visit the fort you can find well trained guides who are more than willing to escort you to the lake after your tour of the Fort.
Best Time to Visit
The best time to visit this place is during the months of October and March. The lake looks beautiful during the winter months and the scorching hear of the desert can be avoided. Also during these months one can find some amazing birds here that everyone cannot help but fall in love with.
How to Reach
This lake is just 2 km from the Railway station and is easily accessible. Being located very close to the Jaisalmer Fort one can even walk here from the fort. If one is not close to the fort, then one can hire rickshaws and auto rickshaws drop them at the lake.
Interesting Facts and Trivia About Gadisar Lake.
Gadisar Lake was built around 1400 AD and was reconstructed few years later.
The lake is surrounded by many temples and shrines that make an integral part of the city.
The lake has a desert cultural centre and a museum near it that stores a lot of artefacts related to the place and is a must visit.
The Tilon ki Pol is a gateway made of sandstone that is one of the major attractions in this city.
This lake was built in order to satisfy the water needs of the people of Jaisalmer during the reign of Maharaja Rawal Jaisal.
The lake is a serene location that holds a lot of beautiful sceneries perfect for a photo shoot.
Nearby Attractions
Tilon ki Pol
Desert cultural centre and museum
The temple of Lord Shiva on the banks of Gadisar Lake
Nearby Restaurants
Hotel Hayyat Jaisalmer
Lake View Restaurant
The Jaisal Treat
Kabab Corner Restaurant
The Spiced Bite
Gadisar Lake has been an integral part of Jaisalmer since time can comprehend. The lake is beautiful and is surrounded by nature. This place is a perfect getaway location and its serenity is why it is well known for. This lake is one location that'll heal you and give you such memories that you'll remember forever. Not only is this lake of immense importance to the locals but is also one of the most visited places by tourists. Make sure you visit this lake during your stay in this beautiful city.