Visitor Information
Famous for: Nature, Geography, Photography, Wildlife.
Entry Fee: 100 INR per person.
Visiting Time: Open daily from 10 am to 5 pm.
Visiting Duration: About 2 hours.
Bikaner is known all over the world as a renowned place of heritage and culture. However, only a few are aware of the fact that this historical city also houses one of the best flora and fauna the world has ever seen. Oblivious to most of the tourists, Bikaner boasts of a rare collection of species that have been kept under protection in none other than the Gajner Wildlife Sanctuary. Thus, situated in the desert, this wildlife sanctuary has a lot to offer to the tourists who have a keen interest in the flora and fauna of a particular region. Hence, the Gajner Wildlife Sanctuary is slowly gaining popularity among the travellers who are indeed getting an experience of a lifetime.


Traveller Tips
Wear sturdy shoes as this place requires excessive walking.
There are no stalls available to buy any kind of refreshments. Carry refreshments and water bottles before visiting this place.
A camera ticket is required to take your cameras inside.
Definitely carry a first aid kit as there would not be a medical unit deep inside the forest if you might accidentally hurt yourself during the safari.
Things to Do
Go out on a wildlife safari with your friends and family along with an experience guide.
Gaze at the creatures in the desert land living in their natural habitat.
Click multiple photographs of the desert animals and the beautiful surroundings.
Availability of Guides
Guides can be hired from the Sanctuary itself for a nominal fee which differs for both Indians and foreigners.
Best Time to Visit
Winters that is between the months of November to March are the best time to visit this place and have an exotic experience. Summers can be extremely hot here and it is not recommended to visit this place during this time.
How to Reach the Place?
The Gajner Wildlife Sanctuary is situated at a distance of 32 km from the city. Hire a cab or an auto from any part of the city to reach here. This wildlife sanctuary can also be reached by an adventurous camel ride booked in advance by consulting a travel agency.
Interesting Facts and Trivia about Gajner Wildlife Sanctuary
It's a rare wildlife sanctuary as it is located in the heart of the desert area.
Species such as wild fowls, deer, antelopes, nilgais, chinkaras, black bucks, desert foxes and wild boars are some of the common species that can be spotted in the desert forest.
There is a natural lake that acts like an oasis in the centre of that forest. Thus, this is the place that the animals gather to quench their thirst and get relief from the scorching heat of the desert.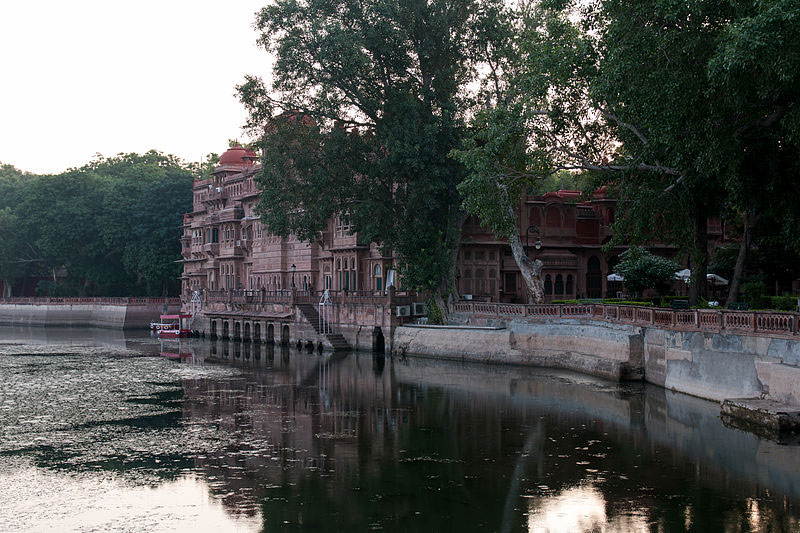 Nearby Attractions
Prachina Museum
Sardul Singh Statue
Soor Sagar
Ganga Singh Statue
Nearby Restaurants
Laxmi Niwas Palace
Garden Café and Restaurant
Chhappan Bhog
Rendezvous
Heeralal Sweet Shop
Chhotu Motu Joshi Sweet Shop
Parshvanath Ice-Cream Parlour
King's Pavilion Restaurant
Evergreen
Grill Inn
A visit to the lush, green forest is quite a common practice in most parts of the world. The people are so blinded b the majestic beauty of the lush, green forests that the thought the animals exist even in the desert area totally skip off from their respective minds. A trip to this desert forest help the tourists to realize how hard it is for the animals to live whose natural habitat is the desert and how these same animals combat this difficult climate and lack of vegetation to adapt to the nearly barren surroundings. Thus, a trip to the exotic Gajner Wildlife Sanctuary in Bikaner is truly an educational and an enriching experience.