Visitor Information
Famous for: Photography, history, monarchy.
Entrance Fee: 100 per person.
Visiting hours: All 24 hours of the day.
Visit duration: Around 2 hours.
Gajner Palace in Bikaner, Rajasthan, India is an opulent royal adobe of old that stood right near the Thar desert. It used to be a place which royal companies used as a hunting retreat for a few days, and has now been converted to a luxury hotel. There is ornate architecture, consisting of pillars and domes built with reddish construction material. The testament to the luxury of this place is that it attracts tourists from all over the world. It provides a beautiful lake side view and a peek into the lifestyles of the glorious past. So, if you want that combination, this is the place you should ideally head to.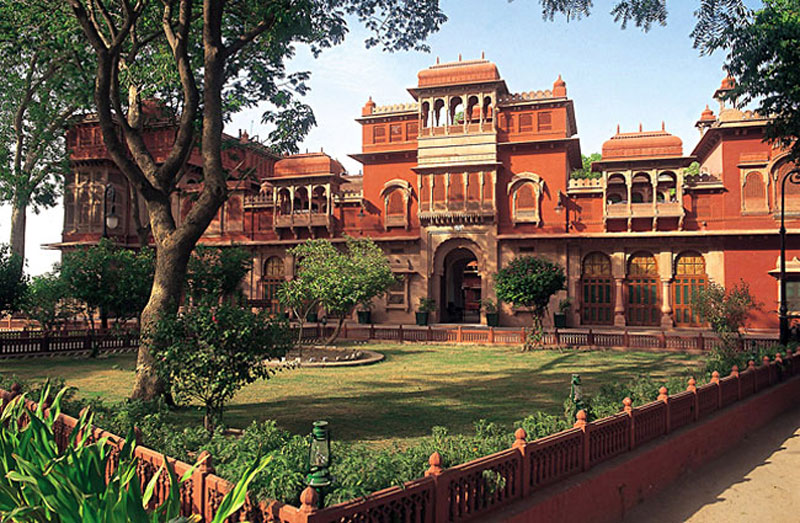 Traveller Tips
Rajasthan, especially around the place Gajner Palace is located, is very hot a lot of the year round, so choose a time when you can have the most comfortable visit.
Try to not pollute the surroundings at all, this is a heritage building.
Wear light and comfy attire.
There are several pleasant rooms you can book within the premises.
If you can, carry a map along with you.
Things to Do
Visit the famous Gajner wildlife sanctuary nearby.
Try out the food Gajner Palace serves, it is a substitute for heaven.
There are shows in the evening that are crowd pullers.
Go shopping at the indigenous stalls, the craft selection is enviable.
Visit the other attractions in Bikaner, palaces, forts and temples are abundant.
Availability of Guides
Guides are sometimes available locally for hire, and you can ask him to speak a desired language. There are tour companies that take a guide along with them, budget inclusive. And lastly, you may meet a few people locally who can show you around the place.
Best Time to Visit
The best time to visit is generally in winter, any time from late October to late February or early March. Summers are not ideal because of the extreme heat, and monsoons are troublesome because sometimes sudden showers impede sightseeing.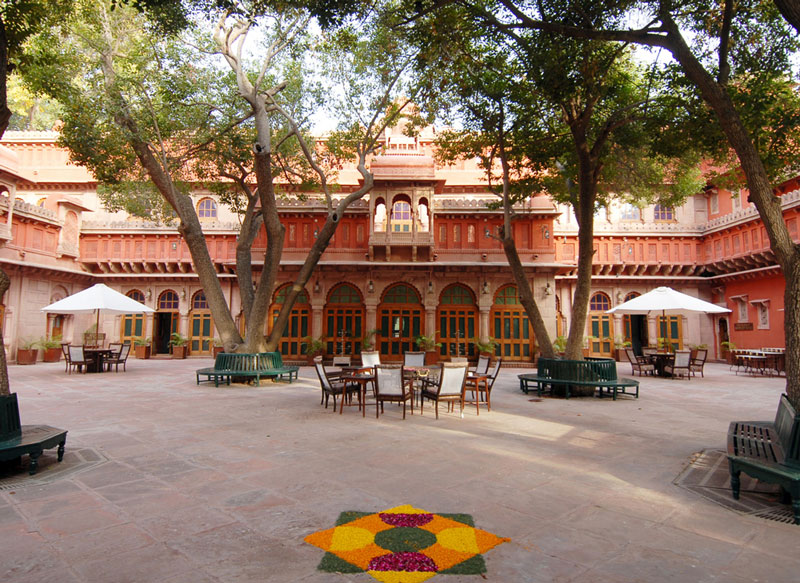 How to Reach
By air, the most convenient is to descend at Nal Airport. By train, Bikaner is connected to other cities via Lalgarh and Bikaner Junction. There are also buses that connect Bikaner with other cities in West India. Once you get down, you can hire autos or taxis to take you to a hotel, and then to Gajner Palace.
Interesting Facts and Trivia About Gajner Palace
This destination attracts a lot of foreign nationals.
The entry fee is sometimes regulated to Rs. 250.
It has well manicured gardens on the premises and a breathtaking lake view.
You can take camel rides nearby for a fee.
The Gajner Wildlife Sanctuary nearby used to be the hunting grounds of the erstwhile Maharaja, king of Bikaner, who used Gajner Palace for a short stay while on these hunting sorties.
Nearby Attractions
Junagarh Fort, for history, art and paintings.
Karni Mata Temple for religion.
Ratan Bihari.
Prachina Museum.
Nearby Restaurants
The Hang Around Zone, which has a very familiar feel and peaceful ambience, and even a game centre to keep kids entertained. It is a favourite with locals.
Bhikaram Chandmal Bhujiawala- this place is a part of a chain all across India, very well known for its sweetmeats. It has also been awarded a certificate of excellence.
Sammy's Pizza- This is an exclusive pizza mart that is filled with pop colours and a happy vibe, and is famous for the quality pizzas they whip up. Because, nothing is complete without pizza, right?
Gajner Palace in Bikaner is a place perfect for old time history of royalty, and a real-time experience of such lavish comfort as well thanks to the conversion into a high-end hotel. It has antique pieces inside, and you can go shopping or ride camels nearby. Moreover, do not forget to eat good food at the local eateries! Happy vacay to you.