Honeymoon is the most charming holiday taken by newly married couples to celebrate their married life. It is equally imperative to lookout for that once in a lifetime romantic destination. You might daydream of deserted islands, a walk through the sun kissed beaches and soaking up in the scenery of roaring waves calling out to you. Or you might simply want to stumble into the wonderful, pristine natural beauty among the shady trees with turning roads and deep valleys. Or you might wish to wake up in the slanting rays of memorable mornings, slumber under the star laden skies stargazing and explore adventurous getaways through mountaintop retreats and wildlife safaris. Here is a list of five honeymooning hotspots near Pune.
1. Mahabaleshwar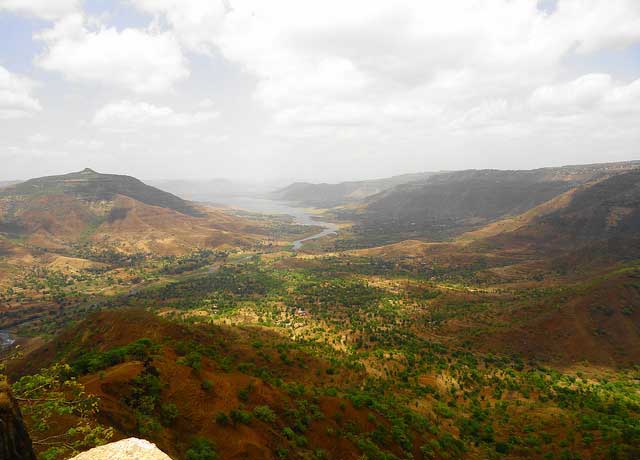 Photo by Balaji Photography, CC BY-SA 2.0
Just a walk with your beloved around the scenic landscape of the Western Ghats accompanied with silvery waterfalls and bubbling-babbling rivers will leave you carried away in this queen of hill stations of Maharashtra. Renowned as the summer capital of Bombay during the rule of the British, they rediscovered it in the modern era and transformed it into a tourist destination.
Perched at an elevation of 1439 metres, at its highest peak, it is called as Wilson point. Spectacular experiences and sprawling greenery aside, quiet sunrise and sunset is a highlight of the trip to this point. Mahabaleshwar offers as many as 30 panoramic viewpoints. Take some time to savour the secluded Arthur's seat at an elevation of 1340 meters. To the east of Mahabaleshwar lies the Kate's point where you can have the most scenic view of Balakwadi and Dhom reservoirs. Nearby is the Needle Hole Point or Elephant Point offering a dynamic view of the Deccan Traps. As you hear the name, you might be curious of the Three Monkey Point, which derives its name from the sculpture of stones giving it an effect of the three monkeys of Gandhi. The Venna Lake is heartbreakingly beautiful with lush, green trees on all sides. Indulge yourself in the breathtaking views and architectural beauty of the Pratapgarh fort, famous site for the Battle of Pratapgad.
2. Panchgani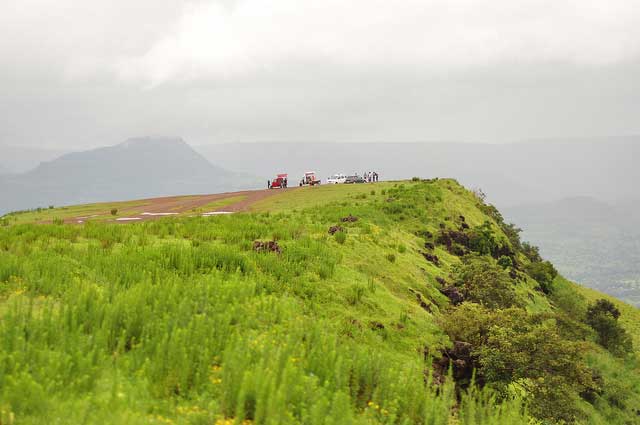 Photo by Sankarshan Mukhopadhyay, CC BY-SA 2.0
Would you love to lose yourself in the wilderness and climb into the bosom of lush green mountains with your spouse? If so, make sure you head out to Panchgani, the place of mountain retreats, with plenty of quiet corners offering seclusion, to have an unforgettable honeymoon experience. Deep valley, high hills, pure air- you will stumble upon them with a sense of wonder. It is exactly what dreaming far away about a lover's paradise would be like. Perfect place for all seasons, the literal meaning of Panchgani signifies five hills in the Sahyadri mountain ranges. Unravelling this beauty of nature during monsoon with the water gushing at full speed is an absolute bliss to the eye. One of the show stealer is Sydney Point which shows Panchgani in all its glory. Also set out to explore the stunning views of Table Land, Parsi Point and Devil's Kitchen. Owing to the high content of oxygen in the atmosphere, who would not want to relax and unwind here?
3. Lonavala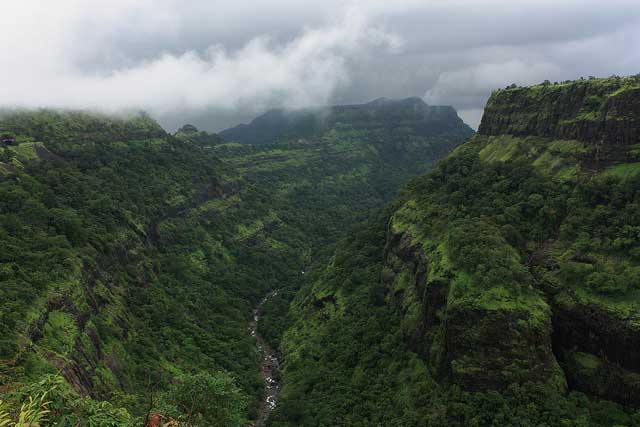 Photo by ruben alexander, CC BY-SA 2.0
From being called the "Jewel Of The Sahyadri mountain" to the "City Of Caves", this beautiful hill resort will leave you mesmerized and spellbound long even after you are gone. Lost in the clouds with drizzling rain and an aura of foggy illusions, Lonavala will definitely take romance to another level as who would not love rain in the company of their spouse. Teeming with plenty of honeymoon resorts to suit your taste, they offer one of the best ways to relax and end another beautiful day while equally waiting to unravel the treasures of the next new day. Located on Mumbai-Pune road, the beauty of Western Ghats could be felt in some of the places for daytime strolls like Kalri hills, Karla and Bhaja caves and Duke's Nose where you can refresh yourself.
4. Khandala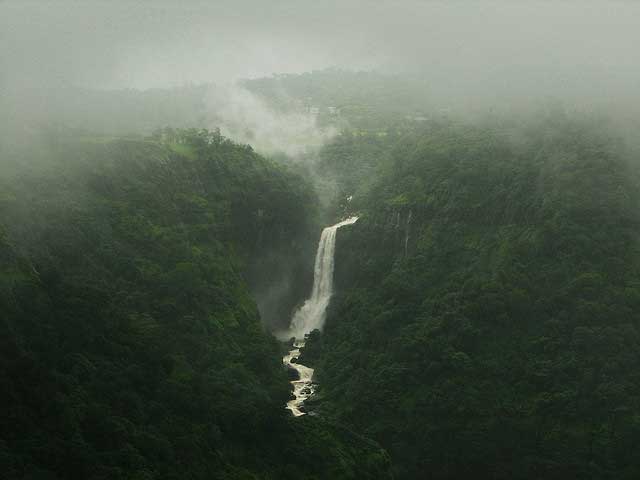 Photo by Alosh Bennett, CC BY 2.0
In the arms of the clouds, nothing beats the charm of this natural paradise upon the arrival of the monsoon. Head to the romantic ambience of Khandala to enjoy with your partner if the cliffs, valleys and the jungles allure you. This scintillating, quiet hill retreat will take you far away to magical place where it will be just you and your partner enjoying some cosy moments together.
Ruled by the kingdoms of the Marathas, Peshwas and colonial European countries, it offers a diversity of dynamic culture. Tiger's Leap, Amrutanjan Point, Bhusi Lake, Rajmachi Fort and Reversing Station offer picturesque views around.
5. Guhagar Beach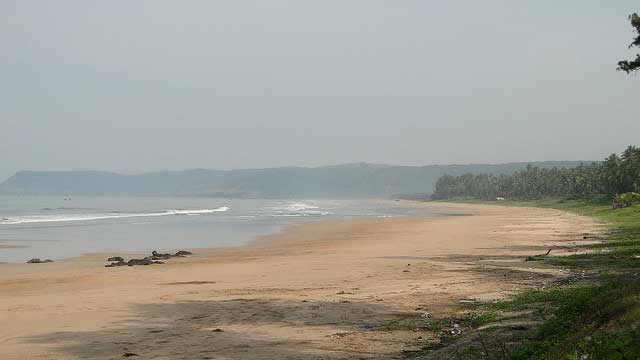 Photo by Ankur P, CC BY-SA 2.0
Imagine yourself passing through the sandy beach on a lovely morning, nestled with your spouse holding onto you, sitting on the back of an animal none other than the camel. Running parallel to the Arabian Sea for almost six kilometres between two hillocks, this place is Guhagar Beach famous for its virgin beach and Alphonso mangoes, mouth watering local sea cuisines, traditional temples, heritage forts and stretch of pearly white sands. It boasts of some of the mesmerizing nearby places like Helvi, Gopalgad Hill and Velneshwar. You could simply gaze at the play of the rollercoaster waves, with your spouse by your side, for hours and hours ad infinitum against the background of rising or setting sun and colourful or clear sky. Still the mesmerising spell of the beauty will leave you compelled to come here again.
Time and again you will be driven within to head out for these lovely places for their charm will beckon you leaving you 'Falling in Love Again'.