Trivandrum is a city located in Kerala (Southern India) and is famous for its spices and sandalwood. The city is also endowed with a number of tourist spots. In this article, we have enlisted the best beaches in Trivandrum and their special features. Read through to get detailed information before you plan your next travel destination.
1. Varkala Beach
Situated near the northern border of Trivandrum, Varkala beach is famous for reasons more than one. It has been claimed to be one of the best seasonal sea beaches in the entire country. The cliffs, the greenery and the breath taking views from this beach are ideal if you are looking to spend some amazing beach time. Apart from that, a dip in the sea at the Varkala beach is considered holy and pure. Locals claim that it gets rid of all the impure and leaves you refreshed. Promoting this, there are different spas, massage centres and aromatherapy options available in and around the area. Apart from the vibrant sightseeing experience, the adventure lovers can go swimming, parasailing and wind surfing. It is ideal if you are planning for a honeymoon trip too. The resorts coupled with great food will make your stay at this place memorable.
2. Kovalam Beach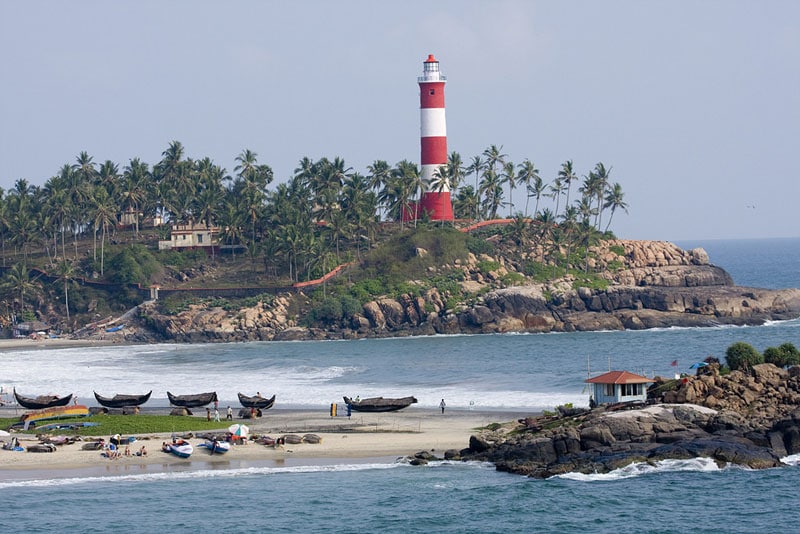 The Kovalam beach is ideal for all the nature lovers out there. The cool breeze and the scenic beauty of this beach will soothe your soul and bring peace. There is nothing more beautiful than seeing the red sun settle down in the deep blue waters with the white glittery sand to top it all. Kovalam beach is extremely popular among tourists and locals. Apart from long walks with your beloved or whiling away time with your family, there are a lot of fun things to do here. These activities include water diving and surfing. Another advantage is the accommodation facilities and price point. You can have a wonderful stay here without having to burn a hole in your pocket. Don't miss out on the Kovalam beach on your next trip to Trivandrum.
3. Lighthouse Beach
A panorama of the Lighthouse beach might seem like a shot from a movie screen. The beauty of this place is beyond words or description.  The 30-feet tall lighthouse situated on a cape is the major attraction of the beach. To reach the top and enjoy a spectacular view, one has to take 142 small stairs. The hard work and sweat seems all worth it when you can see the setting sun or the Beemapalli mosque on the other side. Accommodation facilities are hassle free. This beach is high on the fun quotient too. You can go surfing or swimming here. Another added feature is the backdrop that it provides for photographs. The Lighthouse beach is very famous among photographers too. You can pose for some perfect snaps which in turn will give you some amazing memories.
4. Hawah Beach
Moonlit night and dancing to your favourite song. Doesn't it seem like a dream come true? The Hawah beach is best suited for couples who are willing to rediscover their love and celebrate it. Also, it is not such a bad place for family trips. It is frequently visited by tourists from all parts of the country. As the name suggests, the beach is an ideal place to relax with the cool winds blowing. The lip smacking cuisine and the scenic beauty of this place is sure to win over your heart.
5. Samudra Beach
Samudra beach is not frequently visited by a lot of tourist or visitors. It is mainly a place for the local fishermen to carry out their job. If you are looking for some alone time or need a holiday to set all things right, this might be the perfect place for you. The mundane life and our noisy lives leave us irritated and restless. You can visit with your family to spend some quality time with them. Visiting with friends can be quite a bit of adventure as you can arrange small little parties and enjoy the local cuisine. All in all, this beach serves a lot of needs and is suitable for any sort of vacation.