Visitor Information
Famous for: beach, resorts, fishing village, adventure sports, photography
Entrance Fee: No entrance fees
Visiting Time: The Island is always open for tourists.
Visit Duration: You can spend as much as time as you want.       
A historical landmark set at the confluence of river, lake and sea; Poovar is indeed a sight for sore eyes. Definitely worth the wait, Poovar is a quiet fishing village at the tip of southern Kerala reaching out into the encapsulating Arabian sea. Known in historical records in various names, Poovar was given its present name by none other than the 'Lion of Travancore'. Once a bustling port trading in spices and other exotic varieties, Poovar has lost its bustling crowd and lies silently enjoying the quiet and calmness of the surrounding nature.
Traveller Tips
Make sure you carry valid ID proofs with you. You might need them to gain access to some of the attractions in Poovar. Even if you don't it is necessary that you have proper documentation with you while travelling.
Pack accordingly to the season which you have chosen to visit. Always choose comfortable clothes so that you will be left free to explore the beautiful landscapes of Poovar.
Also, don't forget your swim suits and sunscreen, you will need plenty.
You must carry a first-aid kit with you especially if you are travelling with your family. Kids often have the tendency to fall down and hurt themselves. Trust me; you will need the bandages to cover it up.
Now, this I don't think I need to specially mention to you but this is a reminder just in case you forget amidst the hustle and bustle of packing. I assure you that you will have a lot of moments to capture so do make sure that you have your camera with you.
Carry handy medicines, especially if you are on prescribed drugs or medication. This is especially important if you have elderly people or children accompanying you.
Things to Do
Bring out your softer side because, here scenic beauty instils a kind of quiet over your soul. If you are in for some contemplation and soul searching, then I guess Poovar is your best choice.
Hitch up a tent on this lovely beach and fall asleep to the sound of waves kissing the shores goodnight.
Plan a camp fire with some good music and enjoy the marshmallows roasted over the glittering fire.
If you are on a trip with your loved one, then plan the perfect picnic on this sandy shore with roaring waves. Let the stars and the moon shower you with love and passion.
Book a boat and go fishing guys! Yes, the open sea gives you ample opportunities to catch some fishes. You can even cook them on the beach.
If you are in for some adventure, then chart out a plan with your tour guide and catch up with that adrenaline rush with some parasailing, paragliding, deep sea walking, scuba diving and plenty more.
Poovar also accommodates a small yet traditionally strong fishing village in its cradle. Spend a few days in Poovar and along with some beach fun, get to know the local customs and traditions.
Availability of Guides
The capital city of God's Own Country, is an administrative hub and a golden feather in the hat of Kerala's tourism. There are plenty to see in Trivandrum, so there is no shortage of tour guides. I would personally suggest for you to plan your trip with a tour agency especially if you are travelling with your family. This would ensure that you are safe and secure; all the while making the most out of your trip. Then it is the responsibility of the tour agency to put you in the hands of an expert guide. Or you can go rogue and just head on south. But if you want to plan the trip by yourself then you can head out straight to Poovar and if you want you can avail a local guide from there, which you will find in plenty. But I would advise you to hire your guide from the official tourism office at Trivandrum, so that you will be making the right choice.
Best Time to Visit
Kerala is one of those rare places where you can visit at any time of the year. This year-round destination packs a load of fun, no matter what the season. The months from March to May are generally the summer season in Kerala and the temperature is as high as 35 degree Celsius. The monsoon in Kerala falls in two phases. The first monsoon season will be from June and lasts up to August. The second phase of monsoon falls from October to November. The winter begins in December and extends till the month of February. So, as you have guessed the best time to visit Trivandrum is after the onset of winters and also in the summers. But recent climatic changes have led to a temperature increase especially in Trivandrum and surrounding districts. So, I would suggest the winters to visit Trivandrum when the climate is fairly pleasant and welcoming.
How to Reach
There are no direct trains to Poovar. The nearest railway station to Poovar Island is at Dhanuvachapuram which is only a 9 kms away from the island. But the lack of trains to Dhanuvachapuram on a regular basis is an inconvenience. So, it is advisable to get down at Trivandrum Central Railway Station which is well connected with all the major cities in the country. The distance between Trivandrum Central Station and Poovar Island is approximately 55 kms. The distance can be easily traversed by cab or you can avail local transportation facilities. I would personally suggest a cab so that it is more convenient especially if you are travelling with your family. The nearest airport to Poovar Island is in Trivandrum. The Trivandrum International Airport is well connected with international and domestic flights. The distance between Trivandrum International Airport and Poovar is approximately 50 kms which is an easily coverable distance.
Interesting Facts and Trivia About Poovar Island
The name 'Poovar' means the 'river of flowers'. This name was given to the village by the 'Lion of Travancore'- Raja Marthanda Varma.
There is quite an interesting story behind the name- Poovar. The island is known to have provided a helping hand to Marthanda Varma during times of dire need. In one such situation, while the Raja was seeking shelter in the Island, he was mesmerized by the river Neyyar which was filled with flowers. This phenomenon took place because of the exceptional spring season which caused the flowers to fall into the river.
Enthralled by this sight, Marthanda Varma exclaimed "Poo-aar-River of Flowers". Since then the name has stuck on.
This island was once a famous port. But the accumulation of silt over the years due to unexpected geological changes has led to a decline in the prominence of the Poovar port. The prominence of Vizhinjam port, which is only a few kilometres away from Poovar, has increased in this circumstance.
Historical records also state the evidence of a Muslim merchant settlement in Poovar in 9th century A.D. This is further consolidated by the fact that the historical records refer to an early name of Poovar- Pokkumoosapuram.
The original name of Poovar from the historical records of British is 'Pokkumoosapuram'. This name was derived from the name of a Muslim merchant- Pokku Moosa Maraikkar.
From ancient records, historians have identified the ancient port city of Ophir with Poovar.
From the records of the Chola kings, we know for a solid fact that Poovar was a flourishing port.
Poovar houses a mosque which is believed to have been built by Malik Deenar– a Muslim preacher who travelled to this tip of Kerala in the 17th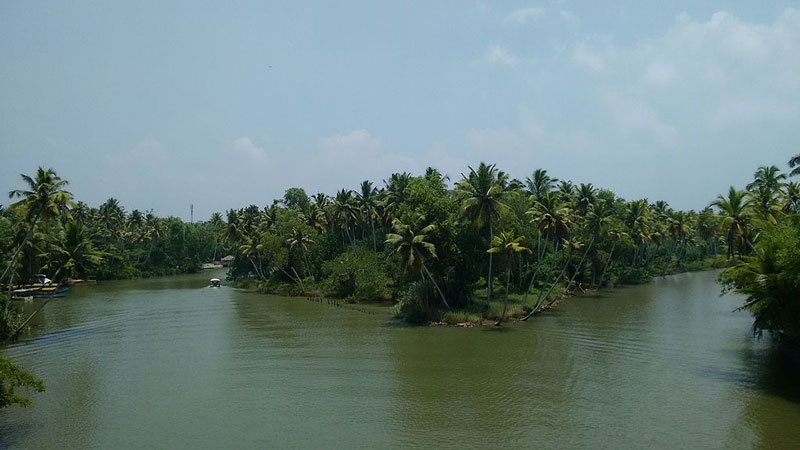 Nearby Attractions
The capital city of Kerala is never short on attractions and if you have any doubts then check out this list of attractions and you will be surprised.
Vizhinjam Port
Varkala Beach and village
Kovalam Beach and fishing village
Kanyakumari Temple
Cape Camorin
Neyyatinkara
Kappil Beach
Shangumukham Beach
Sree Padmanabhswamy Temple
Vizhinjam Rock Cut Cave
Kuthiramalika Palace
Trivandrum Zoological Park and Musuem
Nearby Restaurants
This small fishing hamlet is not yet overpowered by modernity, so the place has not developed into a tourist hub. Apart from two or three international hotels, there aren't too many restaurants to curb your hunger. So, I have added a few restaurants from Vizhinjam which is hardly 10 kms away from Poovar.
The Floating Restaurant – Chile
Sanjeevani Beach Resort Hotel
Malabar Café (Vizhinjam)
Bait Sea Food Restaurant (Vizhinjam)
Punjabi Dhaba (Vizhinjam)
Hotel Afzal (Vizhinjam)
Ustad Hotel
Coconut Grove
Bhaskara Cafe
With pristine sandy beaches and clear skies; amidst roaring seas and rustic village hamlets, lies the island of Poovar. Claiming great historical antiquity and diverse cultural segments, the island of Poovar is indeed a place harbouring loads of secrets within its crib. If you are up for some contemplation and deep soul searching then I guess you better pack your bags to the cradle of the 'river of flowers'.