Visitor Information
Famous For: Nature Lovers
Entrance Fee: Free Entry for everyone
Visiting Time: Day and evening time is favorable
Visit Duration: 1-2 hours
Situated in Thiruvananthpuram, Shankumugham Beach is a quaint location with the beautiful white sands, pearl waves gushing around and a scenic atmosphere to lure you with. You can plan a weekend getaway or witness the splendid sunset with your special one at this beach which is located miles away from the teeming crowds and closer to the lap of healing nature!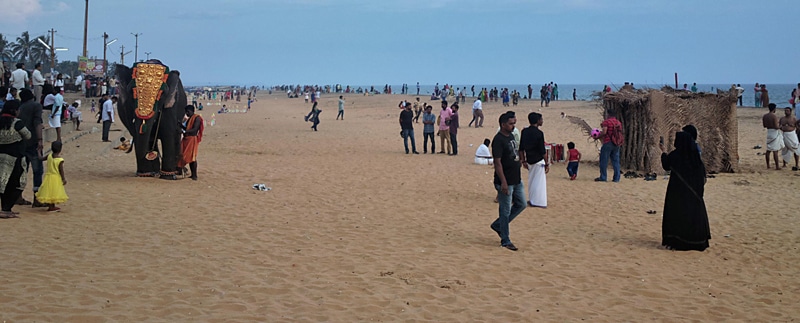 Traveler Tips
You can plan a picnic here and bring snacks and drinks but there is a popular Starfish restaurant which is a favorite eating place of holiday crowds and thus is a must.
Things to Do
The beach also has a known skating school nearby with a well-built complex to play badminton and table tennis.
There are numerous fishing hamlets nearby which you can visit if you are planning to cook some fish here on your own.
Boating is also available at the nearby Veli Tourist Village.
Availability of Guides
Guides are not required as you can explore the beach on your own.
Best Time to Visit
October to February is the idyllic time to take a trip to Thiruvananthapuram and explore this scenic beach. As winters are quite moderate here and these months also witness mild showers which will be fun to experience here.
How to Reach
This beach is just 8 km from the city of Thiruvananthapuram, so you can take a short drive to here. Also, the closest railway station is Thiruvananthapuram Central and also the closest airport to here is Thiruvananthapuram International Airport. Further, if you are opting to visit here by bus, the closest bus stand is Central Bus Station, Thiruvananthapuram.
Interesting Facts and Trivia about Shankumugham Beach
It is believed that this beach is regarded as the 'Arattukadavu' of Sri Ananthapadmanabhan, the revered and leading deity of Thiruvananthapuram. The ceremony of 'Bali Tharpanam' is carried on by many of the devotees here at the time of the religious events and Shanghumugham is the central place for Ganesh Nimarjan during the well-known festival of Vinayaka Chathurthi.
At the occasion of Arattu day, the idols of Lord Padmanabhawamy, Lord Narsimha and Lord Krishna are carried out by devotees to this beach at the Laccadive Sea. This procession is headed by his highness of the current official King of Travancore having the royal sword in his hand and is accompanied by Royal Family members along with security guards, the main authorities of the temple, and police officers. Following the ceremonial bath here in Shangumugham, the idols are then obtained back through the procession, hence ending this auspicious occasion.
Nearby Attractions
Veli Tourist Village
Jawaharlal Nehru Park of Traffic signs for children
Shangumugham Devi Temple
Shanghumugham Arattu Mandapam
Valiyathura Pier
Nearby Restaurants
Indian Coffee House
Villa Maya
Zam Zam Restaurant
Arya Niwas Hotel
Devyee Restaurant
Garden Grille Restaurant
Café Jade
Rajila Hotel Restaurant
Sindhoor Park Restaurant
1976
Thakkaram
Hence, having a glorious religious legacy, Shankumugham Beach is an ideal one to visit for a day tour around the city and come here by the sunset which will surely acquaint you with vivid vibrations and colors that rose up during the evening time at the beach. The nearby attractions are also scenic to explore and in case you are planning a whole weekend you can learn skating, play sports, bask near the beach, plan a romantic date and do so many things that are somewhere hidden in your bucket list to cheer your boring life into an enthralling one. The beaches of South India have their own quaint aspect that will make you fall in love with them and you will leave this beach with a resolve to come back for a long holiday in Thiruvananthapuram for sure, happy tripping!