Visitor Information
Famous for: Nature Lovers, Shopaholics
Entrance Fee: Free Entry
Visiting Time: Both day and evening time is favorable
Visit Duration: 2-3 Hours
Marine Drive is an amazing walkway in Kochi that is adorned with the city's glittery backwaters and its happening nightlife that makes it more lively and quaint for tourists. It is a known hangout hub for travelers and city locals that love to roam under and immerse in the vivacious aura of Kochi bringing up a stunning aspect of the city.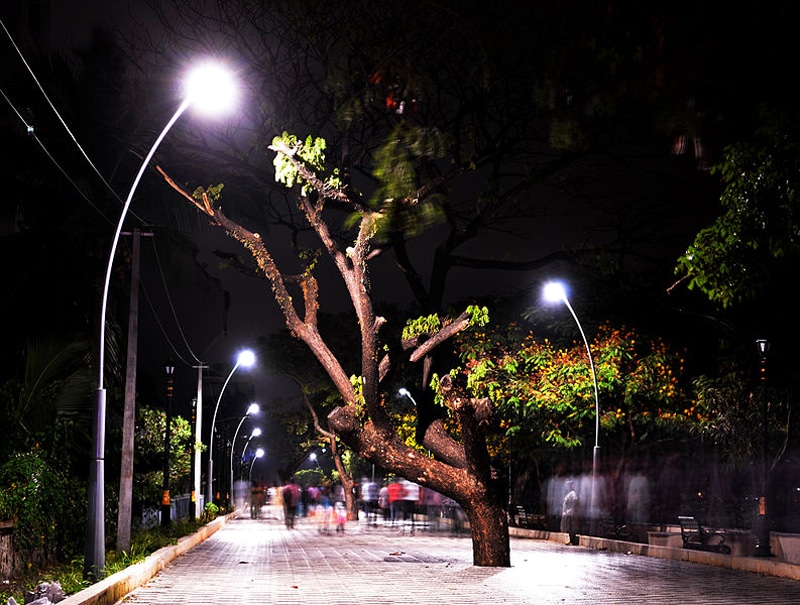 Traveler Tips
There is no need to take food with you here as there are numerous restaurants situated all around along with world-class shopping malls where you can indulge your inner shopaholic completely.
Wear your walking shoes as you will have to walk a lot to explore the malls and eating sites around here.
Things to Do
Sunsets are the most striking to catch here and many of the travelers stop by here to take a look at the gorgeous sunset of the city.
Dawn time is also a beautiful time to be at Cochin's alluring marine drive.
Boat trips are also catered and are a must to endeavor for.
Availability of Guides
Guides are not needed for exploring this site as you can enjoy Marine Drive all by yourself.
Best Time to Visit
October to April is idyllic for coming to Cochin as this season is moderate and not much extreme for travelers to explore. Finding the ideal time of the day here, you can go for early morning or dawn time when the place is at its best and you will certainly love the beauty and allure it engulfs itself in during these times of the day!
How to Reach
You have to first take a ferry which will take you to fort Kochi from the mainland and from fort Kochi you can opt for an auto rickshaw that will take you to Marine Drive.
Interesting Facts and Trivia
Marine Drive have two striking bridges situated alongside this promenade and his is where you can take boat rides as several country and motor boats are catered for those who want to enjoy the backwaters here.
This is a 140m promenade and is not only known amongst travelers but is a favorite hotspot of Cochin locals as well.
This walkway extends from Janki Jetty which at north side towards Emakulam Boat Jetty in the south direction.
As many shopping places as well as restaurants are situated here, this has been a loved center for foodies and shopaholics and hence is a chief economic hub of Cochin.
The city's shining golden lights, wooden benches and blue backwaters blend splendidly to bring everyone a spectacular view that will just spellbind you!
Nearby Attractions
Annie Besant Park
CSI Emmanuel Church
Salem Marthona Church
Subhash Bose Park
Td Temple
Thomas Malankara Church
Nearby Restaurants
Broadway Restaurant
Caravan Ice Cream Parlour
Utsav
Bubble Cafe
Blueflame
Cochin Bakery
The Attic
Abad Food Court
Hence, Marine Drive in Cochin is replete with amazing vibes and a sleek look into the city's vivacious night life that will lure you to visit it again. You can try boating here or just sit around and when you get yourself refreshed with the cool breezes, walk towards the numerous malls and restaurants to savor the lively aura of Cochin. The stunning sunset and sunrise are a must to catch here at Marine Drive and take a whole lot of selfies to turn your journey into a cherishing one. So, whenever you are tripping at Cochin, make sure you spare an entire day or a conclusive time of your travels aside for Marine Drive and you will surely be able to make the most of it here at this incredible attraction. Just unwind and chill out here at this place and make your journey a quaint one, happy journey!