Visitor Information
Famous For: Shopaholics, Antique Lovers, and Foodies
Entrance Fee: No Entry Fee
Visiting Time: 5am – 9pm; Day time is favorable
Visit Duration: 2-3 Hours
A tiny antique market located close to the synagogue of Mattancherry Fall, Jew Town is an eminent hotspot for shopaholics and antique lovers in Cochin. This place was actually once the abode of several Jews until they shifted back to Israel, and their belongings were restored and now are sold as antiques at the town. Moreover, the houses of Jews are also there and you can roam around these small streets and have a look at them. Jew town is a paradise for those who love antiques as here you will find the ancient things not only of Jews but also Indians, Chinese, Arabs and Europeans. It is situated in a quaint backdrop of Cochin and is a must place if you love shopping traditional items.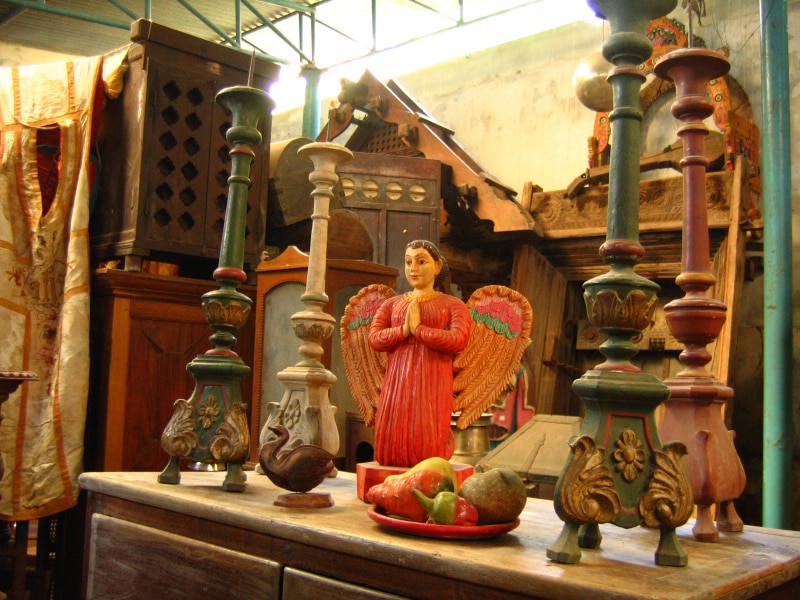 Traveler Tips
Wear your travelling shoes and keep water bottles with yourself as you have to walk a lot through the shops.
Bargaining is totally viable and if you are really best at it, you will certainly end up buying stunning antiques at low price.
There's no need to carry food as there are various restaurants and cafes situated all around.
Things to Do
The Big Vaarpu sold here is a big vessel with two handles on its sides is a must to look out for.
Pungent spices are also readily sold and if you love cooking then they are the ideal ones to shop for a Jew town.
Availability of Guides
Guides may or may not be available here so keep your tour guide of Kochi with yourself in case you get lost amidst these narrow streets.
Best Time to Visit
The months of February and March as well as August and October to December are the idyllic ones to organize a trip to Cochin.
How to Reach
Jew town is in Mattancherry and you can travel to here through Jew Town Road. Also, the closest railway station to this place is Ernakulam Railway Station which is just 10 km from Jew town.
Interesting Facts and Trivia about Jew Town
This site actually got christened as Jew Town in 1524 when Jews were offered refuge here in Mattancherry by the ruler of Cochin at that time. Jews came from Kodungallore to here and since the place sheltered to them was near to the palace, this place started to be known as Jew Town. Then in the latter part of 20th century, Jews went back to their original country Israel and their left things and houses are found in Jew Town today and many of the families still live here and warmly welcome travelers and this is why you will find that people are quite sweet and lovely to know in Jew Town.
The antiques available here vary from unique collections of souvenirs from wooden spice boxes with strong spices inside, wooden padukas, vibrantly hued masks, jewelry, curios, wooden elephants, lamps, statuettes, vintage furniture, rare handicrafts and many other antique items to amaze your inner shopaholic with!
Those ancient items found at old conventional homes known as Tharavadus in Kerala, can be searched at Jew Town. There are many nearby areas in Kerala that vend aromatic soaps and perfumes which are homemade and these things are also found at this place. Moreover, embroideries and crocheted clothes left by last existing Jew Families are also on sale at Jew town.
The best and yet confusing part of Jew Town is that almost every shop has so much variety of items that you can never classify that which shop is selling what. So, just enter any shop, look around the antiques and you will surely end buying whole of them!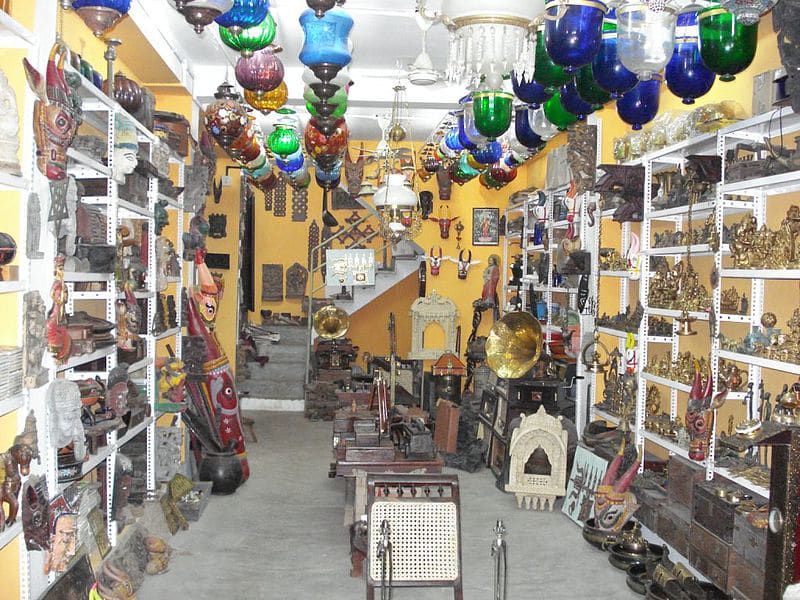 Nearby Attractions
Paliam Dutch Palace
Mattancherry
Paradesi Synagogue
Antique Museum Kochi
New Castle Gallery
Jeevamatha Church
Nearby Restaurants
Café Crafters
Café Jew Town
Ginger House
Oppol
Vijayalakhshmi Hotel and Restaurant
Rice Boat
Sree Krishmna Bhavan
Celestial Café and Blue Angel Gallery
Hence, Jew Town is an ideal heaven for connoisseurs and shopaholics. If you love to shop antiques for your home and surroundings, then it is the one to go for. Further, the legacy of Jews is beautifully reflected through these souvenirs which even locals love to shop in Cochin. So, whenever you plan a trip to Cochin, add Jew Town in the end of itinerary when you can just relieve your exhaustion out by doing some shopping and then choose a nearby restaurant to savor the delicacies of Cochin, bon voyage!