Visitor Information
Famous for: History Lovers, Travel Buffs
Entrance Fee: No Charges
Visiting Time: During the daytime
Visit Duration: For 1-2 hours
Being a hub of Dutch, Portuguese and British Administration in colonial times, Fort Kochi incredibly, is a great place to explore European Architecture. Traces of colonial ages still can be found here and if you are one of those who appreciate European architecture, then Fort Kochi is the place for you to explore as you can travel back in time here enchantingly.
Traveler Tips
Wear your travel shoes as there are tons of things to discover here.
Things to Do
Visit the charming Fort Kochi Beach as relax down there after exploring this place.
There are many museums and churches to visit and you can also endeavor for fishing.
If you are a shopaholic, then Fort Kochi is one of the best sites to indulge in handicraft shopping.
Travel all around the streets of Fort Kochi and immerse yourself in the stunning architecture.
Availability of Guides
Guides are not needed here but if you are travelling all around Kochi, keep your city guide with yourself.
Best Time to Visit
The idyllic months are October to March when you can see the sights at this place and also these are the peak months to unwind and attempt different activities catered at the Fort Kochi Beach.
How to Reach
The closest airport to Fort Kochi is Cochin International Airport and the closest railway station is Ernakulam. Moreover, you can also hire a cab or rickshaws and buses are also accessible from Kochi to Fort Kochi.
Interesting Facts and Trivia
Kochi was originally a municipal town during 1886 to 1967 and afterwards the three other municipal cities were blended together 1967 and it became the new Kochi as it is known today.
Fort Kochi draws tourists in large numbers every year while before it was just a fishing hamlet in the times of Kerala during pre-colonial phase.
Fort Kochi actually derived this name only after Portuguese were provided this place in 1503 and the ruler of this place consented and allowed to construct a fort close to the sea front in order to shield their trade and business interests.
So, when this fort was constructed it was primarily christened as Fort Emmanuel from which Fort Kochi has the first part of its current title. Further, Fort Emmanuel was destructed by the Dutch and it was at the back of Fort Emmanuel that the Portuguese constructed their colonies along with a wooden church which was restored by 1516 and is today popularly known as St Francis Church. Regarded as to be constructed by Europeans, this church is the place where the body of the well-known explorer Vasco Da Gama was laid to rest at first and after that his remains were sent to Lisbon located in Portugal.
Fort Kochi almost went through 444 years of colonial control in which the Portuguese ruled here for 160 years, the Dutch then captured it by 1683 and remained for 112 years till 1795 when British established their control until India obtained independence in 1947.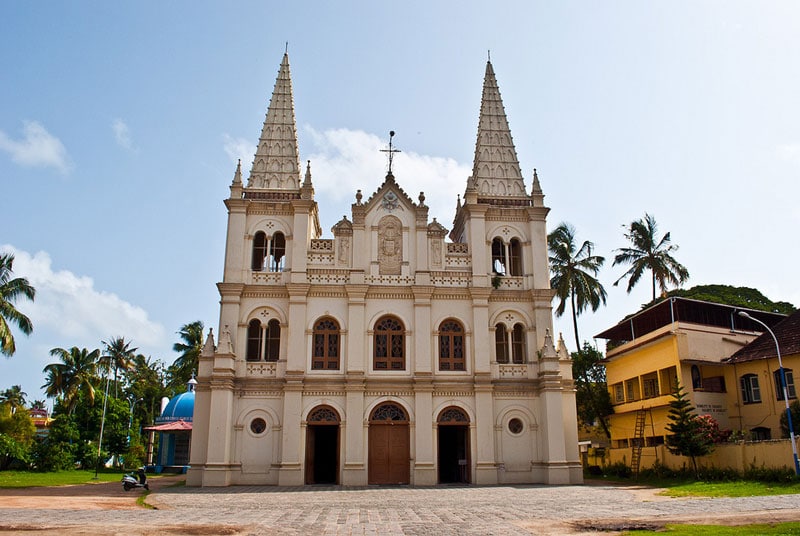 Nearby Attractions
Streets of Fort Kochi
Francis Church, Fort Kochi
Santa Cruz Basilica
Jewish Synagogue, Mattancherry
Dutch Palace, Mattancherry
Handicrafts Shops
Mangalavanam Bird Sanctuary
Indo Portuguese and Maritime Navy Museums
Nearby Restaurants
Kashi Art Café
The Asian Kitchen by Tokyo Bay
Fusion Bay
David Hall Gallery Café
Oceanos
Kayees Biryani
Qissa Café
Hence, having an enthralling history and allure of European styled architecture, Fort Kochi is a great tourist spot to spend a day or two even a whole weekend till you exhaust yourself by exploring all the charming attractions of this place. You can beautifully conclude your trip here by spending a day at the Fort Kochi Beach which is just amazing to immerse in chilling vibes and unwind from work stresses. So, whenever you are journeying Kochi, visit Fort Kochi for sure and add some thrilling endeavors to your itinerary, bon voyage!!