Visitor Information
Famous for: Landmark, architectural and historical heritage.
Entrance Fees: Rs.30 per person for Indian, Rs.100 for foreigners and Rs.10 for minors (5-11 years old).
Visiting Time: 10 AM to 16:30 PM
Duration of Visit: 1-2 hours.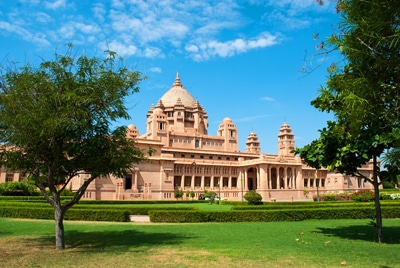 The Umaid Bhawan Palace is housed neatly beside the royal blue city of Jodhpur. It is a n architectural marvel, truly an edifice and is almost 75 years old. The foundation was laid in 1928 and construction of the palace was completed in 1943 under the guidance of chief architect Vidyadhar Bhattacharya and Sir S.S. Jacob. The erection of the palace was done under the aegis H.V. Lanchester. The foundation's ground was crushed by Maharaja Umaid Singh himself upon whom the palace is named after all.


Traveller Tips
Don't forget to take your camera as you are allowed to take pictures inside.
Don't miss the vintage car collection which is one the highlights of the museum.
Guides are available in abundance and are ready to do voluntary service.
To save yourself from that scorching heat of Rajasthan, we advise you to take an umbrella with you or wear a pair of shades.
Always keep a water bottle with you in case of dehydration.
We will suggest you to wear some comfortable footwear as you'll need to do some walking in the Palace and the Museum.
Things to Do
The museum is adorned with vintage clocks and pics of Art-Deco interior of the palace.
The classic cars are displayed in the front garden of the Bhawan where you can click some beautiful photographs.
The museum houses artistic murals, opulent miniature paintings and unusual household paraphernalia which is not seen in today's market.
Availability of Guides
Plenty of English speaking and Hindi speaking guides are available who are willing to do voluntary service.
Best Time to Visit
As Jodhpur is pretty much near to the Thar Desert, it is best to visit the attraction during winter especially between the months of October and March.
How to Reach
The nearest airport of Jodhpur is 3 kilometres away and nearest railway station is 5 kilometres away. The city is well connected with other parts of India through a network of Railways. If you are not into these kinds of transport, then State Transport Road Buses, Private Buses or Luxury Volvos are also a viable choice. The main bus stand is just 3 kilometres away from the site. Other modes of transport such as private taxis, auto-rickshaws and tongas are also available.
Interesting Facts about Umaid Bhavan Palace Museum
The other name of the Umaid Bhawan Palace is the Chittar Palace, due to the fact that stones from the nearby Chittar Hill were used for its construction and were responsible for the golden yellow colour of the edifice.
Jodhpur Palace was voted as the World's Best Hotel of 2016 at the Traveller's Choice Award function which was organized by the travel website, TripAdvisor.
The palace was completed in 1943, tragic as may it seem but Maharaja U. Singh only stayed for four years in the palace as he died in 1947.
Nearby Attractions
Shri Ganesh Temple
Ramdevra Temple
Santoshi Mata Temple
Phool Mahal
Umaid Heritage Art School
Jaipur Magic Day Tour
Kotsa
Blue Bohemian
Ali Baba House
Jodhpur Camel Safari
Nearby Restaurants
Hanwant Mahal
Pillars
Sparrow's Pizzeria
Baradari Restaurant
Royal Treat Café
Kiki's Café
The Spice Route Restaurant
On the Rocks
Risala, Umaid Bhawan Palace
The Laughing B
Rhythm Restro
Skyzz
Pachranga
Ajit Bhawan
To sum it all up, Umaid Bhawan Palace is an epitome of the benevolent attitude of the Maharaja Umaid Singh. He spent millions of rupees so as to give employment to distressed farmers as well as to build an architectural marvel at the same time. A trip to the palace gives us a taste, a floating reverie about the olden days and the grandeur of brave Maharajas. It's for sure that the Golden Yellow Sandstone edifice will keep standing for centuries to come.