Visitor Information
Famous for: Scenery and Bird Watching.
Entrance Fees:
Visiting Time: Flexible Timings.
Duration of Visit: 30 minutes to 1 hour.
Kaylana Lake is 8 kilometres to the west of Jodhpur City on the road to Jaisalmer. This is a manmade lake built by Pratap Singh in 1872. It is a huge lake which is spread over a vast range of 84 square kilometres and has a range of depth between 35-50 feet depending upon the level of water. Birdwatching enthusiasts are in for a treat as sedge of Siberian Cranes stopover the lake in winter season. Kaylana Lake acts as the sole source of consumption water to the city of Jodhpur and neighbouring areas.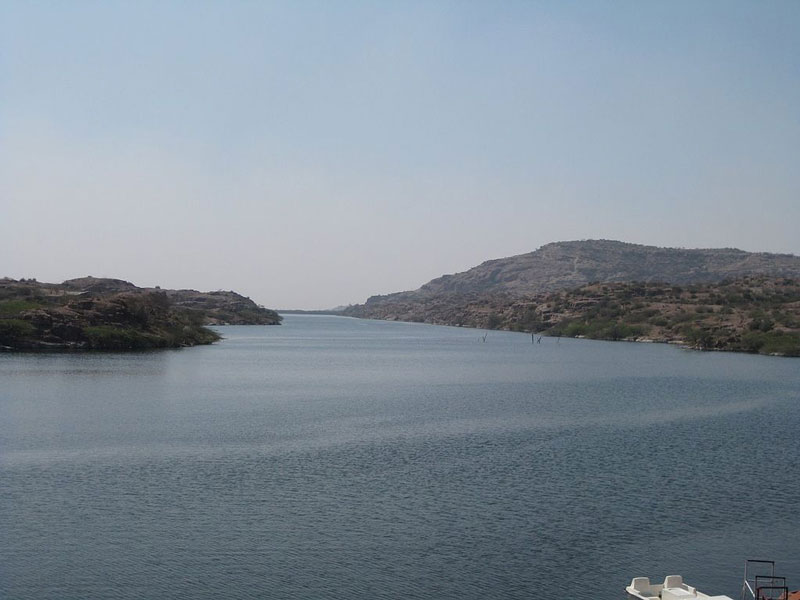 Traveller Tips
Don't forget to take your camera with you as the beautiful lake offers some captivating scenery.
You can even trek to the nearby Shiv Mandir situated in one of the surrounding hills.
The region is mostly surrounded by Babool (Acacia) vegetation.
Things to Do
A great stopover to relax if you are en route to Jaisalmer.
Take a tour around the lake while you enjoy that cool breeze of fresh air.
Boating facility is also available on the spot.
Availability of Guides
To be honest there is no need to look for a guide. The place is pretty much self-explanatory.
Best Time to Visit Kaylana Lake
As Jodhpur is pretty much near to the Thar Desert, it is best to visit the attraction during winter especially between October and March.
How to Reach Kaylana Lake
The Kaylana Lake is about 9 kilometres from the Main Jodhpur Bus Stand. It is also not really far from the railway station i.e. a mere 10 kilometres away. If you have flied in, then we would suggest you to take the route which goes via Chapasani Road as the Kaylana Lake is then about 14 kilometres away from the airport. Other modes of transport such as private taxis and auto-rickshaws are also available.
Interesting Facts
To build the artificial lake, Pratap Singh destroyed existing gardens and palaces constructed by rulers Bhim Singh and Takhat Singh in prehistoric times.
The lake's primary inflow i.e. Hati Canal is actually connected to Indira Gandhi Canal.
The lake's primary outflow goes to Takhat Sagar and Umaid Sagar.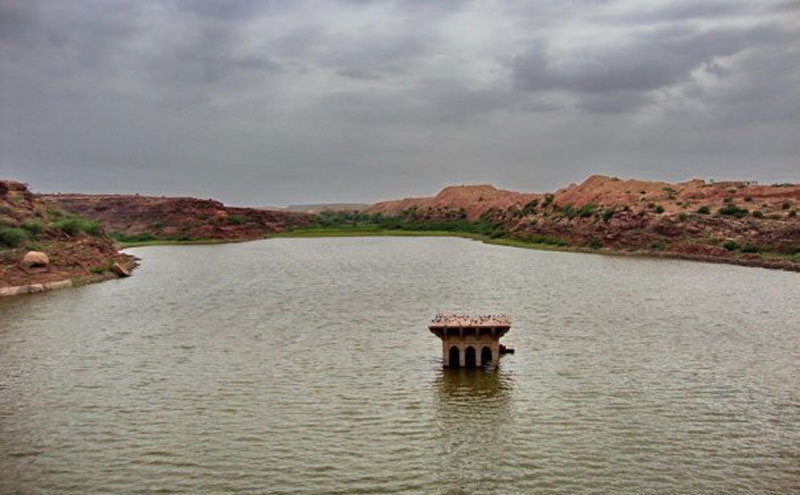 Nearby Attractions of The Area
Laxmi Narayan Mandir
Masuriya Hill Garden
Bullet Baba Temple
Sardar Samand Lake
Neelkanth Mahadev Temple
Andrews Hall Church
Adhar Shila Temple
Oriental Art Gallery
Lavi's Cooking
Mahamandir
Nearby Restaurants of The Area
Flavourz Restaurant
Marugarh Restaurant
Green Café Restaurant
Bhawani Dal Bati Centre
Mumal Ras
Saffron Foodz
Golden Garden Restaurant
Gypsy Restaurant
Crossroads
Shaamyana Heights
Kaylana Lake is a 145-year-old lake and is truly a spectacle to behold. The attraction is apt for everyone whether it be families, couples or birdwatching enthusiasts. It has got something for everyone. The lake is surrounded by the majestic Aravalli Knolls, setting a perfect backdrop for some memorable pictures. If you want to experience the lake at a closer level, you should go for some boating experience and make yourself aware with the true vastness of the lake. Nature also doesn't stay far from the lake as the surroundings are lined with Acacia Trees which are indigenous to this place.
If you are en route to Jaisalmer and don't want to have a stopover, then sitting in the car you can always enjoy that breeze of cool air coming from the lake by dropping down the windows. The area is frequently visited by both local and foreign tourists. But you will never find it over crowded and you can always hope for some solace & peace from this place which is nowadays truly hard to find. In addition to being a major tourist attraction of Jodhpur, it also serves as a source of freshwater to the nearby settlements of Jodhpur and neighbouring areas. Kaylana lake is the sole source of drinking water to the city.