Rajasthan's beautiful Aravalli mountains serving as a backdrop to some of its most engaging monuments and royal palaces are also home to the legendary Neemrana Fort in Alwar. Neemrana Fort is spread across ten hectares, and has numerous rooms consisting of not only traditional Rajasthani but also colonial architecture. The erstwhile fort has now been converted into a famous heritage hotel with a few great modifications that make it into a perfect weekend getaway opportunity. Situated on the highway between Delhi and Jaipur, Neemrana Fort is quite the favourite of people looking for a relaxing and royal experience in one of the most picturesque locations of Rajasthan.
Interesting Facts
Neemrana Fort was constructed in the 15th Century, and now stands as a popular heritage hotel.
The hotel consists of an Ayurvedic spa, two big pools, complete with luxurious rooms and beautiful gardens for a great experience.
Apart from being a popular filming location, Neemrana Fort is also the top choice for a marriage destination near Delhi.
Various activities take place in the hotel including zip-lining, traditional and cultural events, and there is also the availability of conference rooms and banquet halls.
Vintage car tours across the area of the fort is also a popular activity that guests love to indulge in.
All of the rooms are quite luxurious and guests can choose whichever kind of regal room they'd like to stay in during their trip.
Things to Do/See
There are various restaurants within the fort which offer various kinds of cuisine, which makes it easier for guests to pick what they wish to eat.
There is also no restriction of sitting in one place and eating, because guests can stay out by the pool or on the terrace to dine in privacy.
Zip lining is a popular activity and gives a great view of the Aravalli Hill valleys below with a picturesque background.
Jaipur is really close by so tourists enjoy visiting the city for some traditional Rajasthani experiences while staying at the Neemrana Fort Palace.
The step well within the fort is quite a sight to see, and guests have enjoyed exploring its deeper parts.
There are multi-media tours arranged during activities in the Neemrana Fort Palace where guests can witness the history and heritage of the fort.
A vintage car drive through 5kms in the hotel premises is also a very popular tourist activity.
Camel rides are an enjoyable activity for people of all ages at Neemrana Fort Palace.
Traveller Tips
Visiting nearby locations like Jaipur and Alwar is recommended based on the fact that they're a drive away.
Neemrana Fort is a popular weekend getaway so travellers can pack light and enjoy the luxurious atmosphere of the heritage hotel.
With the various activities to indulge in, Neemrana Fort Palace is as much a family trip destination as it is meant for couples.
It is recommended even by the hotel to experience the cultural events that take place at Neemrana Fort so as to be able to look at the great history of Rajasthan and the fort in general.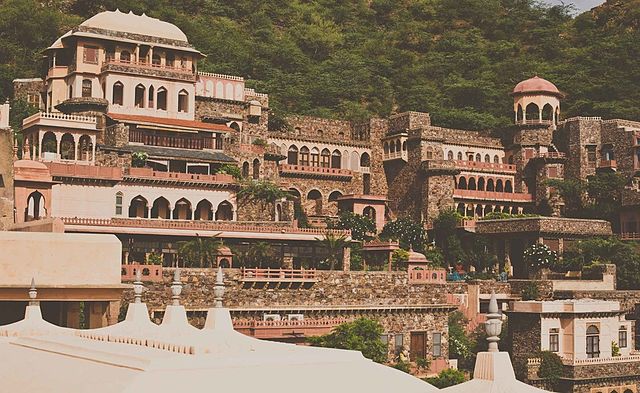 How to Reach
Neemrana Fort Palace can be reached by road from Delhi or Jaipur quite easily.
Best Time to Visit
September to April
Nearby Places of Interest
Bala Quila
Company Garden
Siliserh Lake Palace
Bhangarh Fort
Sarsika Wildlife Sanctuary
Vijay Mandir Palace
City Palace
Jai Pol
Moti Dungri
Sarafa Bazaar
Neelkanth Mahadeo Temple
With the vast and rich culture of Rajasthan comes its background of a great royal experience, and travellers enjoy visiting Neemrana Fort due to its contemporary as well as traditional experience overall.