Visitor Information
Famous For: Backwater tourism, houseboat cruises, scenic views, bird sanctuary
Entrance Fee: There is no entrance fee to visit the Vembanad Lake. It is free for all. But to avail the activities you will have to pay for the services.
Visiting Time: 1000 – 1800 hours
Visit Duration: The entire trip takes around 4-5 hours.
Vembanad Lake is one of the most beautiful freshwater lakes in the country. Kerala, considered to be "God's own country" gets its name from such wonderful and beauty-defining places. Located amidst mangrove forests and lofty coconut trees, it is a place lost in greenery. The lake seems to look like a shiny mirror early in the morning when there are no disturbances. A slow lazy boat ride in the lake will leave you with a feeling of contentment and calm. Especially the snake boat races are quite famous among the visitors for their huge size and number of oarsmen. The lake holds a very special place in the life and cultural diversity of the locals in this place. It encompasses everything that Kerala is famous for and puts it on prominent display for the world to see.
Traveler Tips
Kerala is a very humid and sultry place. It is better to come in light cotton clothes, shades and caps.
Carrying a water bottle is always suggested because the heat can be quite relentless.
Always remove footwear before entering temples, so as to not hurt the religious sentiments of the people.
It is suggested to learn a few important words in Malayalam. This will help you in better interacting with the people.
Be careful of the red ants infestation. They can leave you with quite a rash if you are bitten by them.
It is better to book a boathouse in advance to prevent last minute hassles. You can get it done through your travel agent or the hotel manager.
The food can be a little too spicy for your taste, so be careful about what you have.
Things to Do
Go for a scintillating boat ride across the lake, soaking in its excellence.
Stay in a houseboat and try out the mouth-watering local cuisine.
Try your hand at fishing along the edges of the lake.
Observe the beautiful sunset while going on a boat cruise.
Photograph some beautiful moments that the lake has to show for.
Availability of Guides
You don't really need guides for visiting the lake. The boatmen here can also tell you a lot about the lake.
Best Time to Visit
The best time to visit Kumarakom the beautiful lake would be between the months of October and March. During these months, you will truly appreciate its extravagant richness and vivid surroundings.
Interesting Facts and Trivia about Vembanad Lake
Due to its sheer size, it is the largest freshwater lake in Kerala. All over the country it is the longest freshwater lake.
The lake plays host to the famous Nehru Trophy Boat Race. In this boat race, almost a 100 people climb aboard a single snake bat and race against each other.
The boat race displays the rhythmic teamwork and dedication of the oarsmen, who work really hard for the races.
Meenachil River, Achankoil River, Pampa River and Manimala River are the four main rivers that empty into the lake.
This lake is a major ecological attraction for the tourists. Almost everyone visiting Kerala gives this place a shot.
The lake has a wide variety of fishes and other freshwater animals. Adjoining areas of the lake are home to many beautiful migratory birds, that annually come in large flocks.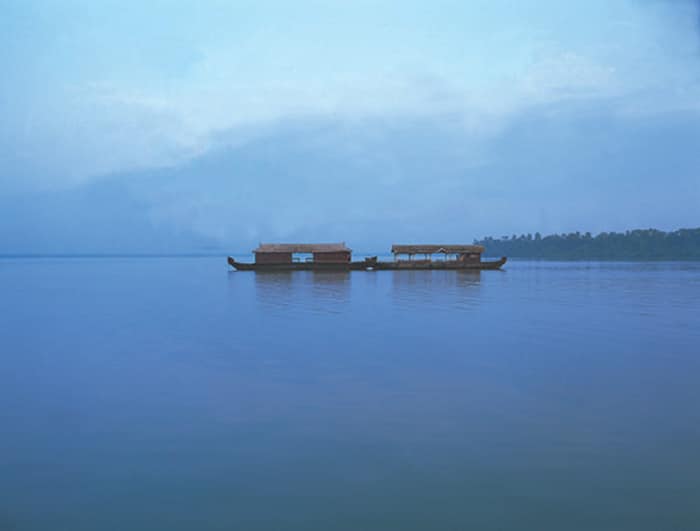 Nearby Attractions
Kumarakom Bird Sanctuary
Coconut Lagoon
Aruvikkuzhi waterfalls
Pathiramanal Island
Bay Island Driftwood Museum
Vagamon
Kumarakom Beach
Kottayam
Mary's Church, Cheriapally
Vaikom Mahadeva Temple
Nearby Restaurants
Tharavadu Restaurant
Lakesong Restaurant
Karimeen
Grannery Restaurant
Cocobay Restaurant
Appam
Cruise N' Lake Restaurant
Lakshmi Restaurant
Vembanad Lake is an infusing concoction of greenery and backwaters! It is one of the most serene and calm places in Kerala despite the heavy tourism. This place has a lot to offer to every tourist who decides to pack bags and visit this tranquil lake. It is a true spot for all the nature lovers who need an opportunity to relax and feel connected to nature. The lake has been blessed with a wide variety of flora and fauna which simply complement the lake's location.
This is definitely a trip worth taking. Undoubtedly it will leave you with many exciting and lovely experiences to recount for all of your life.