Visitor Information
Famous For: Travel, Experience seekers, Photography and Ayurveda.
Entrance Fee: There is no exclusive fee for entering the backwaters. You just need to book hotels for your stay.
Visiting Time: All year round on all days.
Visit Duration: Depends on your personal interest. Usually, it takes about 4-5 days to see the entire place.
The clear blue skies, the mangrove trees, the sparkling water and lush greenery make Kumarakom a wonderful travel destination. The group of islands is a quick attraction for most visitors and many magazines state that it is one of those must visit places.
If you are looking for a wonderful holiday, think no more. Kumarakom will leave you amazed with its natural beauty.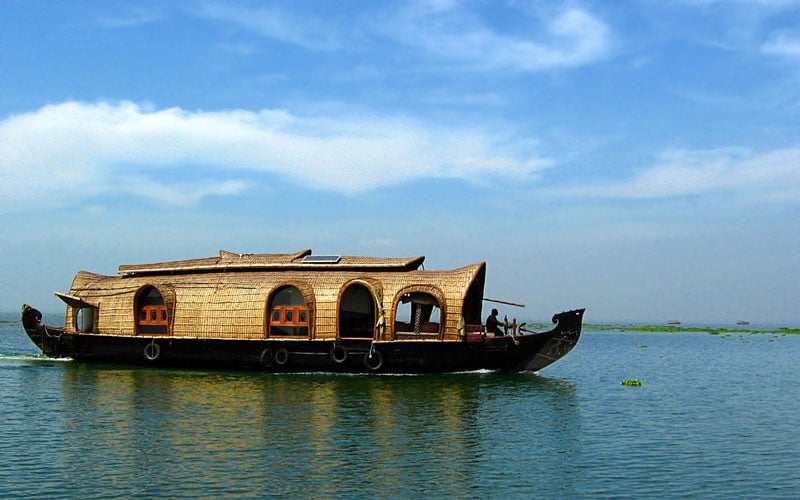 Traveller Tips
The scenic beauty of Kumarakom is sure to leave you spellbound. Hence, it is a very good idea of take lots of pictures. They will remain as a memory for a lifetime.
If you are planning to visit during the monsoon months, do not forget umbrellas or raincoats for the kids.
Most tourists opt to stay in a houseboat and there is rush all throughout the year. So, it is best to book one beforehand.
Things to Do
If you are cruising in the backwaters, it is an absolute must to stop by the island of Pathiramanal. You will find various species of migratory birds here. It is a heaven for all nature lovers.
To relax your body, you can visit the spas or Ayurveda therapy centres. They offer the best service and you will feel refreshed.
The Kumarakom Bird Sanctuary is the abode of more than 175 species of both migratory and resident birds. The place is beautiful and attracts most tourists.
There are many churches in and around Kumarakom. Some noteworthy ones are St. John's Church, St. Peter's Church, etc.
Staying in a houseboat is a very rewarding experience. Going to Kumarakom automatically means that you need to spend a night or two in a houseboat.
The historical background of this place is very rich and there are more than 10 temples in the area including Puthiyakavu Devi temple, Shree Kumara Mangalam temple and also the Muthante Nada Mahadeva temple.
Availability of Guides
The best people to assist are the locals. Most people are very helpful and they will answer your queries or questions. However, if you want to know more about the detailed story and events, it is best to do your research from the internet. Many bloggers and sites have a lot of information about their stay in Kumarakom.
How to Reach
The nearest railway station to the Kumarakom Backwaters is Kottayam. The distance can easily be covered by bus or a private taxi. The rates are pretty reasonable too. If you are travelling by flight, the distance will be further increased. Cochin is the nearest airport and is about 95 kilometres away. The availability of transport is very convenient. Any taxi or cab will take you to the desired location. Ideally it takes around 2 hours.
Best Time to Visit
Kerala is a very famous tourist spot and you will find visitors in this place all year round. The summer months from March to May are a pleasant time for sight-seeing and exploring the place. The weather is hot but there is very less humidity around this time of the year. But, if you are looking exclusively towards the Ayurveda treatments or therapies, monsoon is the best time to visit.
Interesting Facts and Trivia About Kumarakom Backwaters
Apart from birds and the backwaters, Kumarakom is also very renowned for the flora and fauna in the area. The mangrove trees, the coconut plantations, the paddy fields all make it an excellent travel destination.
The thick bushes and trees here make Kumarakom a house of snakes. Following the Hindu culture, it is not very often that snakes are killed. There are both poisonous and the harmless kind.
One can find trees and herbs of medicinal importance.
The Regional Agricultural Research Centre here takes good care of the coconut plantations and prevents and studies diseases related to it. It also provides assistance to farmers.
Nearby Attractions
Kudamaloor
Kallara
Thazhathangadi
Pallikkoodam
Aymanam
Nattakom and Panachikkadu reservoirs
Thanneermukkom bund
Nearby Restaurants
Pearl Spot restaurant
Tharavadu Restaurant
The waterside
Lime tree
Baker's Gourmet house
La Breeze restaurant
Planning a trip to Kumarakom is one of the best decisions you can make. It is the perfect place to relax and unwind. Away from the entire crowd, spend relaxed days amidst nature.