Visitors Information
Famous for: Trekking, Spirituality, Seeking Experience, Nature Lovers
Visit Duration: You can easily spend 2-3 days here, even more depending on your liking.
Dharamkot, is located less than ten kilometers from Mcleodganj. This relatively remote town is a privileged to descend to, as the moment you enter here, you experience an altogether change of atmosphere. Dharamkot is a scenic paradise of spirituality, hospitality, lush green landscapes and trekking havens. It offers everything a hill station should, and more. The place is meant for nature lovers, who wish to spend some time in solitude with its warm embrace. You can visit waterfalls, meditation centers or do some exhilarating trekking at this beautiful hill station. Having a pleasant climate throughout the year, the place is an ideal one to visit for rejuvenation and relaxation.
Traveler Tips
Explore the tiny trails, especially the ones around Tsuglag Khang Temple. These routes are picturesque and offer some splendid views of the valley.
Be sure to carry weather appropriate clothes as it tends to get quite chilly in the hill station especially at night and during winter months. Be sure to check the temperature before your trip.
Try eating at the small cafes, which serve delicious and authentic cuisine.
Things to Do
You can undertake a thrilling trek to one of the most revered havens of trekking, Triund
Visit the lovely Bhagsu Waterfalls, whose frothy waters and cool sprinkles will leave you refreshed and provide a great backdrop for numerous pictures.
Travel to Mcleodganj and visit the Dalai Lama Temple. Its radiating spirituality and exuberating goodness will rub its good vibes and peace on you, for the rest of the trip, and possibly life.
Dharamkot also has a number of meditation centers, such as Vipasana Meditation Centre, that will give you the ultimate relaxation you need.
Best Time to Visit
You must avoid travelling to Dharamkot during the rainy season, as the hill station is prone to landslides. Therefore, the ideal time to travel here would be anytime between September through June. The weather remains pleasant and ideal at most times, except during the main winter months.
How to Reach
Dharamkot is situated a mere two kilometers from Mcleodganj. You can reach here via an adventurous trek that lasts anywhere between thirty to forty minutes, being able to gaze at the lovely greenery up close. You can also take a local taxi or your own transport and drive uptil Dharamkot. To reach Mcleodganj itself, you can reach here via Dharamshala airport, or Jalandhar railway station or even by road.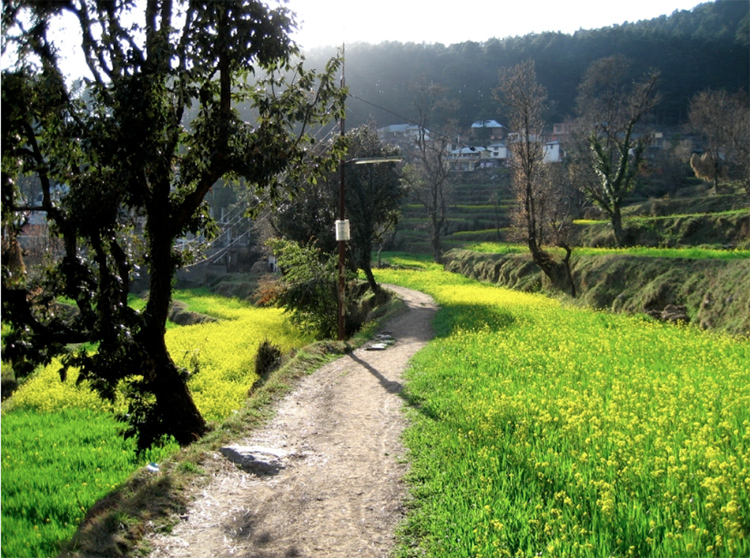 Nearby Attractions
Galu Devi Temple
Masroor Rock Temple
Devi Himani Chamunda
Shri Kunal Pathri Devi Temple
Shri Guna Devi Mandir
Nearby Restaurants
Trek & Dine
Morgan's place
Cool Talk Café
Taste of India
Moonlight Café
Dharamkot is a splendid place to gain some peace and quiet, to visit some breathtaking sceneries and be a part of their captivating aura. It is an ideal place to be if you wish to take a break from your routine. The place will break your monotony and provide you opportunities to be fully aware of each and every breath you take. The place is a base camp for a number of treks, has natural delights surrounding it such as waterfalls and also serves its visitors with titillating cuisine. The place is not yet a commercial tourism spot, therefore there is a lack of proper hotels and accommodations. However, if you're looking to seek the luxury in nature and wish to be in total connect with it, embrace the hills of Dharamkot.