Visitor Information
Famous for: Spiritual Seekers
Entrance Fee: Free for everyone
Visiting Time: Day and Evening time preferable
Visit Duration: 30 Minutes to an hour
Nanda Devi Temple is a prominent attraction of Ranikhet as well as Uttarakhand and is a must to visit to soak in the spiritual aspect of the state. It is situated amidst the amazingly quaint vistas and the scenic views are just too much to awestruck you with. It is largely visited for the annually Nanda Devi Mela, a vibrant fair celebrating the prosperity of the state. This fair is hosted for around 3 days and it witnesses visitors in large numbers coming to the temple and enjoying the spirit of the state with the charming locals of Kumaon.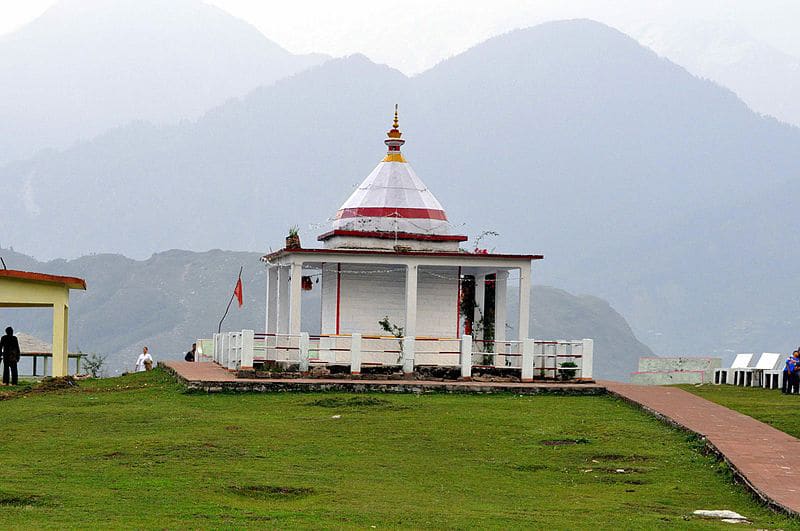 Traveler Tips
Keep plenty of water bottles.
There are several restaurants situated around so you don't have to worry about food available here.
Things to Do
Plan your tour here around September as the famed Nanda Devi Mela is hosted here every year in the same month.
You can also go on adventuring at the panoramic Nanda Devi range and then also explore the Nanda Devi National Park.
Availability of Guides
Guides are not available specifically at Nanda Devi but if you are touring Ranikhet then take the city guide with you.
Best Time to Visit
The months of March to June and September to November are actually the best for their charming and enjoyable weather here so that you can explore the place without worrying about the climate.
How to Reach
Ranikhet is located on the NH-87 and also through bus and train services that connects it throughout the cities of India. You can hire a cab or taxi from the city to reach Nanda Devi Temple.
Interesting Facts and Trivia about Nanda Devi
The temple is constructed of stones implementing the Kumaoni style of architecture and is said to be around 1000 years old.
Nanda Devi is an important religious goddess that was revered by Kumaoni and Garhwal rulers.
Nanda Devi Mela is an eminent attraction to be in during September and is also seen as an emblem of affluence throughout Uttarakhand.
This fair is devoted to Goddess Nanda Devi and Goddess Sunanda Devi, and is a culturally important event for the locals here.
Nanda Devi Mela first began in 16th century when it was celebrated by Raja Kalayan Chand and afterward it became a significant event for Uttarakhand people and locals of this place.
There's also another prominent festival known as Nanda Devi Raj Jat Yatra which is organized for three weeks and many people visit it from all around the world and you are also allowed to take part. It is hosted in every 12 years and is also a jolly celebration of Uttarakhand people.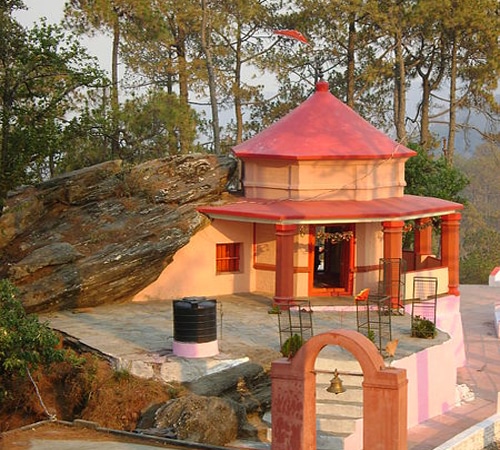 Nearby Attractions
Bineswar Temple
Simtola
Kasar Devi Temple
Chitai Golu Devta
Peora
Binsar Wildlife Sanctuary
Nearby Restaurants
Himadri Bhojanalaya
Lali's Inn and Restaurant
Joshjus Restaurant
Godawari Restaurant
Baba Cake
Rosefinch Café
Kaafal Café
Hence, Nanda Devi Temple is certainly a charming attraction of Kumaon region and is a must to be at if you are exploring Uttarakhand. The fairs and festivals are a celebration of the spirit of life here and visiting this site during these celebrations is what will make you feel one with the locals that are very warm and welcoming. Thus, try to schedule your tour around Nanda Devi Fair and make sure you discover the nearby tourist attractions which are as endearing as the charming and picturesque scenery which turns you tour into an ecstatic one. So, visit Nanda Devi Temple when you are in Ranikhet and let yourself immerse in the spiritual aura and divinity of this place but also enjoy the quaint views of Nanda Devi which will surely make your holiday here a cherishing one!