Visitor Information
Famous For: Religious Trips, Tourism
Entrance Fee: The entry to this temple is free.
Visiting Time: This temple is open on all days and the timings are 5.30 am to 12 pm and 3.30 pm to 8.30 pm.
Visit Duration: There is no particular limit on the time you spend here. Visitors generally spend 1 to 2 hours here.
The religion of Hinduism has many different deities, and each of the temples built for these Gods and Goddesses have their own different stories and histories to tell. One of such popular temples in India is the Kamakshi Amman Temple in Kanchipuram, which is also one of the 51 Shakti Peethas in the country. Each of these Shakti Peethas located across the country are known for their significance as pilgrimage destinations, which further indicates the importance of this temple.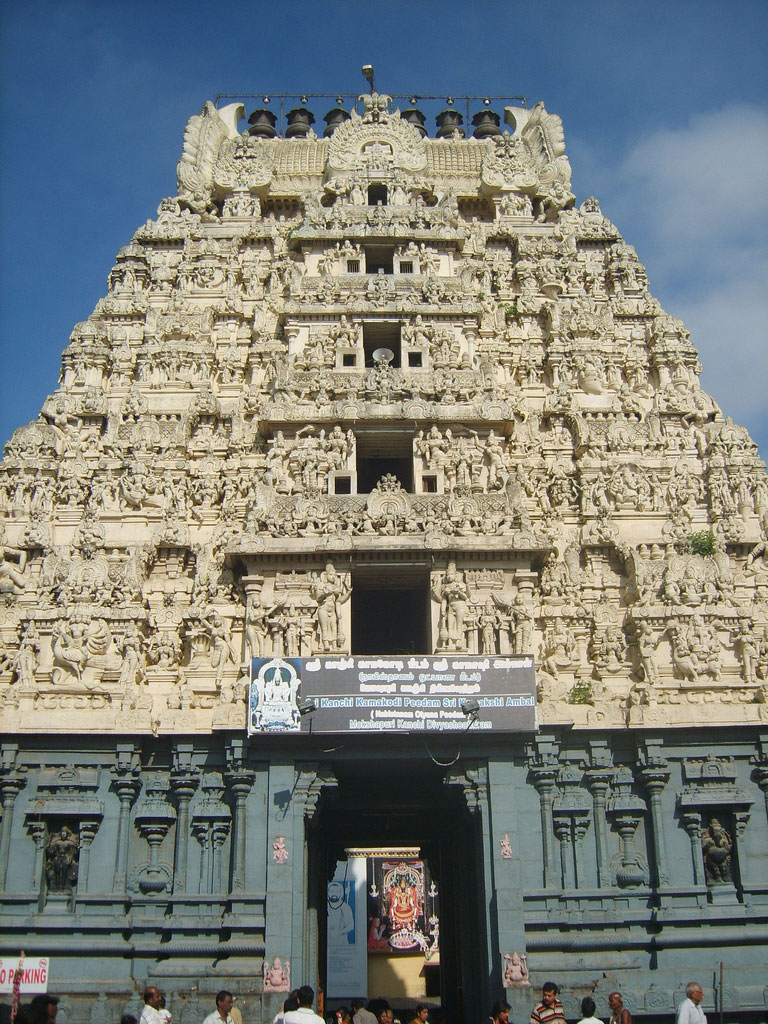 Traveller Tips
If you are visiting this temple, make sure you visit it at least once at night time. The bright lights add to the beauty of this temple.
You cannot get too close to the statue of the deities, and are allowed to see these deities from a distance of 20 yards.
Men are generally required to remove the clothing on their upper body while visiting the main inner circle of this temple.
Things to Do
The peaceful environment around this temple provides a very good location for taking a break from busy city life, to experience the spirituality of this historic place.
The sculptures seen in the temple from the main entrance of this temple along with the vivid lights of night time makes this temple a very good site for photography.
The different sections in this temple have its own significance, and a variety of worship services are offered every day. Each of these services have their own different type of purpose and fees.
Also, many more services and gatherings are seen on the occasion of festivals like Navratri, Sankara Jayanthi, etc.
Another attraction of this temple is the elephant shed and the temple pond. The elephants in this shed trumpet daily at 5 am, which can be heard from the nearby locations.
Availability of Guides
The local and the temple staff are very helpful when it comes to knowing more about the history of this temple. Also, if you require tour guides while visiting this temple, you can contact private tour services available in the city.
Best Time to Visit
The scenic beauty of this temple gets even more improved in early mornings and night time. Travelers prefer visiting this temple during this time in summers. The temple witnesses large number of devotees during pilgrimage seasons and festivals, and therefore, it is advisable to visit this temple on the other free months of the year.
Also, the temple sees a large number of visitors during winters, and especially during spring season when the beauty of surrounding landscape is at its best.
How to Reach
The city of Kanchipuram is connected directly to other cities of this state by several roads and highways. There are many private and government buses available at the Kanchipuram bus stand, which is located at a distance of 750m from this temple, and these buses directly take you to the temple.
Also, this temple is located at a distance of 1km from the Kanchipuram CJ railway station.
Interesting Facts and Trivia About the Kamakshi Amman Temple
An important aspect of this temple is that it is a major Shakthi Peetha, which are the most popular pilgrimage destinations of the country in the religion of Hinduism.
Like many other popular temples of India, this temple also has its own stories and set of beliefs associated with it. One such popular story is that of a devotee, who prayed to the goddess of this temple to cure his muteness, so that he could praise and worship the goddess. It is said that the man was cured by the goddess's grace and he further wrote poems about the grace and the beauty of the goddess in a poem named "Mookapanchashati".
The visitors come to this temple with different kinds of request like getting blessed with children, wealth, etc. which is why the goddess in this temple is known by many names like Kirtimati, Devagarbha, etc.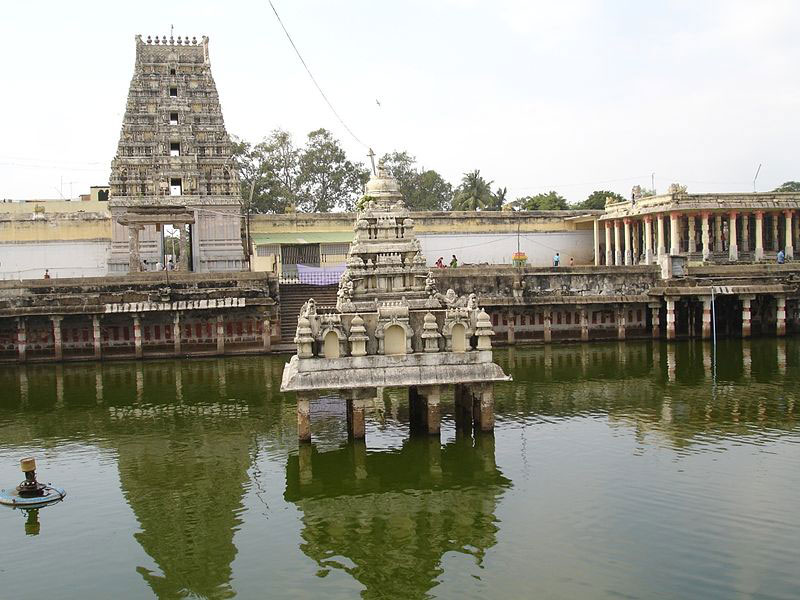 Nearby Attractions
Kailasanatha Temple
Ulagalanda Perumal Temple
Kumara Kottam Subramanyar
Sankara Mutt
Chitragupta Swamy Temple
Madhangeeswarar Lord Shiva Temple
Thiruppavalavannam
Sri Ekambranathar Temple
Nearby Restaurants
Darga Biriyani Restaurant
Mannar Military Hotel
Jothi's Multi Cuisine Restaurant
Hotel Srinivasa Vegetarian
Desert Dragon
Anjanaas Restaurant
Sakthi Ganapathi
The city of Kanchipuram is also known as the "temple city" of Tamil Nadu, because of the large number of temples seen here. Each of these temple have a unique significance and different histories in the religion of Hinduism. Also, the Kamakshi Amman Temple in Kanchipuram is closely related to "Shaktism", which is a tradition in Hinduism which focuses on the worship of goddesses.