For a vacation that is marked by snapshots of scenic beaches, tall palm trees, exquisite temples and some beautiful flora and fauna, head to the lively beach town of Digha in West Bengal. Largely untouched by commercial exploitation, here is a place where you can experience the joys of human life. Soak in the warm waves and bathe in the golden sun, Digha's beaches will leave you rejuvenated at their mere sight. The sweet smell of coconut trees will invade your senses and leave you refreshed. And the temple bells will create a melodious symphony in your ears. If that is not enough, enjoy unprecedented sights of ocean's sea creatures at India's largest aquarium. If your stay at Digha can be summed up in one word, it is 'magical.' Feel the magic in these top 5 tourist attractions at Digha and have the most beautiful beach vacation of your life.
1. New Digha Beach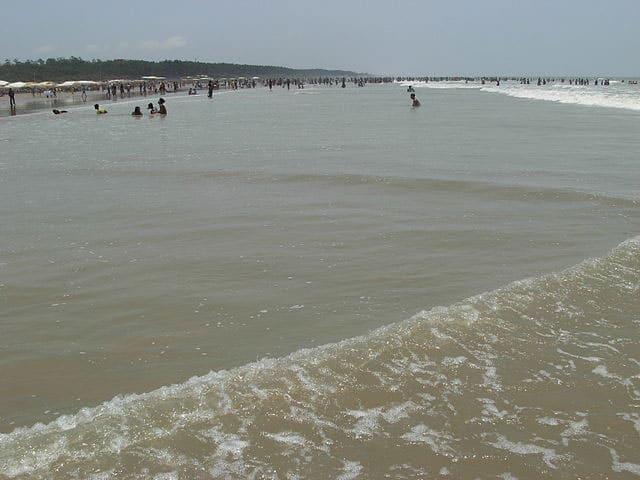 A magnificent beach in Digha, the New Digha Beach rings with a novelty of experience as pronounced by its name. The place is a well maintained, serene beach that provides a rejuvenating experience to its visitors. The cool sea breeze and the swinging palm trees, add an aura of peace and liveliness to the air. The beach is accessible from nearby hotels and is well mapped out, with minimal crowd disturbing your natural sanctuary. Visit this gorgeous beach for a dose of overwhelming calm and endless allure, like never before.
2. Shankarpur Beach
Another beachy retreat for the sea lovers, Shankarpur Beach is located only a few kilometres from Digha. Visitors travel here for a lovely rendezvous with the eternal waves, the golden sunrays and the all-pervading soothing ambience typical of this beach. You can also spot the local fishermen, with their huge fishing nets and boats. Simply witnessing them at work can be a source of pleasant joy for some tourists, some may even extend a helping hand to them, providing an opportunity to build lovely memories. The picturesque queue of trees against the blue sea is a truly surreal sight visible at Shankarpur beach. There are also a few temples situated in the beach's proximity, which you can visit after a refreshing outing in the beach.
3. Temple of Chandaneshwar
The tranquil Lord Shiva temple, Chandeshwar temple offers its pious blessings to everyone that enters the sanctity of its complex. The beautiful white marble place of worship rings with the stories and sculptural representations of Hindu mythology. The temple is brimming with activity during the annual holy fair, where stories of the Hindu God are showcased with maximum revelry. Located a few kilometres from Digha, the drive is worth the visit to this glorious temple, well-suited for enhancing your spiritual well-being.
4. Talsari Beach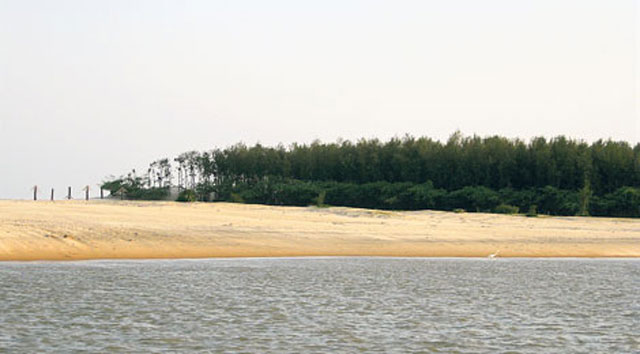 A majorly secluded beach, ideal for a moment of peaceful contemplation in the company of nature, Talsari Beach is another addition to Digha's band of beaches. A serene stretch lined with palm trees with a magnificent view of distant mountains, the beach is an ideal spot to spend some private time with your loved ones or even yourself. It's a perfect place for food lovers, famous for delivering lip smacking sea food delicacies, that leave their impressions on your taste buds long after the meal. Visit the lively, refreshing and energizing Talsari beach for its scenic beauty and soothing tranquillity.
5. Marine Aquarium and Research Centre
The largest in-house aquarium of the country, and also the most well equipped, the Marine Aquarium and Research Centre is a prominent attraction of Digha. A place to hone your curiosity and unleash your childhood wonder, the aquarium brings the ocean floor to the palm of hands. The diversity captured by this aquarium is commendable. One can spot species like sea anemones, rays, lobsters, crabs and even sharks in the centre's humungous tanks. The research centre is an ideal place to take your kids, who would be in awe of the various kinds of sea creatures that lie beneath the mysterious sea level. Step into the mesmerising ocean world and have the most thrilling journey of your life!
Digha is a pristine beach town, which radiates a peaceful aura in even the remotest of its corners. Be sure to try the many experiences it houses in its tiny borders. From temples to adventure, the sheer joy of mindless exploration can be experience in Digha, to its fullest extent. Have a magnificent time enjoying the beauty of this lively town, and come back home with a truckload of memories and little joys!
Don't Miss These Tourist Destinations In West Bengal: