If you're in culture filled, literature oozing West Bengal, Asansol is definitely one place you should check out for a more integrated tourist experience. Because honestly, this place has something for every tourist that ever was. It has traditional temples, and modern day recreational parks. There are multiplexes, and also water conservation dams-it is that diverse. It is a preferred holiday destination of families and couples alike, and also much liked for educational tourism from institutions as well. As we now count down the top 5 places to go to while you're here, it would be wise to remember that West Bengal is quite hot in summers and you might want to pick times of the year to make the most of your vacation.
1. Kalyaneswari Temple
This is perhaps the singular most famed tourist destination Asansol has to offer- or not, as we will find out later on. This is situated on the line that marks the divide between West Bengal and Jharkhand, and is easily accessible by virtue of being located near to national highways. Kalyaneswari Temple is located also close to another major tourist attraction, the Maithon dam. It professes Shakti worship, and is believed to be empathetic to unfertile mothers. It is sprawled side to the Barakar river.
2. The Sacred Heart Church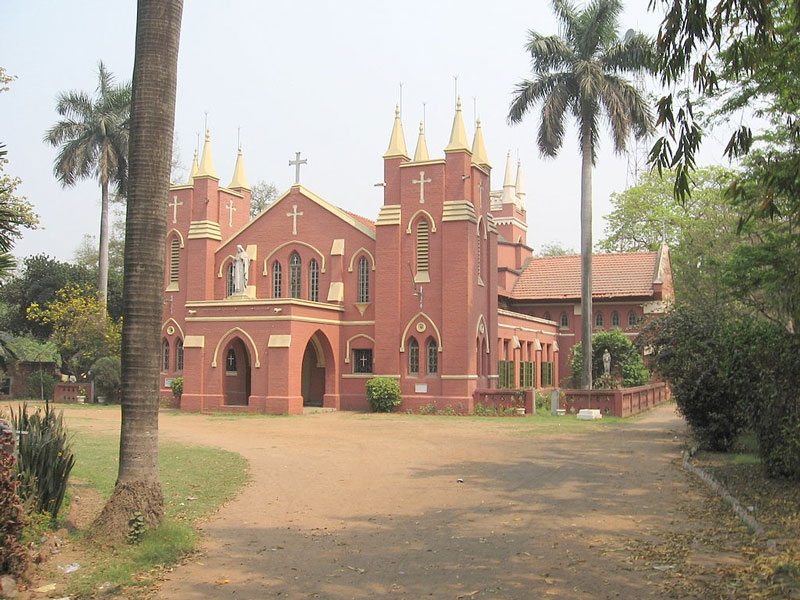 This also is one of the major tourist destinations of Asansol. It is one member of a family of churches located all over India, indeed, all over the world to think about it. It is inherently British in terms of mechanical construction; all the materials were British in origin. The characteristic reddish orange colour gives a burnt brick look, and the white crosses atop the spires add to an overall polished within rustic look. Sacred Heart Church is for the devout Christians as well as the tourist in search of beauty. It is well accessible by roadway too. There are shopping districts nearby.
3. Nehru Park
This third entrant on the list is attractive while being eco friendly at the same time. Nehru Park has beautiful greenery in the form of trees, and a picturesque lake or two. It is well connected by road, and has changed etymologically once in history. It was formerly called after an IISCO man the name of Lahmeyer, after which it became Nehru as time progressed. It is sprawled alongside the majestic Damodar river.
4. Ghagar Buri Chandi Temple
This is a definitive must visit by testimony of the many tourists who've loved being here. Built on the Kali Pahadi in Asansol, it pays homage to the life and times of the Mother Ghagar, believed to be Goddess Chandi in incarnation. The temple has waterbodies nearby, as well as shopping districts you can indulge at. Ghagar Buri Chandi temple is colourfully built in shades of orange and white, and as the year progresses, there is a myriad of festivals, carnivals and celebrations conducted on the premises which you can partake of the joy of and feel optimistic about life.
5. Satabdi Park
Satabdi Park is a park arena and recreational zone around town in Asansol known for providing replenishing quality time to families. Well connected through proximity to the GT road, this park has entertainment facilities in the form of amusement park rides like carousels for children. Sometimes, makeshift shrines and structures are built temporarily for festival purposes, which beautify the park all the more. People spend more than a couple of hours here, and it is generally well liked by tourists who go on to multiplexes, movie halls or shopping sites nearby afterwards.
Asansol in West Bengal is the place to go to when you are feeling like somewhere truly relaxing, laid back yet with tourist attraction potential as you get along the road from one tourist attraction to the next. It is very urban in its selection of malls and parks and cinema theatres, while maintaining the old ethos all the time through its temples with fascinating history and legends. Asansol is well communicated, thanks to the opportune location around GT Road, a must in today's fast life. But it is very hot in summers, being in Bengal, so fine tune your vacay to time and seasonal nuances, and you should be fine. Happy traipsing and gallivanting around town in evening clothes to you!
Some More Tourist Destinations Of West Bengal: