Combining a National Park, a Biosphere Reserve and a Tiger Reserve, the Sundarbans National Park is located in the Indian State of West Bengal. The mangrove forests are a part of the greater Sundarbans and lies in close proximity to the Sundarbans reserve forests in the neighboring republic of Bangladesh. The national park was established in 1984 and is largely comprised of swamps, rivers and mangrove forests of the Ganges Delta.
[Also see: Best National Parks of India]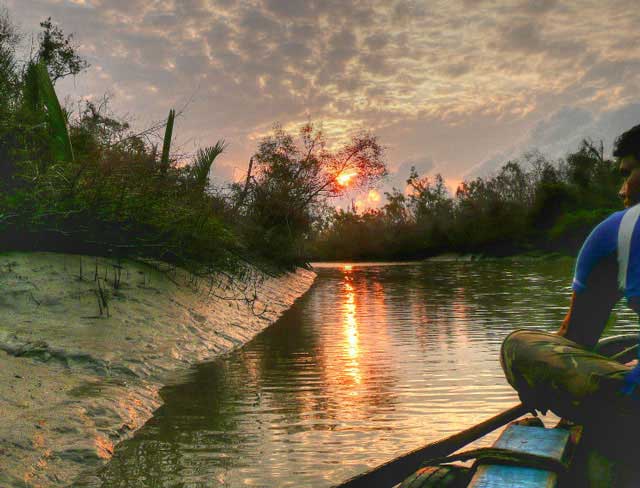 The national park is spread across a massive 1,330 sq kilometers and is surrounded by a total of 7 rivers with their numerous channels and estuaries that transverse these mangrove forests. The mangrove forests of Sundarbans are comprised of the special and exquisite Sundari Trees which exhibit the 'mangrove spikes' that helps the tree with respiration when the forests are waterlogged.
Climatic Conditions
Being close to the Bay of Bengal, the forests are prone to heavy rainfalls during the monsoon month from mid-July to mid-September. The winds from the Bay of Bengal make the temperature moderate but extremely humid upto 80% humidity. The average temperature ranges between 20 degrees to 40 degrees Celsius. One must be careful as the areas are prone to cyclones, especially during the months of May and October.
Best Time to Visit
The best time to visit the Sundarbans National Park is between December and February as the weather is the most pleasant. The park however is open all year round but is mostly avoided during the monsoons due to flooding and increased predator activities. The climate between December and February is cool and temperate with the least humidity of all the months.
Wildlife at Sundarbans National Park
Being a biosphere reserve and a part of the world's largest inland mangrove forests, The Sundarbans National Park houses a wide verity of flora and fauna, with several rare and endangered species of animals, birds and reptiles and marine life.
Animals – Royal Bengal Tiger, Fishing Cats, Macaques, Wild Boar, Indian Grey Mongoose, Indian Flying Fox, Pangolin, Chital, Leopard, Leopard Cat, Indian Muntjac and Rhesus Macaque etc.
Birds – Peregrine falcons, Woodpeckers, Whimbrels, Black-tailed Godwits, Little Stints, Eastern Knots, Curlews, Golden Plovers, Open-bill storks, black-capped kingfishers, Gray Herons, Common Snipes, Wood Sandpipers, Green pigeons, Rose Ringed Parakeets, black-headed ibis, Water Hens, Coots, Pheasant-tailed Jacanas, Pariah Kites, Brahminy Kite, Marsh Harriers, Swamp Partridges, Red Jungle fowls, Spotted Doves, Common Mynahs, Jungle Crows, Jungle Babblers, Cotton Teals, Herring Gulls, paradise-flycatchers, cormorants, Grey-headed Fish Eagles, White-bellied Sea Eagles, Caspian Terns, Seagulls, Common Kingfishers, Northern Pintails, White-eyed Pochards and Whistling teals etc. are found here.
Reptiles and Marine Fauna – Sawfish, Saltwater Crocodile, Mugger Crocodile, Gharial, Gangetic Dolphin, King Cobra, Bengal Monitor, Bull Sharks, Hawksbill Turtle, Olive Ridley Turtles and Humpback Dolphins etc.
Distance from Nearby and Major Cities
Kolkata ­– 90 kilometers
Allahabad – 815 kilometers
Bhubaneswar – 270 kilometers
Patna – 560 kilometers
Delhi – 1400 kilometers
Mumbai – 1700 kilometers
Jaipur – 1435 kilometers
Ahmadabad – 1680 kilometers
Bangalore – 1560 kilometers
Lucknow – 970 kilometers
Chandigarh – 1550 kilometers
Guwahati – 550 kilometers
Shillong – 500 kilometers
Ranchi – 400 kilometers
Indore – 1340 kilometers
Nearest Airport – The nearest international airport to the Sundarbans National Park is approximately 90 kilometers away in Kolkata. One would need to reach the spot by road from Kolkata.
Nearest Railway Station – The nearest railway station from the Sundarbans National Park is located 30 kilometers away in the town of Godhkhali and is known as the Canning Railway Station. Trains are available from major cities in India via Kolkata.
Road Accessibility – The Sundarbans being a major biosphere and wildlife reserves in India is accessible by road from all the major cities in India and from Kolkata. Buses and taxis can be easily availed from all the major cities in West Bengal.
Accommodation Facilities ­
The tourism office is located in Kolkata from where accommodation details and bookings can be availed. Apart from this, there are several luxury and budget forest resorts like Sundarbans Tiger Camp and Sundarbans Jungle Camp provide some of the best lodging facilities in Sundarbans along with arranging camps and safaris into the national park.
Entry Fee
The local tourists can enjoy the Sundarbans national park for a minimal fee, the foreigners will have to obtain a special permit from the Forest Office in Kolkata. The Permit must be presented before the forest officer before entering the park premises and lasts for 5 days and can be extended upon request to the forest officer.
Useful Contacts and Booking Information
Tourism Centre
West Bengal Tourism Development Corporation Limited,
3/2-BBD Bag (Near Great Eastern Hotel), Kolkata.
Telephone – +91 33 2210 3199, +91 33 2248 8271.
Sunderban Tiger Camp
Dayapur Island, National Park East Range.
City Office: 9, Mitter House, 71, Ganesh Chandra Avenue, Second Floor, Kolkata.
Telephone – +91 32 935749, +91 93 3109 2632, +91 98 3117 0453, Fax: +91 33 22252 6078, (info@sunderbantigercamp.com).
Sundarbans Jungle Camp
Bali Island, National Park-West Range.
Telephone – +91 32 1821 494
Per Help Tourism – +91 33 2455 0917, +91 33 2485 4584,
Fax – +91 33 2485 4584