Visitor Information
Popular For: Colonial History Enthusiasts, Students and Gandhian Scholars.
Entry Fee: No entry fee, Rs 50 camera charges.
Visiting Time: 10 am – 5pm daily.
Visit Duration: 1-2 hrs.
Gandhi Museum in Madurai is the most dedicated Gandhi Sangrahalaya of India. It has a huge treasury of objects and writings of Mahatma Gandhi's life. It upholds the Gandhian way of life and hence bears a special place in the heart of Gandhian Scholars. The building even has a library with a vast treasure of indian cultural history not just gandhian philosophy. Originals letters and documents written by the father of the nation and a vast range of ordinary objects used by him are out there on display. Apart from this the main attraction is the blood stained cloths of the Mahatma which he was wearing on the day of his assassination. Since Gandhi is the driving force of our freedom movement, hence a vast range of historical pictures and documents of the colonial era are displayed here. This makes it a wonderful place for learning the history of Indian Freedom Movement. So, students and ordinary people find it a useful venture. Other than this, there is a screening of Gandhi's biography and display of his numerous written books which can be purchased. Thus, it is an essential place of visit for every Indian.
Traveller Tips
Pets aren't allowed so keep them home.
Food and bathroom facilities are available.
Locker room available for storage.
Souvenirs, collectibles and books on Gandhi are available at the store there.
Things to Do
The blood-stained clothes of Mahatma Gandhi is a must see item.
Various handwritten letters by Gandhi is another worthy section.
Take a look at the gallery of images from the Indian freedom movement days.
"India Fights for Freedom" series of illustration at the entrance is an importance exhibition.
Handicrafts exhibition is a big draw for people.
The Hall of Relics and the Khadi & Village Industries section are interesting avenues as well.
Don't miss the cultural programmes and film shows in the 8000 people crowd capacity open air theatre at the south wing.
Visit the library at the north wing.
Purchase souvenirs and books of Mahatma at the souvenir store.
Availability of Guides
Guided tours are available for those unacquainted with Indian History. For others, it can be easily traversed without much of a hurdle. Similar to other Gandhi museums here you come across guides offering to take you through a tour of the place with all the necessary information.
Best Time to Visit
The museum remains all through the year however the autumn and the winter holidays draws the most crowd. The weather in Madurai is pleasant at this time. Hence the ideal time to visit is between September – January. October and January are of primary importance as the birth anniversary and death anniversary of The Mahatma fall on these months respectively. Hence, there are several activities going on during this period.
How to Reach
The museum is located at the heart of the city and can be easily accessed via buses, autos, cars or hired taxis. Tamukkam bus top is the nearest bus stop lying at 600metres from the museum. As for Madurai, it is an important city well connected by rail, road and air routes. The nearest airport is Madurai Airport. It well connected to major tourist centres. Rameshwaram, Chennai, Kodaikanal, Kanyakumari, Trichy are located at a drive of 139km, 472km, 120km, 232km and 142 km respectively. Madurai Railway Station falls under major railway connection in Southern India and is well connected to Chennai, Tirunelvelli, Kanyakumari, Trichy etc. Most of the trains pass through Madurai.
Interesting Facts and Trivia about Gandhi Museum
The Museum is actually housed in the 1670 AD Tammukam Palace built for Rani Mangammal of Naick Dynasty
The Tamil Nadu State Government made it the centre for Gandhi Memorial Museum in 1955.
This 13 acres land was gifted by the state government to the Gandhi Smark Nidhi which created this memorial.
This place was chosen because of Gandhi's special connection with Madurai. It was here that the Mahatma adopted Khadi as his attire in 1921 and later in 1946 he championed the Untouchability cause by entering Meenakshi Temple, in Madurai with the untouchables.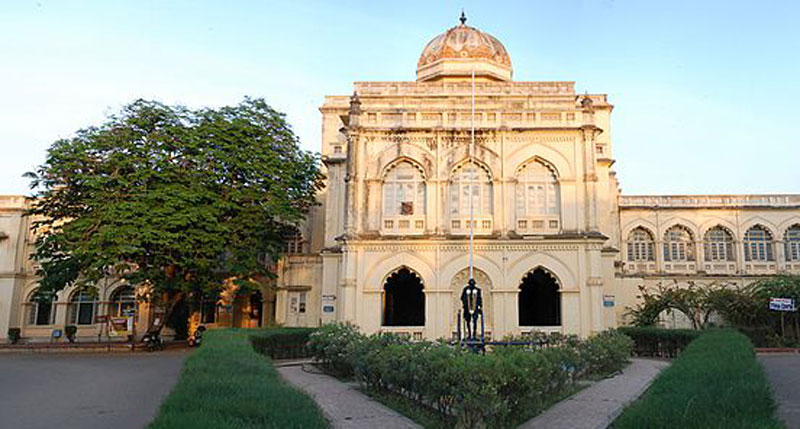 Nearby Attractions
Madurai Government Museum lies within 400 metres of Gandhi Museum.
Meenakshi Temple is 2.5km form the museum.
Goripalayam Dargah ,Thirumalai Nayakar mahal and Koodal Azhagar Temple are other tourist destinations situated within 3km form the museum.
Sri Agathiyar Nadi Jothida Nilayam and St. Mary's Cathedral Church are interesting sightseeing option within 2km of the museum.
Vandiyur Mariamman Teppakulam and ISCKON temple are other attractions lying in the vicinity (approx. 3km).
Nearby Restaurants
DosaiKadai, Sri Meenakshi Bhavan and Kumar Mess are good eating out options at a distance of 500 metres.
Barbecue Nation, Hotel Vasantham, Snagam Hotels, Andhra Curry, Café T Restaurant, Chopstix Multicuisine Restaurant offers the best eating out options in the vicinity.
Phil's Bistro and Orange Multicuisine Restaurant are other good options within 1km radius.
Overall, Madurai has a lot to offer other than Meenakshi Temple and the Gandhi Museum is one of them. So, hurry up and pack your bags. Explore our historical past.