Visitor Information
Famous for: History, art and culture, photography.
Entrance fees: 5 (for adults) and Rs. 3 (for children).
Visiting time: 9:00 AM to 1:00 PM and 2:00 PM to 4:45 PM except on Mondays, second Saturdays of the month, and declared holidays.
Visit duration: Around 2-3 hours.
Fisheries Museum, Port Blair, Andamans, India is a first-rate museum that exhibits specimens from underwater life, starting from little fishes and anemones and ending in whales and sharks. There is a huge collection of specimens, almost around 350 in total. There are corals and shells and fossils of the kind, and also skeletons and remains. Moreover, there are also live exhibits on display of some species. There are preservation tactics in glass, chemicals like formalin. There are also dark rooms for habitation purposes of the species. The specimens collected here are mainly found in the Bay of Bengal and Indo-Pacific Bay.
Traveller Tips
Carry suitable gear with you like cameras and sunscreen.
Video cameras are allowed inside only with an added fee and specific light settings.
You should not touch or disturb any of the specimens, as it can hurt both them and you.
Make it a point to learn about the unique lifestyles and histories of the animals.
Things to Do
Visit the many other museums on likewise interesting topics nearby.
Learn the British colonial history of the place through the various monuments built at the time, most notably the cellular jail.
There are also a lot of beautiful beaches and islands nearby you should visit.
There is ample scope for adventure sports here.
You can photograph as much as you like.
There are also very interesting and exciting special underwater voyages.
Availability of Guides
Guides are very important components of a tour, and they are available for hire locally at varied prices, some regulated. There are also guides you can take with you as part of the tour, or those locals you can engage to show you around. The guide has to be knowledgeable, and understandable to you. Moreover, the museum has plenty of directions and information on the displayed species even if you are alone as well.
The Andamans have tropical climate, meaning adequately hot summers. At winters, though, it is not chillingly cold, and the weather is ideal for tourists. The monsoons, however are not appropriate times for visiting, as the showers are powerful and potentially dangerous, and you cannot go underwater. The best time to visit starts from November and ends in May.
How to Reach
The Andamans can be reached both by flight and cruise. There are flights scheduled from major cities like Kolkata, Bangalore and Delhi through Port Blair airport, and also cruises from Vizag, Chennai. Once you arrive at the Andamans, you can go to the mainland, then take available conveyance like buses or taxi to reach the museum.
Interesting Facts and Trivia About Fisheries Museum
There are views of the magnificent Andaman Sea from the museum.
There are exhibits of turtles and also remains of the Great Sperm Whale.
There are special markets nearby you can go to shop at.
The views of nature provided from here are almost unparalleled.
There are exhibits of exotic creatures like dolphins and saw fishes as well.
There are table corals as well.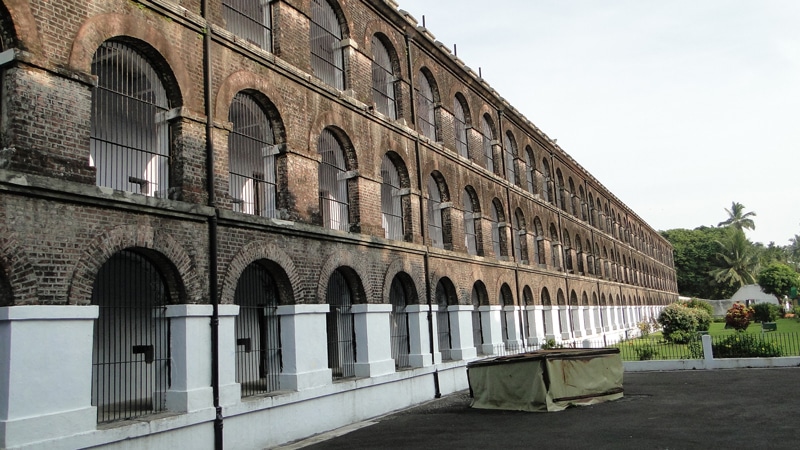 Nearby Attractions
The Anthropological Museum chronicling the life and times of the native Negrito tribes of the islands.
The Samudrika (Naval Marine Museum) under the administration of the Indian Navy, informing about history etc.
The Zoological Survey of India Museum.
The Science Centre, Port Blair.
Nearby Restaurants
The Icy Spicy, whipping up food from across the globe a la Indian, Italian, Asian.
The New Lighthouse Restaurant.
The Annapurna Cafeteria, a casual eatery with pretty interiors.
The Fisheries Museum in Port Blair, like the rest of the island, provides a glimpse into history and nature in all its diversity, along with a sense of peace and seclusion away from the hustle bustle of daily life. If you are looking for all this, paired with adventure and a little bit of zoology, look neither left nor right, look straight ahead and plunge in!