Sometimes our souls are so bereaved that we spend nights and days crying to ourselves on our beds and the daily routine wreaks havoc on us. Travelling to perpetually mobbed destinations during such phases of life offers no refuge. So, fret not as we provide you with an undeniable trip to Siliguri in West Bengal. For those who haven't heard about the place, Siliguri is a pristine hill station near Darjeeling in the northern part of the state. Here, we have listed the top 5 places to visit in Siliguri:
1. Kali Mandir
Situated near the Sevoke Bridge, the Kali Mandir is a Hindu temple setting the shrine of Goddess Kali. The temple is swarming with the disciples especially during the fiestas of Durga puja and Navratri. It is positioned at a distance of 23 kilometres from the main Siliguri town and boasts of a huge campus. It is laden with mysterious beauty in the ambience and is a major highlight of the region.
2. Chilapata Forest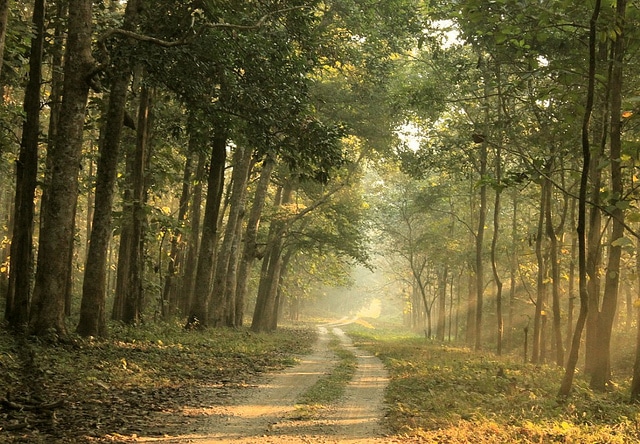 Photo
by Kaustav Das Modak,
CC BY-SA 2.0
[adsense_hint]
It houses a forest bungalow where one can stay even in the depth of the night. It is near Jaldapara Wildlife Sanctuary and is flocked with elephants, leopards, rhinoceroses and wild pigs. The wooden bridges, clock towers and squealing of animals keep the passage interesting as one approach near the forest. It is advisable to stay locked inside the bungalow during the dark hours as venturing out can prove to be hazardous.
Nalraja Garh is situated inside the dense forest which is a monument that dates back to the Gupta period. It is a 2000 year old fortress and is picturesque. Torsha River is an adventurous location that can also be visited in the jungle. Rhinos have a gala time in the waters over here. The colour sunset is priceless as the sun sinks in deeper into the river. There are various trains that can be boarded in order to reach Chilapata from Kolkata.
[adsense_hint]
3. Savin Kingdom
Savin Kingdom is an amusement park which is located in Dagapur, Siliguri in West Bengal. It has been established near Mahananda River and resembles a castle. The Water Park is dearly loved by all the holidaymakers over here. It is placed at the foothills of Himalayas and is built in a vast expanse of 10 acres. The place is perfect for family day trip and the memories will surely live long after the visit.
4. ISKCON Temple
ISKCON Temple is religiously visited by herds of pilgrims every day. It houses a giant idol of Lord Krishna and is always buzzing with divine music and dance of the devotees. The aarti in the morning and evening that are a daily affair are soul stirring. The sanctity of the temple provides solace from all the materialism of the otherwise hectic life. It is also an ideal place for meditation, enlightenment and self-reflection.
5. Hong Kong Market
Hong Kong Market is situated in Hakim Para, Siliguri in West Bengal. It is an eminent market of the town that deals in foreign apparels and international brands. Chiefly engaging in selling imported goods from China, this market on Hill Cart Road is brimmed with shopaholics. It is also popular for electronic goods and the reasonable prices are an icing on the cake in this shoppers' paradise.
As every other market even this one offers delicious delicacies all the way! Havelli- a restaurant that specializes in fish and lamb, Ranjit- famous for south Indian cuisine, Taiwah- popular for Chinese cuisine and Kalpatru- exclusive in Bengali cuisine are few of the many dining joints of the market, which never run short of customers.
Traveling is emerging of late, as the coolest trends all around the world and is making news and contributing to the economy, globally. So, the extraordinary souls definitely, do not want to settle for places that have been marred in their sheer beauty by the feet of hasty and frequent travellers.
Visiting Siliguri is one option to be explored. And if all these spots don't burn your soul with an immaculate desire, I really don't know what will!
Other Interesting Places In West Bengal: