Visitor Information
Famous For– Tourism, Photography, Picnic, Landscape and Trekking
Entrance Fee– Entry is free.
Visiting Time– 6:00 a.m. to 6:00 p.m. is the ideal visiting time.
Visit Duration– Two to three hours approximately.
Located at about a thousand meters above sea level, the cool hill station of Yelagiri is situated in the district of Vellore, Tamil Nadu. Yelagiri is scented by the presence of orchards and rose gardens. Jalagamparai waterfalls is one of the primary places of interest in Yelagiri. The pretty water body lurks in the midst of refreshing dense greenery tainted by faint fogs. River Aattaru of the Yelagiri hills, gushes down the rocks as the Jalgamparai falls. Yelagiri is still not developed as a leading tourist spot. Yelagiri, however, owing to its unpopularity is devoid of crowds and is drowned in tranquil, but in no way, is lesser to the beauty of other hill stations. After exploring Yelagiri, you'd be left with the question as to why it's not considered equal to its counterparts. To discover the unknown beauty of Yelagiri, start your sightseeing with the Jalagamparai Waterfalls.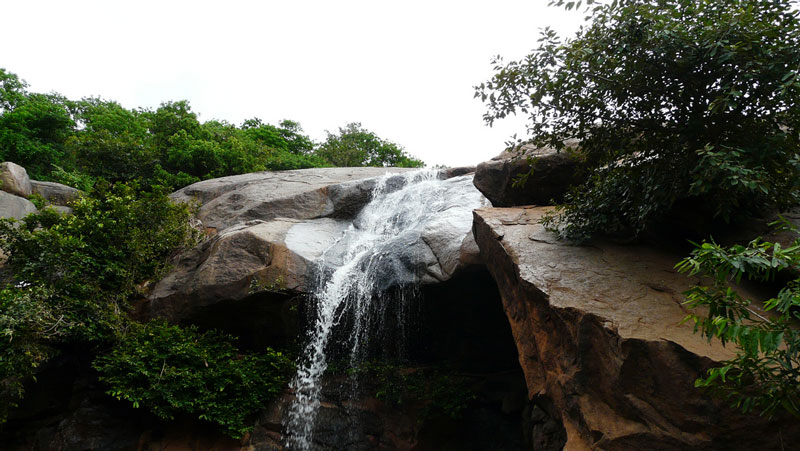 Traveller Tips
Ensure that there is water in the Jalagamparai, because the water flow is inconsistent and you do not want it turn out as a damp squib.
Pack good food and lots of water, because the trek to the falls is time-consuming.
Do not forget to carry your camera because you are bound to capture amazing photographs that are guaranteed to elevate your photo albums.
If you suffer from easy breathlessness or dizziness at heights, ensure you take your medications with you.
Things to Do
Jalagamparai falls can be reached after a strenuous trek of about six kilometers. Trek lovers would find this experience quite pleasurable, as they step higher with every rock and crook.
The valley is spectacular and one cannot miss to take pictures.
Letting the water of the Jalagamparai falls over your head is an absolute delight and this water is believed to cure sicknesses due to its medicinal properties.
After a long exhausting trek, one is sure to have an increased appetite. Spread towels, take out of food and have the superb picnic lunch you've always imagined, with family and friends.
Availability of Guides
Local guides are available. If you are using a tourist package from a travel agency, you can request for a tour guide. However, it is not highly necessary to be accompanied by a guide, to the falls.
Best Time to Visit
November, December and January are the best months of the year to visit Jalagamparai falls. The water in the falls is super-inconsistent and there is no point in visit the place, during the warm months like April or May. Ensure the availability of the water in the Attaaru river, before you plan your visit to the Jalagamparai falls.
How to Reach
Yelagiri is an upcoming tourist destination and can be easily reached by bus, for those in Tamil Nadu. Otherwise, one can take train to the Jolarpettai railway station and then take a cab or a bus to reach Yelagiri. Those travelling by air cannot reach Yelagiri directly. The Bangalore and Chennai airports are the nearest to this hill station. After landing by flight, pick a cab or bus to reach Yelagiri. From Yelagiri, one can take a bus or camp to the Jalagamparai falls. To view the falls, a long trek uphill is required. However, it is totally worth it, provided there is water in the falls.
Interesting Facts and Trivia About Jalagamparai Waterfalls
Since the waters of this falls run through rich rare herbs, the waterfall is said to have medicinal properties.
The source of the gorgeous waterfalls, is river Attaaru, which run through the hills of Yelagiri.
The waterfall is located fourteen kilometers from Tirupattur.
The Jalgamparai falls does not flow at full speed or sometimes does not flow at all, during summer, owing to dryness.
The Jalagamparai falls can be reached through road or by trek. The road to the falls is mostly closed. Therefore, to reach Jalagamparai falls, one needs to trek for about an hour and a half.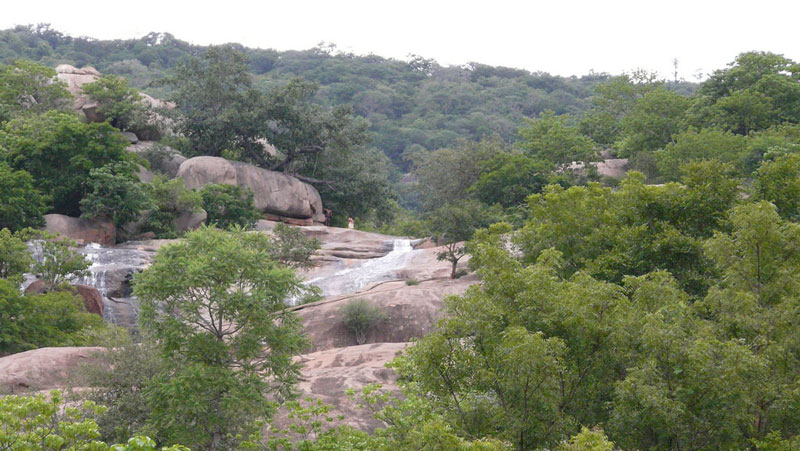 Nearby Attractions
Puganoor Lake
Swamimalai Hills
Velavan temple
Nilavoor lake
Murugan Temple
Nature Park
Government Silk Farm
Telescope Observatory
Moksha Vimochana Temple
Nearby Restaurants
Hotel Chandra
Taj Hotel
Hotel Aruvi
Touchstone
Yelagiri Residency
Hotel Dhanish
Food Corner
Hotel Nilgiris
For those waiting to have a hearty picnic lunch with friends and family, in an area surrounded by grand rocks, pretty valleys and a captivating waterfall, Jalagamparai falls is where you need to head to. So, make a plan, and come, explore the wondrous beauty of the humble Yelagiri.