Visitor Information
Famous For: Tourism, Religious Trips and Photography.
Entrance Fee: The entry to this temple is free.
Visiting Time: This temple remains open from 6am to 12pm, and from 4pm to 9pm.
Visit Duration: People generally spend 1 to 2 hours here, and there is no particular limit on the time you spend here, other than the opening and closing timings.
A country of many religions, rich culture and traditions, India has a wide variety of religious destinations for every tourist around the world. The Sankaranarayanan Koil in the city of Tirunelveli, Tamil Nadu is one such popular temple in the religion of Hinduism. The very first look of this temple will clearly explain the reason of its huge popularity in this religion. The significant and colorful statues over the entrance, and the golden hue of the majestic temple is quite enough to mesmerize any traveler.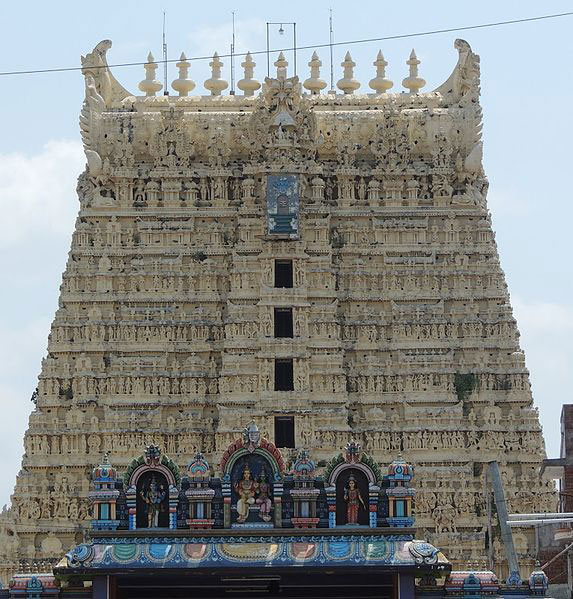 Traveller Tips
Try visiting this temple on the time of festivals like Adi Tapas, Brahmotsavam, Aipasi wedding festival, etc. to truly experience the different traditions and services of this temple.
Things to Do
The surroundings of this temple provide the perfect scenery for photography, and visiting this location with your family and friends is much preferable if you are looking to spend a calm and spiritual weekend.
It is said that the temple tank provides a cure to many serious ailments. Many visitors believe that a dip in these waters can cure all their diseases.
The history and the architectural works in this temple is a real inspiration for any architect or historian, and the uniqueness about this temple is the deity present here, which attracts people from different places across the country for pilgrimage trips, etc.
Availability of Guides
A large number of tour agencies in the city provide tour guides and translators. Also, the local visitors and residents are quite helpful when it comes to knowing more about this temple. 
Best Time to Visit
There are many different occasions in a year to visit this temple, which includes the month of July and August for Adi Tapas festival, the month of October and November for the Aipasi wedding festival and much more.
Many travelers prefer the months from August to November, because the monsoon and the beginning of winter season provides several advantages such as comfortable climate, better landscape, etc.
Also, early mornings are the best time of the day to visit this temple, because of the added levels of tranquility that nature provides during this time.
How to Reach
This temple is connected to other locations through a series of roads, including the State Highway 76 and 41. The temple is located at a distance of 550m from Sankarankoil Main Bus Stand.
The nearest railway station is Sankarankoil Railway Station located at a distance of 400m from this temple, and this temple is located at a distance of 95.4km from Tuticorin Airport.
Interesting Facts and Trivia About Sankaranarayanan Koil
The specialty of this temple lies in the story of the origin of the deity worshipped here. As you may already know, the religion of Hinduism consists of many Gods and Goddesses. Among these, devotees of Lord Vishnu and Lord Shiva used to constantly debate over who is more supreme and powerful. It is said that the deity "Sankaranarayanar" worshipped here is a form taken by Lord Vishnu and Lord Shiva, in order to make their devotees understand that both the Gods are the same.
Every popular temple in the country has its own unique set of religious beliefs and myths. Here, in this temple many of the visitors come for seeking a remedy for problems like the ill effects of Rahu and Ketu, etc.
Another sight seen here is the ant-hill sand provided for devotees along with water as a cure for skin diseases.
Another attraction seen here is the statues of Nandi– the vehicle of Lord Shiva at the entrances of this temple. Also, the nine "rajagopurams" or sanctums in this temple is another architectural marvel seen here.
Goddess Gomathi is another popular deity in this temple, and this goddess is adorned with flowers and golden robe on different days of the week. Devotees approach this deity seeking solution to problems like marriages, etc.
Nearby Attractions
Sankarankovil Reserve Forest
Mariamman Kovil
ThiruValluvar Park
Arulmigu Sankaranarayanaswamy Temple
Sri pambatti siddhar temple
Sri Tirupura sundari amman & Sai Sidar temple
Joseph's Church
Nearby Restaurants
Sivakasi Nadar Mess
Sri Uma Sankar
Hotel Zakkariya
Meenthulli restaurant
Hamsaa Heritage
Sultan Biryani Hotel
The city of Tirunelveli in Tamil Nadu has many popular tourist locations including rivers, temples, waterfalls and much more. Places such as "Papanasam" in this city is a popular picnic spot to spend some quality time with your friends and family. The Sankaranarayanan Koil in this city is known for its unique ideology of unifying the Gods of this religion, and hence unifying the different groups in the religion of Hinduism.