Visitor Information
Famous for: Hindu temple, Exclusive and Rare Arrangement of Gods in their Shrines, Architecture, Musical Pillars. Thambara Sabhai.
Entrance Fee: There is no fee you pay to enter the temple premises.
Visiting Time: The temple is open to devotees from 6AM to 12PM, then a break and then it resumes again from 4PM to 8PM.
Visiting Duration: Between 1-2 hours is the average time of duration that you might spend paying your respects at this beautiful spread out divine temple.
Located far off almost 700 kilometres of the capital city Chennai, the large town of Thirunelvelli in Tamil Nadu, snuggled among a ton of small towns is the perfect destination if you want to soak in some southern feels. Not just in distance, but Chennai and Thirunelvelli are far off in vibes as well. On the embankments of the piuos river Thamirabarani, irunelvelli has been an archaic settlement which has been under the influence and glory of powerful kings ranging from Pandyas to Cholas to Ma'bar to the Madurai Nayaks. No wonder it still retains all its grandeur and divinity even after its expanse as a town with a roaring economy.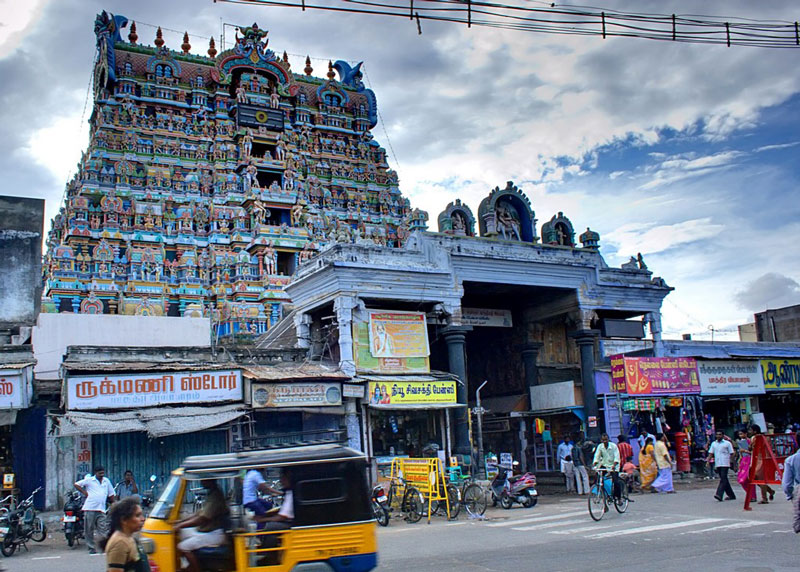 Traveler Tips
If you come during the Tamil Month of Aani, you'll get to soak yourself in divinity yes, but also it is extremely humid here at that time, so be prepared accordingly.
Help preserve the sanctity of the temple and maintain the decorum of the place.
Things to Do
Worship the immensely powerful Lords here and take back a lot of piousness.
Study the starking yet beautiful differences in the architecture and inscriptions here.
Availability of Guides
To maintain the sanctity and decorum of the temple, there are no guides here. As it is a place of worship and not a tourist destination. But if you want to learn about the history and other details about the temple you could refer to the localities here.
Best Time to Visit
The months between October to February are pleasurable to visit weather wise. But if you want to experience true divinity, visit during Thirukkalyanam, or Aani month or Karthigai Month.
How to Reach
Thirunelvelli is well connected to all the other major cities via roadways which is the most convenient mode of transport adopted to reach here.
Nearest Airport is at Tuticorin, 49kms away from here.
The Thirunelvelli Junction Railway Station is in the city itself.
Once you reach Thirunelvelli, there are cabs and Municipal buses plying at quite regular intervals.
Interesting Facts and Trivia About the Nellaiappar Temple
Spread over an area of 14 acre, this is one of the rare temples dedicated to Lord Shiva and Goddess Parvathi with Lord Vishnu too occupying a shrine.
The Dakshinamurthy idol is commonly attached to the wall in most other temples, but in Nellaiappar temple it has been provided an individual sanctum, thus allowing the devotee to actually make a pradakshanam to the Lord Dakshinamurthy. Something very rare.
The holy matrimony of Nelaiappar and Kanthimathi is said to have commenced here and overseen by Lord Vishnu, thus he has a shrine right next to the shrine of Lord Shiva (again a very rare sight) in a sleeping posture.
Lord Murugan is said to have a hexaface. And no one can see all of his faces. But Nellaiappar is the only temple where, you can actually move around and pay darshanam to all the 6 faces of Murugan in his individual hall in the temple.
Temple dates back to being built by the Pandyas in the 13th century, and being renovated in the 700AD sung by the famous saint tirugnanga Samandar.
Navaratri, Tirukkalyanam in Aippasi, (Oct 15 – Nov 15) and Arudra Darisanam are the most significant celebrations done in this temple.
The Bhrammotsavam is carried on here for a specifically extended niche of time during the Tamil Aani month (June 15 – July 15).
Like most Southern Indian temples, Nellaiappar has also impeccable architectural marvel and its corridors are again an attraction. There are 1000 wonderfully-carved pillars along its corridors with some of them being musical pillars too.
Another surprising and rare feature here is that the Lord of prosperoty of wealth- Kuber has been allotted a whole separate gold plated shrine here and actually exists in the form of a lingam.
The wooden architecture around the temple will steal your breath away.
The Thamara Sabhai here is yet another spectacle to behold along with a beautiful legend behind it. It is one of the five rare occasions wherein the great Lord Shiva bewitched the crowd with his Cosmic dance or when he adorned the roopam of Nataraja. The name of this hall is due to its copper laden roof. (Thamara means copper in Sanskrit.)
The Navagraha buddha which faces east in all the other temples, here faces the north direction.
Of the 3 Lingas in this temple, first is the Moolavar Sri Venda Valartha Nathar/Shri Nellaiappar renowned as the Sri Moongil Venuvaneswarar. Second is the Linga which was worshiped by Lord Vishnu. The third lingam is just below the sanctum sanctorum and is called "Badala Linga" or "Adhi Moolava".
Nearby Attractions
Courthallam Waterfalls
Krishnapuram Temple-Thiruvenkatanathan
Vettuvan Koil
Holy Trinity Cathedral and Palayamkottai
Mela Thiruvenkatanathapuram Temple
Kappal Matha Church
Papanasam
Agasthiyar Falls
Kalakkadu Wildlife Sanctuary
Banatheertham Waterfalls
Papanasam Falls
Nearby Restaurants
King's Chic Restaurant
Annapurna Hotel
Central Cafe
Iruttu Kadai Lala Halwa Shop
Maruthi Restaurant
Nanthana Restaurant
Semmen Hotel
Shree Bharani Hotel
Take back a lot more than you ever will have to spend to get to Tirunelvelli. Do not miss out on the divinity exclusive to the Arilmigu Nellaiappar Temple.