Visitor Information
Famous For: Indian architecture, tourism, pilgrimage, and Hindu Mythology
Entrance Fee: Entry is free for all visitors, including foreigners.
Visiting Hours: You can visit between 6am until 12pm or between 3pm until 8:30pm. It remains open on 365 days of the year.
Visit Duration: It will take up to 2 hrs to explore it, fully. It will take one hour extra, if you attend any of its puja rituals.
Popularly known as Sthalasayana Perumal Temple, this seaside shrine is a major Hindu pilgrimage site and tourist hotspot in Mahabalipuram. Lord Sthalasayana Perumal (Vishnu) and Goddess Nilamangai Thayar (Lakshmi) are the presiding deities, here. It stands as a perfect example of Dravidian architecture-style.  The state government oversees its administration and maintenance via its Hindu Religious & Endowment Board (HREB).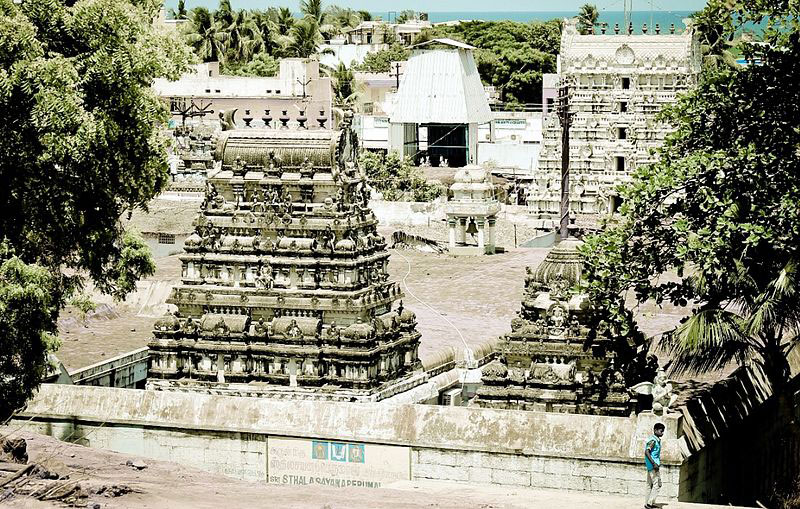 Traveler Tips
Wear appropriate clothes and follow rules & regulations highlighted here.
Wearing footwear inside all puja halls is prohibited.
Refrain from dirtying or defacing its properties.
Phones and cameras are allowed on its premises.
Take care of your wallet and personal belongings to avoid theft.
Things to Do
Marvel at and click snapshots of its architectural brilliance, magnificently-crafted statues and attractive interior décor.
Watch various puja rites performed by different priests and pay your obeisance to the Almighty. There are total 6 temple rituals that are carried out, daily.
Take part in prestigious festival of Maasi Makham. A crowd of temple-priests and devotees carries specific idols to nearby beach for special prayer rituals, in a procession.
Get after-puja prasad for yourself and family.
Visit and enjoy the scenic beauty of the nearby Mahabalipuram shore.
Availability of Guides
There are local guides present, here. You can communicate with temple's officials regarding your queries.
Best Time to Visit
The auspicious months of Aipasi of Tamil community, namely, October & November are the best months to visit it. A grand festival called 'Bhoothatazhwar Avata' is celebrated here, at that time. This celebration, actually, marks the birth anniversary of Bhoothathalvar, a famous Hindu saint.
How to Reach
De-board at Mahabalipuram Bus Stand which is only 100meters away from its temple-complex. From there onwards, walk or hire an autorickshaw or taxi to reach this monument. Mahabalipuram is well connected to the state capital, via road. Moreover, Chennai has the nearest airport and railway station to this tourist hub. 
Interesting Facts and Trivia About Thirukadalmallai Temple
Idols of Lord Vishnu's two incarnations are installed here.
This is one of a Divya Desam among 108 such shrines in Tamil Nadu.
Originally, there were 7 temples out of which only this structure managed to remain intact.
Pallava rulers erected this religious monument and it was re-developed by kings of Chola, Nayaker, and Vijayanagara dynasties.
It features on the esteemed list of United Nations World Heritage Sites.
According to Tamil legend, Lord Vishnu, in the form of old man, visited the pious sage Pundarika and sent him away in search of food. He rested at this place until the sage returned back.
It is the only temple that houses a bust of Lord Vishnu in reclining posture and without his pet serpent.
It is believed that saint Bhoothathalvar, 2nd Azhwar of Vaishnava sect, was born here.
Nearby Attractions
Krishna's Butter Ball
Ganesha Rath
Arjuna's Penance
Trimurti Caves
Shore Temple
Pancha Pandava Rathas
Yudhistir Chariot
A.T Tourist Hall
Mamallapuram Lighthouse
Lighthouse Museum
Sculpture Museum
Dharmaraja Cave Temple
Nearby Restaurants
Mamalla Bhavan
Adyar Ananda Bhawan Sweets
Neelam Café and Restaurant
Sunrise Pizzeria & Guest House
L'attitude 49
The Wharf Restaurant
Sea Shore Garden Beach Restaurant
Masala Café
Water Edge Cafe
If you happen to visit Mahabalipuram then you must visit this centuries-old significant tourist hotspot. Seek blessings from its deities, take photographs of its beautiful structure, and educate yourself about its glorious past.
Happy journey!