Visitor Information
Famous For: Tourism, Religious Trips
Entrance Fee: The entry fee is 10 INR for Indians and 340 INR for foreigners. Also, entry for children below the age of 15 years is free here.
Visiting Time: The temple remains open from 6am to 6pm.
Visit Duration: It would take around 1 to 2 hours to visit and enjoy the surroundings of this temple.
The very first difference in the case of Shore temple lies in its name itself, i.e. this temple is situated along the shore of the Mahabalipuram beach, which is located along the Bay of Bengal. This temple is popular for its unique architecture and is one of many "Heritage Sites" in the world as classified by UNESCO. There are a wide range of activities that you can do here, and you also get the opportunity to enjoy the scenic beauty of the temple and the beach.
Traveler Tips
You need to pay an additional 25 INR for taking videos around this temple. Also, taking still photographs in this temple is free.
The entry tickets to this temple is sold only till 5.30 pm.
Things to Do
The temple and its surroundings provide the perfect environment for spending a relaxing weekend with your friends and family, and to create some memories.
The Mahabalipuram beach also is a very good location for activities like swimming, games and much more, especially for youngsters and kids.
The entire structure of this temple is rock-cut and is composed of granite for majority of its construction. The Dravidian architecture used here makes it a very interesting and popular monument for architects and historians.
There are many popular festivals including the "Indian Dance Festival" held in Mahabalipuram every year, and you must visit this temple at this time to witness the enormous gathering here during these festivals.
There are many other popular tourist spots that you can visit when you are visiting this temple, which includes art sculpture shops, light house, Tiger Cave, submerged temples and much more.
Availability of Guides
The local residents and visitors are quite helpful when it comes to learning more about this temple. Also, tour guides and translators are available with several tour agencies in the city.
Best Time to Visit
The best time of the day to visit this temple is early morning and evenings, because you get to enjoy the cool breeze by the beach and escape the scorching heat during the day.
Also, visiting this temple during monsoon time, i.e. around the month of August or September is much preferred by travelers due to reasons such as better landscape, climate, and much more.
How to Reach
The town of Mahabalipuram in the Kanchipuram district is well-connected to other parts of the country through roads, etc. The temple is located at a distance of 27.2km from Otivakkam railway station, and at a distance of 59.2km from Chennai International Airport. This distance can be covered by taking a bus or cab services.
Interesting Facts and Trivia About the Shore Temple
The deities worshipped in this temple includes Lord Shiva and Lord Vishnu, and this temple is one of the many popular monuments constructed during the Pallava dynasty. In fact, this temple is known to be the first stone structure constructed by the Pallavas.
The entire temple is divided into many sections and each section is having a shrine to different deities. The entire structure of this temple consists of several sculptures, carvings of lions and images, which clearly explains why this place is a popular work of art.
A very important feature of this temple is that the entire structure is monolithic, and is similar to the design of the Panch Rathas. A portion of this temple is eroded because of its close proximity to the sea and its salty winds.
This temple also consists of several shrines and sculptures of God and Goddesses from the religion of Hinduism. This includes the image of Durga and the partly sculpted lion, sculptures of Nandi – the mount or vehicle of Shiva, and much more.
There are several myths and history associated with this temple, and one such myth is that Gods caused floods to submerge a huge portion of this temple and the city, because they became jealous of its beauty and architecture.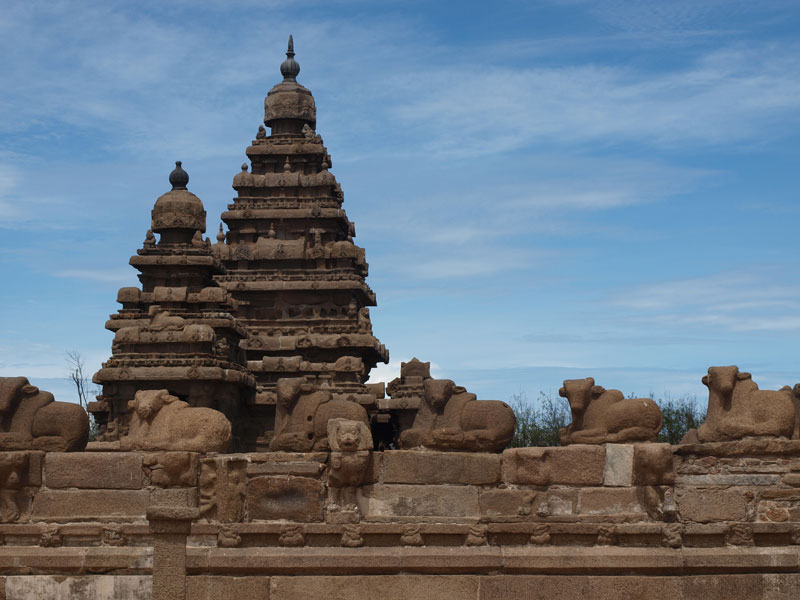 Nearby Attractions
Sthala Sayana Perumal Temple
Ganesha Ratha
Sculpture Museum
Arjuna's Penance
Light House Museum
Trimurti Cave
Mamallapuram Light House
Karukathamman Temple
Nearby Restaurants
Sea Shore garden beach restaurant
Sunrise Pizzeria & Guest House
Bambino Beach Restaurant
The Wharf Restaurant
Moonrakers
Le Yogi Restaurant
L'attitude 49
Mahabalipuram has lots to offer to every visitor in every season, which includes a variety of monuments, museums, resorts, beach, temples and much more. The Shore Temple situated along the Mahabalipuram beach is the perfect tourist destination to enjoy the breathtaking view of the sea and to learn more about the country's history and traditions.