Visitor Information
Famous for:  Neolithic Settlements, History, Photography, Trekking, Hiking.
Entrance Fee: 20 per head (extra charges for still and video cameras).
Visiting Time:  10 AM to 6 PM.
Visit Duration:  3 to 4 hours.       
When Fred Fawcett woke up one morning and planned a hunting expedition he never even dreamt that he would be in for one of the major discoveries ever to be made in South India. As he got lost on his hunting trails, Fawcett stumbled upon a group of caves. Upon further inspection, he realized that he had indeed stumbled upon a Neolithic settlement, with the caves dating back as far as 6000 BC.
Traveler Tips
Edakkal Caves is strictly a plastic-free zone. Make sure that you cooperate with the authorities and work together to save the environment from pollution.
Edakkal Caves is a historic landmark and you are not supposed to touch the paintings on the cave walls.
Hefty fine will be levied if you carry snack packs into the caves. Any damage to the caves will be considered as a grave offense.
Things to Do
The steep climb from minor caves to major caves is itself an expedition quite challenging.
Though the place is completely plastic free, you can plan a picnic a little away from the actual cave site. But make sure you have no plastic with you and don't litter the place. Also make sure that you have prior permission from the authorities at Edakkal before planning the picnic.
With prior permission, you can spend a day or two with the tribal settlements in the area.
Make sure you pay a visit to the nearby Soochippara Waterfalls. The small pond that forms at the end of the cave is surprisingly cool and so refreshing. Let the waters calm your nerves.
Availability of Guides
There is an extremely efficient administrative body at Edakkal and you don't need a personal guide to explore the caves. Edakkal is not hidden and there are sign boards which begin a few miles beforehand. However, if you want to explore the rest of Wayanad then I would advise you to hire a guide; but only those guides who are registered with the tourism office at Wayanad since, there are a large number of exploiters who could misguide you.
Best Time to Visit
The summer heat shrivels up the green blanket which makes Wayanad so special. The monsoons in Kerala, coupled with heavy lightning and thunder render it impossible to visit the place during the months of June and July thus eliminating the possibility of adventure activities and exploration. So that leaves the winters as the best time to pack your bags for a trip to Edakkal.
How to Reach
The nearest railway station to Edakkal is at Kozhikode/Calicut which is located at an approximate distance of 87 kms. The nearest airport to Edakkal is also at Calicut and it takes nearly 3 hours to reach Edakkal, if you follow the Calicut-Wayanad road. From Wayanad you will reach the Edakkal Caves in thirty minutes if you take the National Highway 766. I would suggest that you hire a cab or if it is even better if you can rent a car. The trip would be more convenient and enjoyable.
Interesting Facts and Trivia about Edakkal Caves
Complete with surveillance cameras, granite stairs to ease your ascent to the caves and lightning arresters the Edakkal Caves surprise one with its elegant touch of modernity.
The Edakkal Caves are two different set of caves- Minor Caves A-D and Major Caves A-C. 75 per cent of the pictographs in the cave can be found at Major Caves. The pictographs are reminiscent of others such paintings discovered in Neolithic settlements in India.
The pictographs on the caves are estimated to be as old as 6000 years and suggest the possibility of a Neolithic settlement in the surrounding areas. This was a first of a kind discovery in South India.
Recent studies on the pictographs of Edakkal Caves, has emphasized its striking similarities with the pictographs of the Indus Valley Civilisation.
The UDF Government in 2011 initiated the Kolagappara to Edakkal concrete road which now extends for 8 kms. This prestigious project was estimated at 6 crores.
Recent controversies regarding Edakkal caves has buzzed in social media regarding the illegal trekking routes created by newly opened resorts as part of their tourism development project.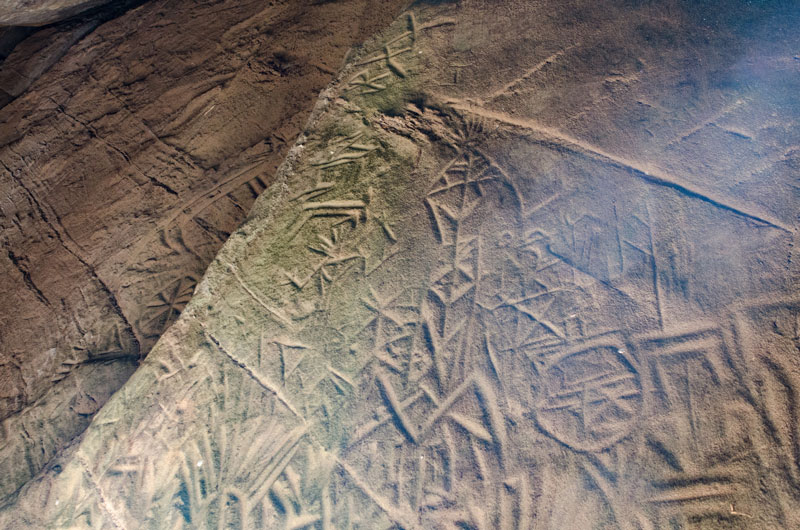 Nearby Attractions
Kuruva Dweep/Island
Banasura Sagar Earth Dam
Chembra Peak
Thirunelli Temple
Thrissilery Siva Temple
Puliyarmala Jain Temple
Lakkidi View Point
Soochipara Falls
Kalpetta
Koottamundu Glass Temple
Pazhassi Raja Temple
Nearby Restaurants
Jubilee Restaurant
Cake Shop
Blue Star Coffee Shop
Anand Sweets and Bakers
Mint Flower Restaurants
Harithagiri Ecotel
Madhur Restaurant
Green Gates
BA Group Veg and Non-Veg Restaurant
Hill Top Restaurant
The discovery of the Pallavaram Hand Axe and the discovery of the Edakkal caves together crushed the myth that South India did not have a pre-historic settlement. Even amazing is the fact that new discoveries have linked the pictographs at Edakkal to the pictographs found from the sites of Harappa. If the studies can be proved, then the history of ancient civilizations has to be re-written.