Visitor Information
Famous For: Tourism, Experience seekers, Photography and Trekking.
Entrance Fee: The entry fee to these hills is 5 INR for each person. Also, additional charges are there for parking services, which includes 15 INR for two-wheelers and 60 INR for cars.
Visiting Time: The entry to these hills remains open from 6am to 10pm.
Visit Duration: Visitors generally spend an entire day on these hills, to enjoy the wide range of activities available here.
There are only a few places on earth which provide an environment filled with sheer excitement and tranquility at the same time. The Nandi Hills located near the city of Bangalore is one such paradise for every traveler around the world. The breathtaking view and the entire trekking experience that you get here is matchless and quite popular among the residents of the city and its surroundings.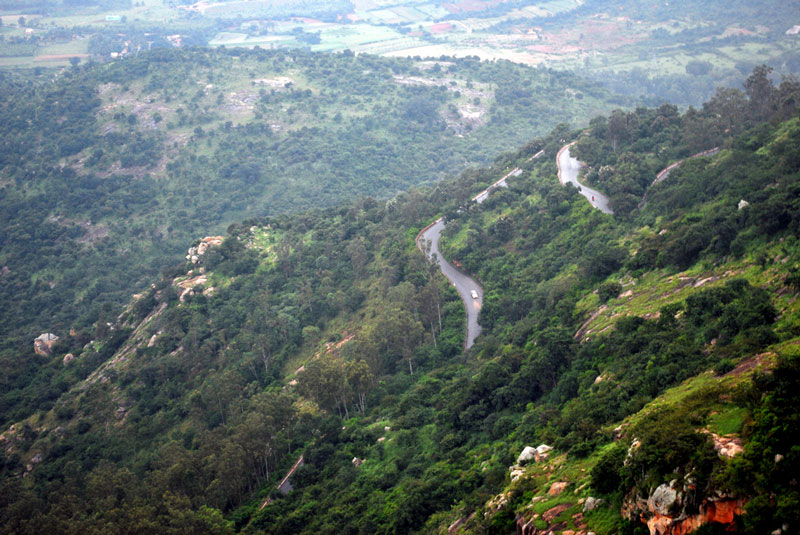 Traveller Tips
Make sure to carry a good amount of water to stay hydrated on the way, along with other supplies, such as packaged foods because there are not many food stalls on your way up to these hills.
Also, it is advisable to enjoy the different parts of these hills while the sun is still up. That is, majority of the visitors prefer leaving before night for better visibility. Therefore, you need to plan your trip accordingly.
Things to Do
There are a variety of activities to try and locations to explore in these hills for every traveler. The most popular activity seen around the different parts of these hills is cycling and paragliding. The entire landscape of these hills provides a very good environment for biking and cycling enthusiasts.
These hills are also the perfect location for exploring and trekking activities. There are different popular monuments and temples in these hills, which makes the entire travelling experience similar to a treasure hunt.
These hills also provide the perfect environment for enjoying a relaxing and recreating weekend with your friends and family, and to create some memorable travelling experiences with them.
Also, another popular attraction here is the sunrise view point, which is a splendid location for photographers and visitors to capture and relish the early moments of the day.
Availability of Guide
A large number of tour agencies in the city provide the option of hiring tour guides and translators. Also, several online websites and tour agencies include these hills in their tour packages.
Best Time to Visit
The best time of the year to visit these hills is from the month of August to March, since both the monsoon and winter season lies in this particular duration. Visiting these hills in this duration has several advantages such as better landscape, climate, etc.
Also, for those who prefer spending a calm and relaxing weekend during summers, these hills are the right location with a temperature near to 25 centigrade during this season.
Also, the best time of the day to begin your journey around these hills is early morning, because you would get to enjoy the mesmerizing sight of sunrise by visiting early.
How to Reach
These hills are well-connected to neighboring locations such as Bangalore and Chikkaballapura. These hills are located at a distance of 57.1km from Bangalore, and a distance of 18.1km from Chikkaballapura.
Also, these hills are located at a distance of 14.6km from Nandi Halt Railway Station, and at a distance of 34.5km from Kempegowda International Airport.
Interesting Facts and Trivia About Nandi Hills
These hills and its surroundings provide a profound spiritual experience, and there are several theories as to why these hills are named as "Nandi", which is the name of bull often referred to as the vehicle of Lord Shiva. The very first theory dates back to the Chola period, when these hills were called "The Hill of Happiness". Later, many more theories came into existence, and one of these theories explains the name of this hills as a result of its shape, which is similar to a sleeping bull.
These hills are home to a large variety of flora and fauna, which includes Eucalyptus trees, Nilgiri woodpigeons, falcons, millipedes and much more.
There are a number of tourist destinations in different parts of this hill, which includes the Tipu's Drop, Tipu Sultan's Fort, Nandi Temple, Gavi Veerbhadra Swamy Temple, Gandhi House, Brahmashram and the list goes on. Each of these popular locations have their own unique history and significance.
Also, these hills have a collection of water bodies supporting the life surrounding this hill, which includes several lakes and rivers. Among these, the Amrita Sarovar is a popular lake often visited by tourists.
Nearby Attractions
Channagiri Hills
Tipu fort
Nehru Nilaya
Nandi temple
Bhoga Nandishwara Temple
Nandi Hill Caves
Yoga Nandeeshwara Swamy Temple
Ganesh Temple
Nearby Restaurants
Nandi Food Court
The Olives Fine Dine Restaurant
Shree Hotel
Nandi Upachar
Indian Paratha Company
Bangalore is quite famous for its lifestyle, which includes a mix of hectic city life mixed with the greenery of the surrounding environment. The Nandi Hills located in Chikkaballapur district of this city provide a quick getaway from the busy schedule of city life to a much more peaceful and relaxing environment.